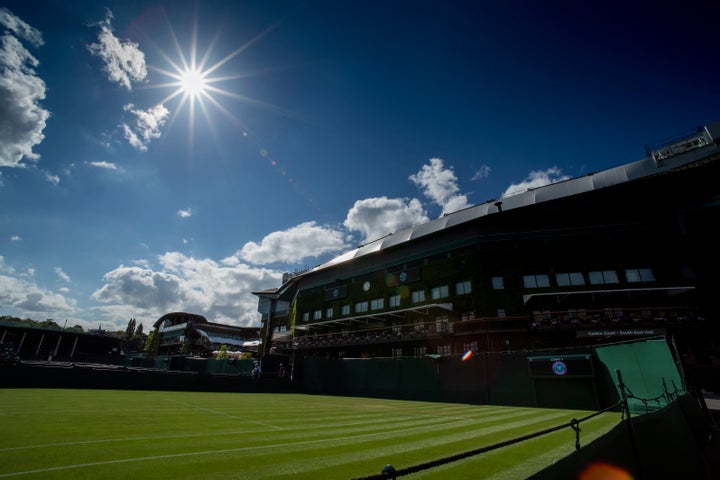 It is that time of the year when the strawberries and cream enter the menu on the All England Lawn Tennis Club, and tennis is played in all whites. Yes, it is Wimbledon time. And as the most prestigious tennis tournament of them all gets underway, and people wonder whether Federer has in it in him for yet another title, here are some apps that will help you not only keep in touch with all the action from courtside, but also let you swing a racquet a two on your phone or tablet.
NEWS
Wimbledon Official App (iOS, Android)
This is THE app for all those who want the latest news from the tournament. Developed by IMB, it has it all - playing schedules, player profiles, live commentary (both text and audio), and live updates from all the courts, which is quite a blessing in the early days of the tournament when play is taking place on a number of courts and keeping track of what is happening where can be quite a task.
It is easily the fastest app when it comes to speed of updates and well because it is the official app, it comes with information right from the horse's mouth. But while the news and live section might attract many, we would recommend checking out the archives, which has gems from the past. It will get active when the tournament starts.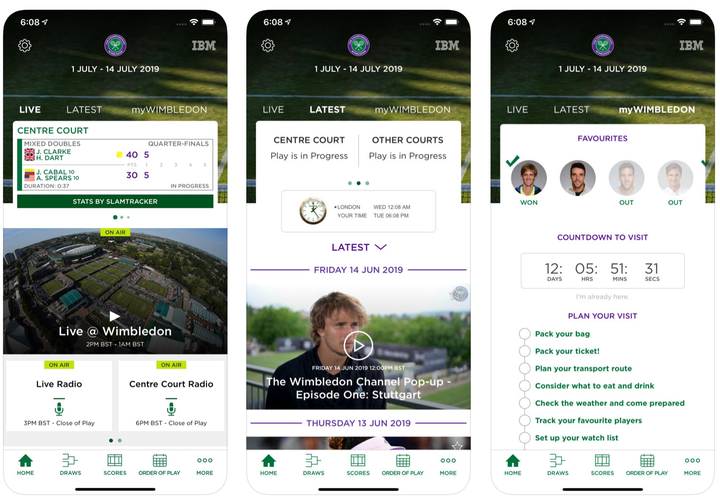 ATP/WTA Live (iOS, Android)
If you want to keep in touch with the latest tennis scores, extending well beyond Wimbledon (it sends you to the official app if you are looking for Wimbledon coverage), then the official app of the ATP and WTA tour is the one to go for. No, it is not loaded with features and interviews, and does not even have news.
But what it does have are the official score updates from every tennis tournament being played in the world, live and right from courtside. And by every, we mean every—even Challenger level events are covered. The app is not exactly overflowing with detail, although there are some very handy player profiles, but if you know your tennis and just need the score, just hit download and grab this app.
Tennis News Live (iOS, Android)
The Wimbledon app is obviously tournament centric. The ATP/WTA apps are more about scores. But what if you wanted to be right up to speed with news, gossip and rumour from your favourite sport? Well, there a number of tennis news apps out there, but the best is the very appropriately named Tennis News. It contains the RSS feeds of some of the best sports news sites out there, and presents them in a slick interface, ensuring that you get a wide variety of news and views from different sources—and all of it without having to exit the app (you are not taken to a site in a pop up browser at any stage).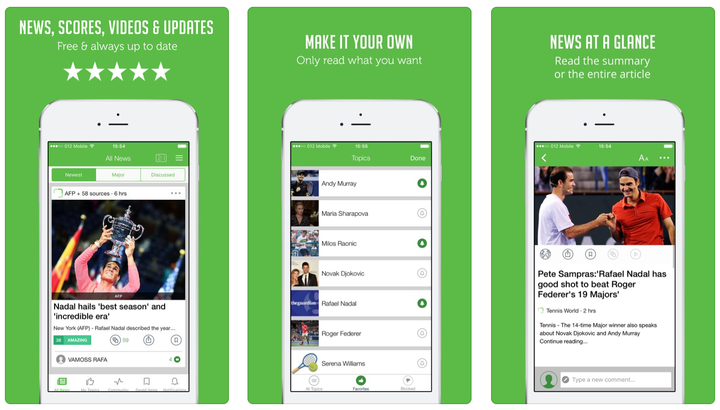 You can save and share news items too, and mark your favourites. The iOS app seems a little more slick and better organised than the Android app, and also has options like highlighting news which is being discussed the most. All said and done, however, if it is reading about tennis that you like, this is pretty much the app to go for.
Virtua Tennis Challenge (iOS, Android)
It has been around for a few years now, and the fact that it remains perhaps the most comprehensive tennis game out there in the app world, tells you just how good a job Sega have done with Virtua Tennis. This is pretty much THE game for anyone who wants to play tennis in all its entirety and subtlety on their phones or tablets. The graphics are very realistic (barring those of celebration and dejection, which are borderline comic), the sound very much on point (a topspin and slice sound actually different), the gameplay is comprehensive and yet well designed for touchscreens, and you have a comprehensive tour in place to give you an experience of the game on different surfaces.
Yes, it does have a slightly steep learning curve, because it tries to cover so many aspects of the game, from different strokes to even your current form, but if you are ready to invest some time in getting to grips with it, you will find yourself addicted in no time at all.
World of Tennis: Roaring '20s (iOS, Android)
Imagine playing tennis in the twenties. Wait, WHY would you want to do that? Well, perhaps to play the sport in different clothes and a much slower, more leisurely pace. If the frenetic screen tapping of the likes of Top Spin and Stick Tennis does not appeal too much to you, then this is a terrific option. The sound matches the era, with greater periods of silence and music with an older feel. The graphics are not exactly top notch but are good enough, but they manage to give you a feel of the game in another era, although the animations of players getting frustrated after errors is so 1980s!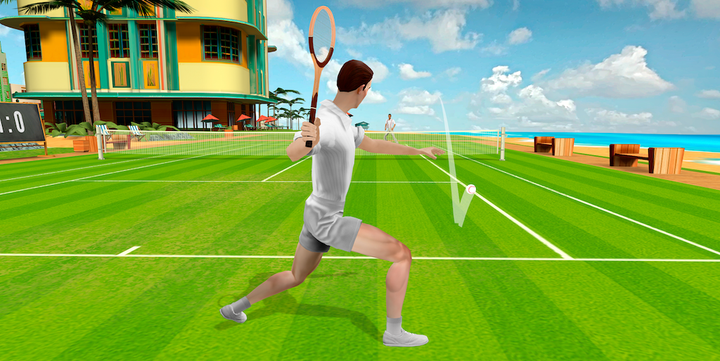 Gameplay is relatively simple but has a greater timing element than Top Spin - you have to time your taps just right to be able to hit good shots. You can play against online opponents, build up a career, train an AI avatar of yourself and win your way to the top, all in long trousers, flowing dresses, and of course, wooden racquets. All of which is done in a gentle, elegant manner without there ever seeming to be too much frenzy around. This is the anti-PUBG with a tennis racquet!
Stick Tennis (iOS, Android)
If you find the likes of Virtua Tennis a bit too overwhelming and simply want a quick game of tennis, well, then head right over to Stick Tennis. Made by the same folk who took the complexity out of cricket with Stick Cricket, Stick Tennis pretty much dumbs down the game to a bunch of taps and swipes. And like Stick Cricket, it keeps things basic. About the most nuance you get here is the option to play a drop shot. That apart it is designed for quick play with the ball fizzing around on the court.
While it is simple to play, it can be a little challenging so watch your taps and swipes (I double faulted twice because I missed my serve altogether). Graphics are very much on the basic side and the sound is a tad monotonous. But on the flip side, this is the perfect tennis game to just pick up and play over a few minutes in between meetings or whenever you want a quick, tennis-flavoured break from the routine.