The devil, it seems, is in the caramel drizzle.
Louisiana schoolteacher Megan K. Pinion was "appalled" after recently being served two Starbucks drinks that were allegedly marked with Satanic symbols. Pinion posted a picture of the drinks -- one featured a 666 and the other had a star that appeared to be Lucifer's pentagram -- on the coffee giant's Facebook page on Sunday: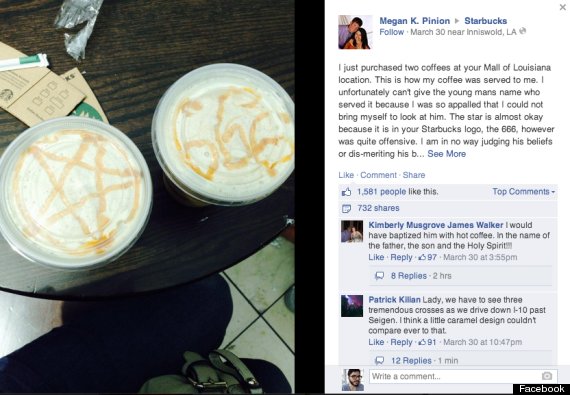 Pinion, who acknowledged she is Catholic, accompanied the photo with the following comments:
"The star is almost okay because it is in your Starbucks logo, the 666, however, was quite offensive," she wrote. "I am in no way judging his beliefs or dis-meriting his beautiful artwork, I am however judging [the barista's] lack of professionalism and respect for others."
Starbucks has since apologized to Pinion.
"We're taking the complaint seriously and have sincerely apologized for her experience," Tom Kuhn, a Starbucks spokesman, told The Huffington Post on Tuesday. "This obviously is not the type of experience we want to provide any of our customers, and is not representative of the customer service our partners provide to millions of customers every day."
Kuhn declined to comment on whether the employee, who was serving coffee at the company's Mall of Louisiana location, would be disciplined, saying "we do not discuss details about individuals' employment with our company."
Starbucks, for its part, has taken responsibility for poor customer service in the past.
In 2009, the company reportedly sent a $50 gift card to a customer after a franchisee on the New Jersey Turnpike refused to honor his 10 percent discount for using a Starbucks rewards card.

Related