On lifting the lid of my tall berry hot choc in a takeout cup, I'm met with an unappealing purple blob floating on top of it – happy Monday to me! But seeing as I made a special pilgrimage to the local Starbucks (all of five minutes from my office) for this limited edition Valentine's beverage, I'm certainly not going to waste it.
"The marriage of hot chocolate and strawberry tea, finished with a berry cold foam, sealed with a kiss," reads the display board. "Try it hot or iced." As it's a bit nippy out, I opt for hot. Here's what I'm met with.
Expectation: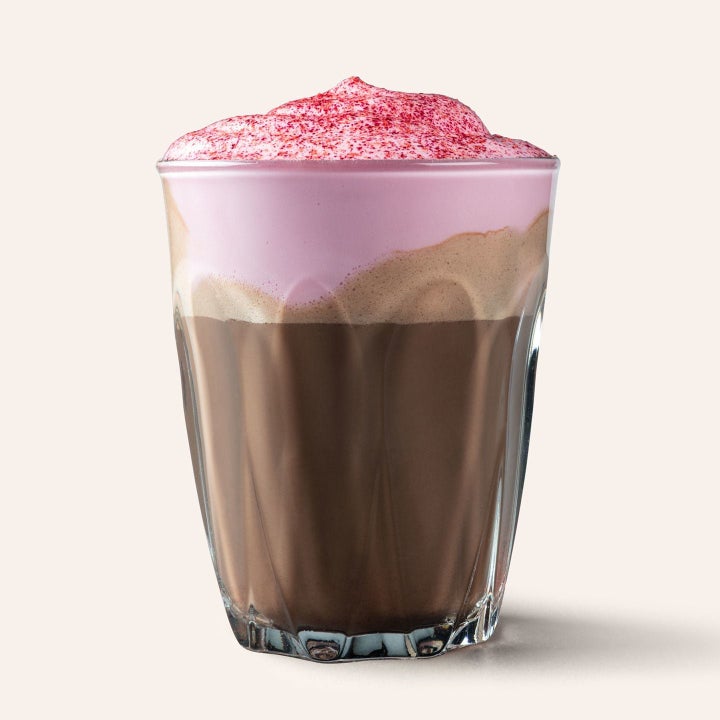 Reality: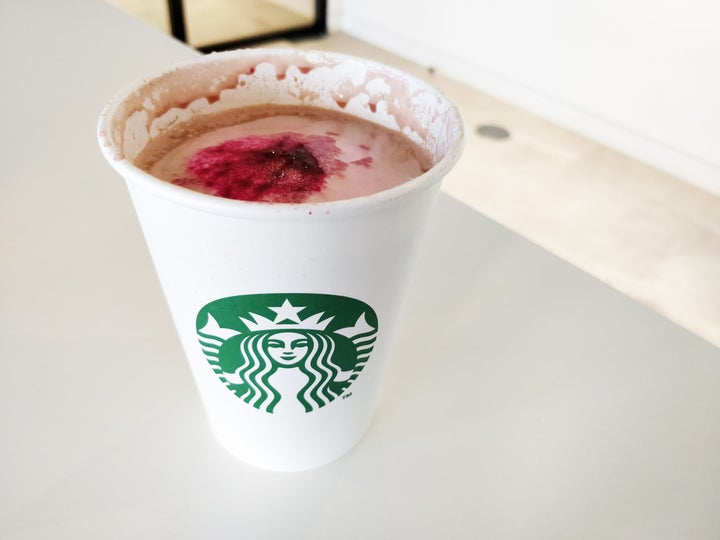 Despite the weird floating blob, which one colleague says 'looks like blood', the smell of it is delicious – akin to strawberry creams. But will the taste be just as good?
The drink has a rich chocolatey taste, while the berry flavour is not overpowering. It's certainly one for the sweet toothed, like a black forest gateau in drink format.
The after taste is mainly rich chocolate with a hint of sweetness provided by the berry tea. The texture is decent – not too thick, not too watery. I swiftly realise that the expression 'don't judge a book by it's cover' applies to Starbucks drinks as despite it looking absolutely awful (definitely best to keep the lid on, folks!), it was love at first sip. Or at least a strong crush.
Sadly, the love lasted for all of 10 sips before things became a bit too much and far too sickly (my boss, who is not a fan of sickly sweet drinks, thought it tasted like strawberry Quality Street "and no one needs a full cup of that.") . So if you're going to open your heart to this hot chocolate, I'd recommend the small. And not starting your day off with it.
We all work hard to earn our money – so it shouldn't feel like hard work to spend it well. At HuffPost Finds we'll help you find the best stuff that deserves your cash, from the ultimate lipstick to a durable iron to replace the one that broke (RIP). All our choices are completely independent but we may earn a small commission if you click a link and make a purchase.