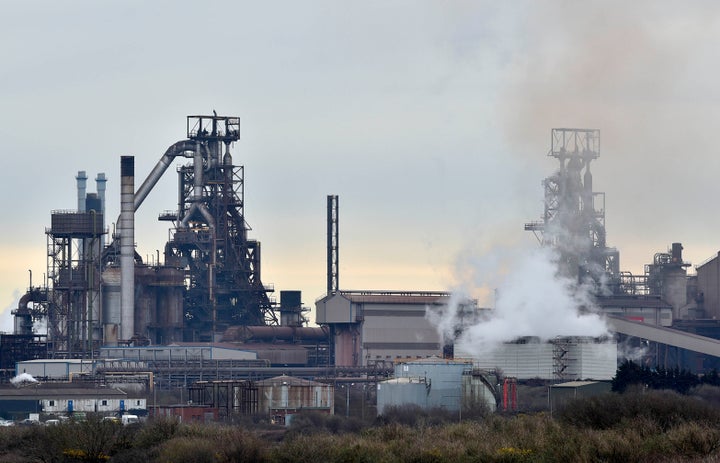 The Government does not know how much British steel it buys despite the long-term crisis in the industry.
Ministers have announced they want Whitehall departments to "Buy British" to help save ailing steelworks, but the office in charge of procurement does not hold a record of how much it currently purchases.
New government guidance was published in October urging civil servant buyers to give greater consideration to British steel when building everything from battleships to schools.
But the Cabinet Office has admitted departments have not been expected to keep a record of whether cheap foreign imports are squeezing out British manufacturers until the new policy starts this month, HuffPost UK has found. Labour said it showed the Government was "standing idly by".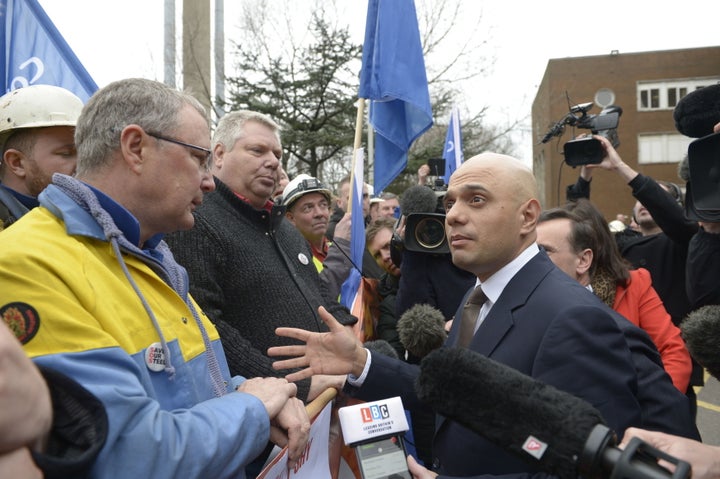 The decision puts the future of the Port Talbot works in South Wales in jeopardy, and some estimates suggest 40,000 jobs are at risk, including workers and staff at businesses reliant in the plant.
Business Secretary Sajid Javid has been accused of being "asleep at the wheel" after having to fly back from a trade mission in Australia as the crunch decision on Tata's future was being taken in Mumbai.
Today, workers from Tata Steel travelled to London to urge ministers to save their industry. Tomorrow, the Prime Minister will meet the Wales First Minister at Downing Street.
The Government has yet to set out exactly what it is prepared to do to help keep the furnaces burning, offering mixed messages on whether it backs re-nationalisation - even temporarily.
Last month in a question tabled in Parliament, Labour MP Kevin Brennan asked the Cabinet Office for a breakdown of how much steel is bought domestically by each Whitehall department.
In response, Cabinet Office Minister Matt Hancock said: "The information is not held centrally."

The Cabinet Office said today that departments have been following the new guidelines since October, but "formal reporting of compliance and activity" only begins this month. Departments will from now on be expected to publish the amount of British versus overseas steel they buy.
The UK's steel industry crisis, blamed on cheap Chinese exports being "dumped" in the UK among a series factors, has already seen steelworks across the UK close down - including Redcar in the north-east last year at the cost of more than 2,000 jobs.
And departments have come under fire for opting for cheap imported steel when making procurement decisions.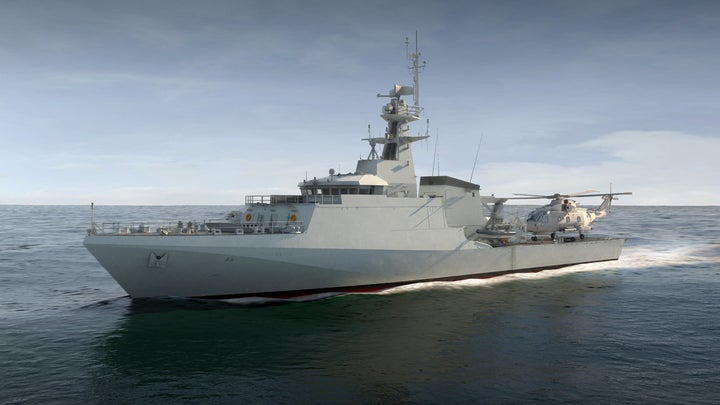 Three Royal Navy ships are being built at Glasgow using 60 per cent of steel from Sweden, with only 20 per cent from Britain. A £3.5 billion contract to build 590 Ajax armoured vehicles is also using mostly Swedish imports.
The Government extended the "Buy British" policy to local authorities in the aftermath of the Tata decision. It argues the HS2 rail project and potential Trident nuclear submarine renewal will be a boost to steelmakers.
Angela Eagle MP, Labour's Shadow First Secretary of State and Shadow Secretary of State for Business, Innovation and Skills, urged David Cameron to "get a grip of the crisis which has worsened on his watch".
She said: "While the Tories may talk tough on defence they are playing fast and loose with the nation's security, because standing idly by while our steel industry goes to the wall will leave our country less safe in the future.
"We should be able to build the best kit for our brave service personnel using British steel whenever possible, and in turn support steel jobs right across the country."
Matt Hancock, minister for the Cabinet Office and Paymaster General, said: "We are going further than ever before to support British steel.
"We already know that taxpayers spend billions of pounds buying steel for public projects. So last year we changed the rules across all central government procurement to ensure buyers take into account the true value of British steel - including local impact and jobs.
"The industry is responding positively to this so I want to go further. Now we will apply this guidance across the public sector so that, from operating theatres to new buildings, public sector buyers will need to consider social and economic benefits, alongside value for money.
"When public bodies buy steel they must taking account of the true value of buying British."
Related