In a move that feels like we're going back in time, toilet rolls are being stockpiled, along with dried goods and pasta. Yep, we're back to panic-buying.
While supermarket bosses have urged shoppers not to panic-buy – reiterating that it's "unnecessary" – some people can't resist.
Aldi reminded customers the stores will be open daily, with deliveries multiple times a day, so stockpiling isn't needed. "There is no need to buy more than you usually would," said Giles Hurley, the head of Aldi UK. "I would like to reassure you our stores remain fully stocked and ask that you continue to shop considerately."
In March, Hansa Pankhania, a therapist and member of the British Association for Counselling and Psychotherapy, said anxiety is likely to be what fuels stockpiling – as well as helplessness, fear and loss of control.
When people panic-buy it's a "gesture", she explains – they're doing something to help themselves in an otherwise helpless situation. When we have no control over the bigger picture, we crave control in our "micro world" – our home and daily routines. And in this case, people are doing it by buying up supplies.
Anxiety about Covid-19 and another lockdown is normal and the impulse to stockpile may seem a reasonable reaction. But panic-buying makes a bad situation worse. Ratula Chakraborty, professor of business management at the University of East Anglia, told HuffPost UK earlier this year, before the impending March lockdown, that stocking up on supplies might be wise for elderly people or families with members who have underlying health conditions.
But, she said: "In this country, people are... just taking whatever they can lay their hands on – that's not a very sensible reaction at all. In the process, they're making other people anxious that they won't find their stuff, so it leads to a domino effect."
So why are people doing it? Here, they tell us.
'I want to have the security of knowing I have enough food'
Anonymous, 26, researcher, Bristol
"In March when shops first moved to a one-in-one-out system, the queues for our local supermarket ran out the door and up past several neighbouring streets. It became easier to shop over summer with students away, but with 60,000+ students set to descend on the city, bringing with them the greater probability of local lockdown, I'm building up a small stock of essentials. In a normal September it's hard enough to get essentials as the shops take a while to readjust to heightened demand. This year that really worries me. I worry about my Covid risk, and want to have the security of knowing I have enough food in the house if I have to self isolate tomorrow."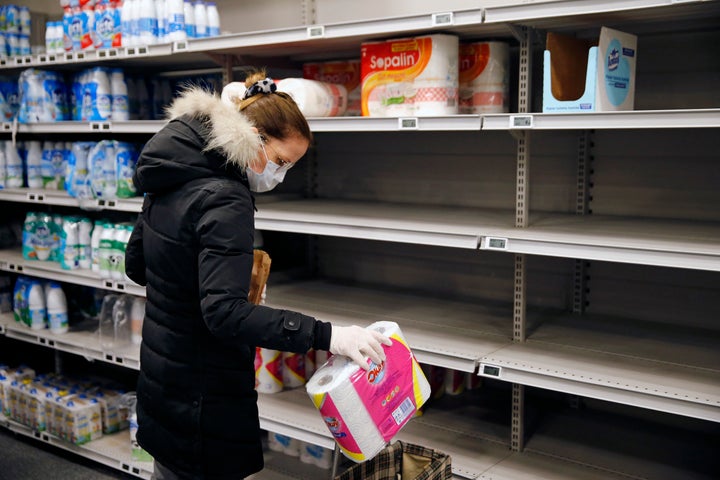 'I've been doing it since early 2019'
Sarah Hurst, 47, freelance journalist and trade consultant, Oxfordshire
"I've been stockpiling since early 2019 when a possible no-deal Brexit was first imminent. Even with a deal the end of the transition period in January will cause immense disruption to supply chains and inevitably result in higher prices for many products. Like many people I don't have the income or savings to be able to cope easily with that. I've bought non-perishable foods, bathroom supplies and even a camping stove and water purification tablets. There's no downside as most things are used anyway."
'It feels reassuring that I have the freedom to fill my cupboards to the brim'
Anonymous, 28, writer, West Sussex
"I've always been one to buy a few extras in the supermarket when an item is on offer, but my stockpiling game reached a whole new level in 2020 after it took me a fortnight to find a pack of four toilet rolls. Who could've predicted the humble loo roll would become such a precious commodity? In a year where I've had little control over what I can and can't do, it feels reassuring that I at least have the freedom to fill my cupboards to the brim and share my stock with loved ones should full lockdown return."
'I see other people doing it, and I can't help it'
Anonymous, 27, HR executive, Huddersfield
"I don't ever think it'll get to the point where I have no in food in the house and can't go out and get some, but I see toilet rolls go down and I can't help but stockpile when I can. It's more for convenience, I guess. I wouldn't tell others I'm doing it, but it makes me feel like I have some sort of control over this situation. And, if we're told to stay home as much as possible again, I won't have to go out to get toilet paper."
'The last lockdown was an absolute disaster'
Rebecca Tidy, 33, research associate, Cornwall
"I started stockpiling last week, when I got the vibe there may be an imminent lockdown. I'm a single mum to a very fussy toddler, with multiple allergies, and the last lockdown was an absolute disaster for us. Mabel refused to drink the oat milk from the white carton, and insisted that only milk from a blue carton tasted good. She didn't drink milk, or eat cereal for almost three months – as milk from the white carton apparently tasted 'yuck'. She is unable to consume dairy or soy, and also struggles to eat solid food – due to difficulties chewing. So it's difficult enough to find items she'll eat on an average day, when there aren't supply difficulties, let alone a near-global lockdown."