More than 40 years before Banksy began torturingdelighting New Yorkers with his month-long residency, the New York Times published an article about a young, mysterious street artist who had also captured the city's attention.
"Taki is a Manhattan teenager who writes his name and street number everywhere he goes," the story, which was published in July of 1971, read. "He says it is something he just has to do."
The teen, who lived on 183rd Street and used "Taki" as a diminutive for his given name, Demetrius, was certainly not the first modern graffiti artist. Philadelphia-based Cornbread already had already generated a sizable following, and the street doodle "Kilroy was here" had been an underground legend for decades. But Taki 183, who rarely left the house without scrawling his moniker in permanent marker on subway cars, walls and lampposts, was a legend in his own rite.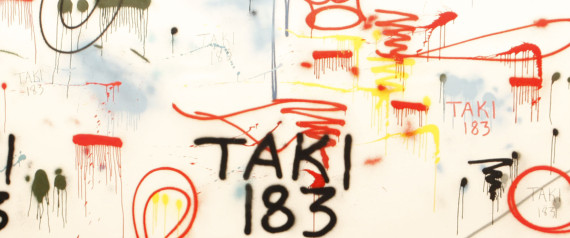 A piece by Taki 183 on display at The Birth of Pressionism exhibition in Monaco.
"He has spawned hundreds of imitators, including BARBARA 62, EEL 159, YANK 135 and LEO 136," the Times reported. In the early 1970s, a Taki 183 scribble was as ubiquitous in New York City as a bagel or a yellow taxicab.
He irked authorities as much as his contemporary counterpart has, too. Just as New York City Mayor Michael Bloomberg has decried Banksy's politically-charged murals as "not my definition of art," officials described Taki 183's work as a "problem [that] had mushroomed," to the Times.
Though Taki 183, who has never revealed his full name, retired from his craft a few years later, his legend persists. His work appears in modern graffiti exhibitions across the world, he was featured in the book "The History of American Graffiti," and he's rumored to have inspired the Turk 182, which chronicles a young street artist living in New York.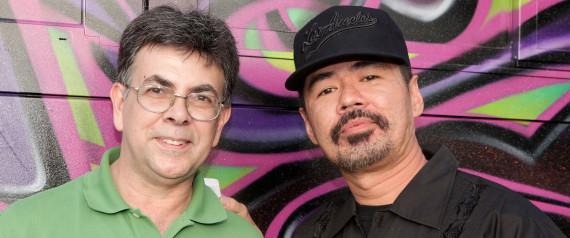 Taki 183 (left) at an exhibition honoring street artists at Los Angeles' MOCA in 2011.
What do you think of Taki 183's contributions to the street art movement? Let us know in the comments.