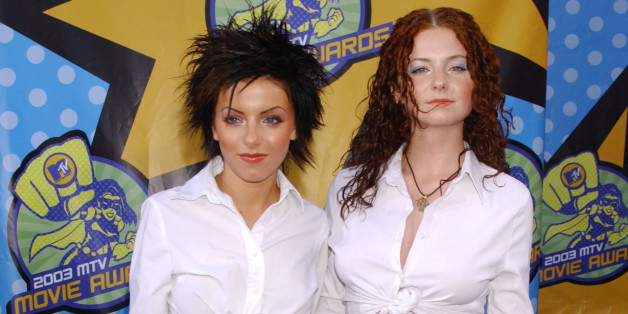 Bill Davila via Getty Images
If you remember anything about t.A.T.u., it's probably their controversial video for the 2003 song "All the Things She Said." That's the one where the Russian duo -- made up of Lena Katina and Julia Volkova, who were 19 and 18 at the time, respectively -- kissed and caressed each other in the rain while wearing schoolgirl outfits in prison.
If you know anything else about the band, it might be that they performed at Friday's opening ceremony of the 2014 Winter Olympic Games. Anyone who considers the duo a one-hit wonder probably raised an eyebrow at the announcement, even if t.A.T.u.'s ties to Sochi are evident in their Russian heritage. What's even more perplexing is why the Olympics, staged in a country with anti-gay laws that have gained increasing notoriety over the past several months, would select a duo defined by their promotion of homosexuality. Katina and Volkova revealed in a 2003 documentary that they aren't lesbians themselves, but they maintained that their efforts intended to champion open-minded sexuality.
Now, 11 years after they first made a splash across genres, here's what else you need to know about the duo.
Their debut English-language album, "200 km/h in the Wrong Lane," arrived in 2002 and went on to achieve multi-platinum status. Its lead single, "All the Things She Said," peaked at No. 20 on the Billboard Hot 100. The song made t.A.T.u de facto gay icons, and it remains a supposed lesbian anthem, despite having been labeled a "gimmick" by some critics. Even though they're straight, Katina commended their effort to represent young girls who don't see lesbians portrayed in mainstream culture. "I think we did a great job on that, because we received so many thank-you letters, especially if you are a teenager when everything is over the top, and then you understand you are different and society doesn't support you, it's really tough, a lot of people commit suicide," she told The Daily Beast last year when the song turned 10. "I was so surprised by those letters."
The duo maintained buzz by making waves with countless performances in which they held hands and fondled each other. Katina and Volkova infuriated "Tonight Show" executives when they kissed during a performance of "All the Things She Said" after promising to remain chaste. The show cut away to a guitarist for the duration of the 25-second liplock.
Their follow-up song, "Never Gonna Get Us," hit the Top 10 in several countries and No. 1 on the U.S. Hot Dance Club Play chart. They performed it and "All the Things She Said" on the 2003 MTV Movie Awards.
Katina and Volkova's third single was a cover of The Smiths' "How Soon Is Now?"
The duo split with their producer and manager, Ivan Shapovalov, in early 2004, claiming he was only concerned with advancing their scandals. Rumors t.A.T.u. had split up circulated, but the fallout with Shapovalov was depicted on the Russian reality series "t.A.T.u. v Podnebesnaya." Regardless, Volkova then became pregnant and the group was unable to record their next album as promptly as anticipated.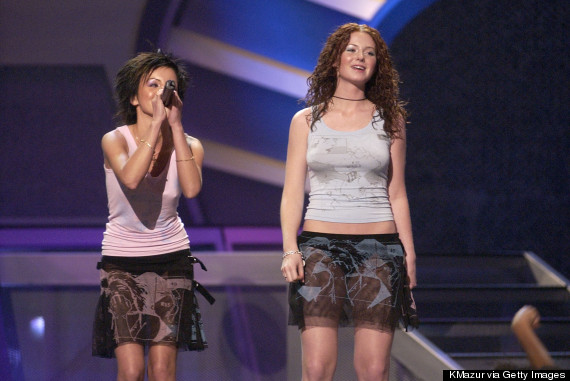 By the time they bounced back with the 2005 album "Dangerous and Moving," their buzz had dwindled and the duo failed to garner the same recognition seen in their debut project. "The hooks they're handed this second time around are decidedly duller, and the limitations of their vocal abilities are exaggerated, not concealed, by the bluntly simplistic tunes," Rolling Stone's Barry Walters wrote. The lead single, "All About Us," didn't chart on the U.S. Hot 100 but did crack No. 13 on the U.S. Hot Dance Club Songs rankings. The corresponding music video portrayed an attempted rape and was released with a censored version as well.
Their next two songs from the album -- "Gomenasai" and "Friend or Foe" -- also failed to chart in the U.S. The duo didn't want "Gomenasai" to be a single at all, but Interscope Records released it anyway. They parted ways with the label thereafter.
In 2009, t.A.T.u. returned with "Waste Management," an album that generated virtually no buzz in the U.S. It spawned three singles, each of which met similar fate.
Tensions rose between the two women in 2010 when Katina embarked on a solo career but continued to perform t.A.T.u.'s hits at concerts. Volkova responded by saying, "[Lena] has the right to [sing t.A.T.u. songs], but it's so stupid, absolutely stupid. If you do a solo career, it means that you do your own work. Her stuff that she makes, I think, is silly, and very soon her career will wither away and disappear." A year later, Katina gave a radio interview in which she said the two are "not planning to reform t.A.T.u., certainly not in the near future."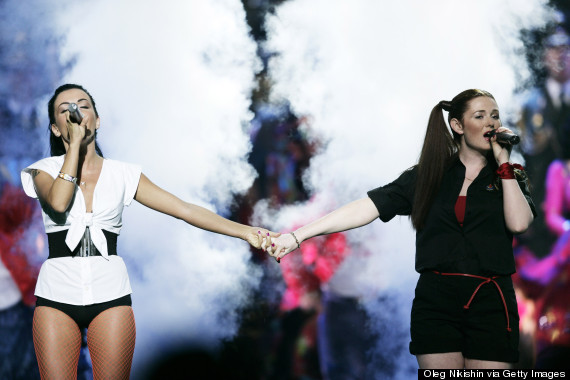 In March 2011, the group's management announced t.A.T.u. was officially over. Katina and Volkova proceeded to release solo material. They reunited in December 2012 on the Romanian version of "The Voice" for their first performance together in three years. When asked whether they keep in touch, Katina said, "Only when we see each other. We have very different lives in different countries now. We are not in a fight, though."
The duo has reunited a few times since, without ever officially reteaming. They donned the schoolgirl outfits they once longed to shed this past September for a Japanese Snickers commercial.
t.A.T.u. performed "Not Gonna Get Us" during the opening ceremony. Coverage airs on Friday night on NBC. Until then, enjoy this 2003 E! News interview in which they discuss the reaction to the "All the Things She Said" contention.