Currently Transport For London [TFL] provides expectant mothers with 'baby on board' badges so other commuters can offer to give up their seat without having to ask awkward questions.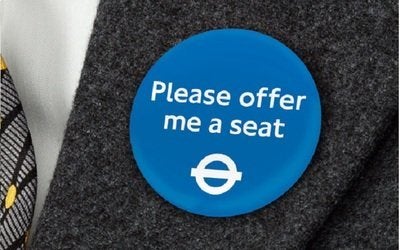 Mike Brown MVO, London's Transport Commissioner, told The Huffington Post UK: "We appreciate that asking for a seat on public transport can sometimes be difficult, particularly for customers who have hidden disabilities or conditions."
Although TFL provides priority seats on all trains, they want to encourage all passengers to offer up their chair if they seem someone in need: "We trust people to use their common sense."
The blue badges, which read: 'Please offer me a seat' are to be trialled by 1,000 volunteers for a month, beginning on Monday 12 September.
They said the badge should eliminate the need for passengers to explain the specifics of why they need a seat.
TFL want to gauge the uptake during this period and reaction from other passengers before implementing a wider roll-out of the badges.
Brown said: "If it is successful we will work closely with older and disabled people's organisations to develop the final product. I hope that Londoners help make the trial a success and offer their seat to someone with one of the badges or cards who may be in need."
To take part in the trial, customers should get in touch with 2CV agency.