Thandie Newton has received her first Emmy in her 27-year career, and her reaction to the news did not disappoint.
The actor finally stepped up to the plate to accept her award for Best Supporting Actress in a Drama Series this year, for HBO science-fiction show, 'Westworld'.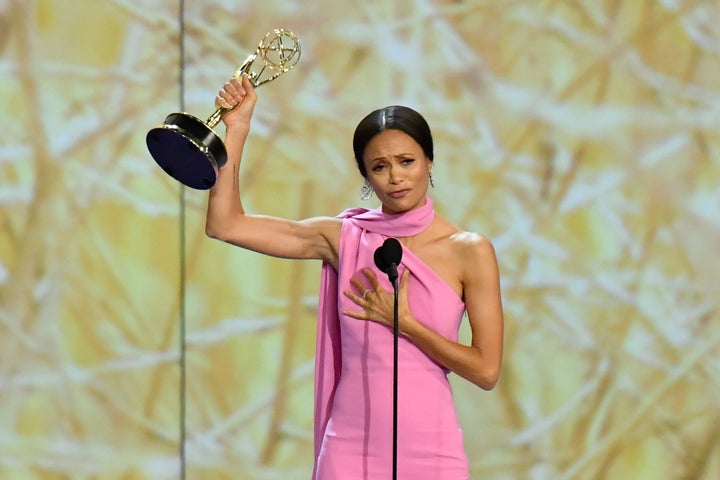 "I don't even believe in God, but I'm gonna thank her tonight," the 45-year-old star began her what many thought was a long-overdue acceptance speech, leading the audience to erupt with applause.
"I am so blessed, I am so blessed. I am so f***ing blessed," she continued, before realising she'd accidentally dropped an f-bomb on the live broadcast awards ceremony. The slip-up was nonetheless met with further cheers.
"To work with the people that I have gotten to work with," she said. "The cast and crew of – I can't believe I'm here – the cast and crew of 'Westworld', I love you all so much."
As a black British actress, the win was seen by many to be especially significant. Fans were loving Thandie's energy and excitement, and took to Twitter to show their support.
Sidenote: Where can we buy a high-street version of that dress? We need answers.
Some people's wigs were snatched.
And some fellow stars came out to congratulate her.
'Westworld', set in a fictional, technologically advanced amusement park populated by android 'hosts', sees Thandie playing a robot who begins to become sentient and self-aware.
Thandie had beat out competition from Ann Dowd, Yvonne Strahovski and Alexis Blediel ('The Handmaid's Tale'), Lena Headey ('Game of Thrones'), Millie Bobby Brown 'Stranger Things', and Vanessa Kirby (The Crown) to take the category.
Thandie also went on to say the win was all the more special given it fell on her daughter's 18th birthday.
"My family, my daughter Ripley turns 18 today and I get to guide you and love you and protect you, which is my north star, I love you so much baby."
Having been nominated for the same role in 'Westworld' last year, like her fans, we're glad to see Thandie finally getting the recognition she deserves.