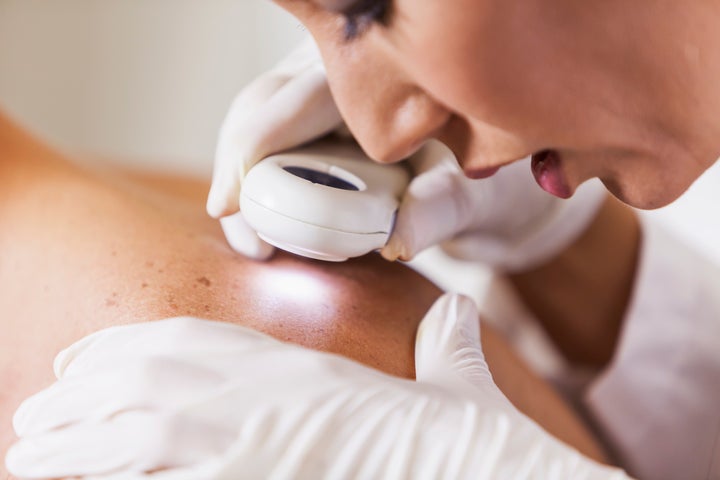 New skin care trends, tools and "holy grail" ingredients seem to pop up daily. TikTok alone has introduced us to slugging, skin cycling and glass skin, but what do the professionals actually think about these new and innovative approaches to glowing, flawless skin?
We wanted to know if we should be testing these techniques at home or if they should be kicked to the curb, so we went to skin care experts to find out. HuffPost spoke with leading dermatologists and top plastic surgeons who specialise in the latest aesthetic procedures to find out which trends and ingredients they themselves would never consider trying
Slugging
Slugging, a Korean skin care technique, has become popular in the States after it began trending on TikTok in recent years. The process for slugging is simple: Do your normal nightly skin care routine and then slather on a thick layer of petroleum jelly, like Vaseline. This is said to help seal in all those good-for-you ingredients overnight and lead to better moisturisation and plumper skin.
"For myself, I would never do slugging," said Dr. T.Y. Steven Ip, a plastic surgeon specialising in aesthetic and reconstructive procedures. "Slugging has a high risk of clogging your pores and leads to facial blemishes."
Along with petroleum-based products like Vaseline, some TikTokers opt to use plant-based oils, like coconut oil, for slugging at home.
However, Dr. Geeta Yadav, a board-certified dermatologist and founder of Facet Dermatology, said she wouldn't advise this option. "I'd highly avoid using coconut oil on your face. It's comedogenic, meaning it'll block the pores and result in skin congestion and possibly acne. This is especially true when you're using unrefined coconut oil, which many people prefer due to its being more natural than other iterations."
"Instead," Yadav said, "use a moisturiser designed for use on your face and save coconut oil for more minor skin tasks, like treating your cuticles or nourishing cracked heels."
At-Home Chemical Peels
"I would never do an at-home chemical peel on my face," said Dr. David Shafer, an award-winning, double board-certified New York City plastic surgeon specialising in all aspects of aesthetic and cosmetic surgery. He explained: "I have seen too many patients who have ordered peels online and burned their face."
Harsh Physical Exfoliators
A common concern among the skin care experts we consulted was over-exfoliating the skin, which they frequently see patients do.
"I don't recommend the use of harsh physical exfoliators, like intense scrubs or tools, to smooth skin and exfoliate buildup from pores," said Dr. Reid Maclellan, founder of Cortina Health, an online dermatology treatment source. As he explained, "tools that are trending on social media like pore vacuums and extractors can be damaging to skin, especially sensitive skin or on areas where the skin is thin. This can lead to broken blood vessels and bruising of the skin."
"I recommend using a chemical exfoliant with AHAs [alpha hydroxy acids] included that can gently penetrate pores and break up oil buildup and dead skin cells, without the need of damaging the skin," Maclellan suggested. He even recommended one such product, Dr. Dennis Gross Daily Peel Pads, which are formulated with glycolic, lactic and malic acid.
If you haven't used these chemical exfoliant products before, Maclellan said, "it's important to remember for sensitive skin to ease into using products with exfoliating ingredients. I recommend starting with once a week and working your way up to more frequent use."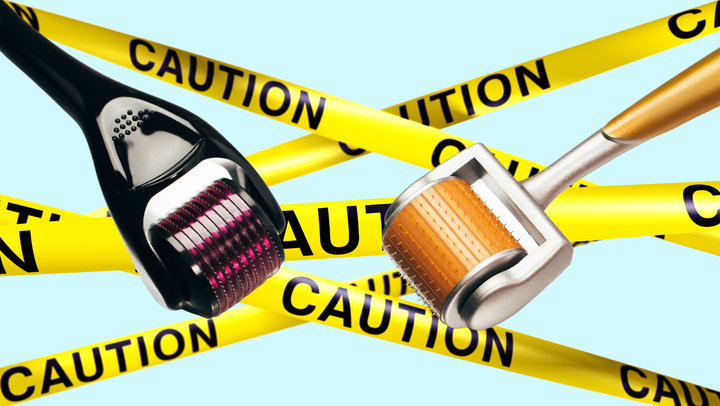 At-Home Microneedling
The recent availability of derma rollers, which feature tiny spikes to encourage collagen production and elasticity of the skin, has made microneedling a part of many people's skin care routines. Many of the professionals HuffPost spoke with said this is something they would definitely avoid.
"Although a very popular in-office treatment, the derma rollers used at home are often not sterilised and can result in the development of contact dermatitis, spread bacterial and viral infections, and cause permanent scarring," explained Dr. Samuel Lin, a plastic surgeon in Boston.
Another professional who warned against trying this technique at home is Dr. Ari Hoschander, a New York-based aesthetic plastic surgeon. "A skin care trend I would never get behind would be at-home microneedling," he said. "Microneedling is believed to help improve skin quality and texture by reducing pore size. However, too much pressure with the device can give an alternative effect, leading to skin blotchiness and trauma to your skin."
Potent Skin Care Ingredients
Depending on the sensitivity of your skin, there are some skin care ingredients you should avoid. The doctors with more sensitive skin explained what they skip out on during their face-washing routine.
"I personally do not use either vitamin C or any retinol/retinoids," said Dr. Jennifer Levine, an award-winning, double board-certified facial plastic surgeon based in New York City. "They all irritate my skin; I have tried so many times!"
London-based Dr. Marko Lens, a plastic and reconstructive surgeon and founder of the skin care brand Zelens, said he never uses glycolic acid, an ingredient found in many skin care products. "This acid is highly irritating, particularly when used in high percentages, and it is increasing sensitivity of the skin to the sun."
He elaborated: "I may agree that glycolic acid is very efficacious in resurfacing the skin, but considering side effects in the era when there are so many other acids which provide the same effect without irritation and without an increase in the skin sensitivity to the sun, I do not see the point of using glycolic acid — except one: It is very cheap to buy."
"Common ingredients that are found in many skin care products that I would stay away from are fragrances, preservatives like parabens, and phthalates," said Dr. Wendy Long Mitchell, a New York-based dermatologist. "Fragrances can irritate your skin and should be avoided when possible. Parabens can impact your hormone balance, and phthalates can impact your endocrine system and may lead to reproductive health/fertility issues."
Ip left readers with a final warning: "Be careful with the TikTok and [Instagram] beauty trends! Not every influencer is an expert, and your skin is your body's barrier. Be careful with it."