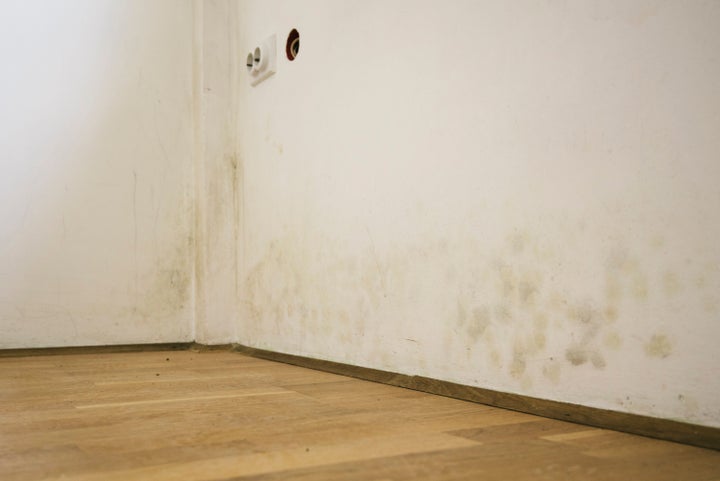 If you've ever thought about painting over mould to get rid of the problem, we're here to tell you that's probably not the best idea.
That said, in the last month alone, the number of people Googling 'how to paint over mould' has increased by a whopping 50 percent compared to the previous month, and has even accumulated over 20 million search results.
Although you might want to get rid of unsightly mould spots as quickly as possible, going for what appears to be the simplest option may lead to future unwanted problems.
Also, with colder temperatures well underway, the likelihood of spotting black mould in your home is more than likely to happen – concerned by how many Brits might be tempted to paint over mould, Jamie Hancox, painting expert and managing director at paint brand Tikkurila has let us know why that isn't a great idea.
They said: "Even though it may appear that you have visually taken care of the problem, the mould spores will still be alive beneath the coat of paint you have applied and will soon show through again."
Well, what about anti-mould paint?
While it might seem that anti-mould paint would be a great short-term solution for fighting mould, leading paint supplier Dulux mentions that "the fungicidal chemicals which repel mould" could lose "its potency over time, so mould may reappear if the underlying cause hasn't been addressed or the area wasn't cleaned sufficiently before painting."
Hancox says: "Mould can survive and thrive under a coat of paint and if left to spread it can embed itself into substrates such as plaster or woodwork and cause structural damage to your home."
The negative impact of mould to your health
Sorry, but "breathing in mould can also have negative effects on your respiratory system."
The NHS states: "Inhaling or touching mould spores may cause an allergic reaction, such as sneezing, a runny nose, red eyes and skin rash. Mould can also cause asthma attacks."
Hancox explains reasons for mould can range in seriousness from issues with condensation, to a leak from an upstairs bathroom, or even an external structural issue such as loose pointing or broken roof tiles that will need to be addressed.
"If you have spotted mould spots, then uncovering the root cause of the growth and solving it is crucial when dealing with your mould problem in the long term," Hancox explains.
How to remove mould before painting
For those looking to paint a room affected by mould, Jamie mentioned the importance of thoroughly cleaning the mould from the wall with a mould removal solution, many of which are available at most supermarkets.
"It is critical to use a cleaning solution specifically formulated to deal with mould or you won't kill all of the mould spores on the surface which could impact how paint adheres to the surface."
He says to ensure the wall is thoroughly dry, and then apply a mould-inhibiting primer, followed by an extra-durable topcoat paint with the same anti-mould qualities: "Dealing with black mould becomes tougher and more costly the longer it's left."
To further prevent pesky black mould, Jamie recommends having good ventilation in your home – especially in places that experience high humidity, such as bathrooms. That being said, it's probably time to invest in a dehumidifier.