Reusable water bottles are the desk (and gym) accessory we can't be without – not only do they help us cut down on our single-use plastics but these eco-friendly bottles also remind us to drink enough water during the day.
You could make do with that battered old Evian one you've been toting round for the last two months – reuse is always better than chucking plastic away – or you could treat yourself to something designed to last. From Chilly's to the official Love Island water bottle we've tried and tested the most popular.
So does it matter which you pick of the very many on offer? Are any of them really worth £20? We tried some of the most popular bottles to see which is worth the cash.
Chilly's 500ml - 'No leakage and kept my drink cool'
Price: £20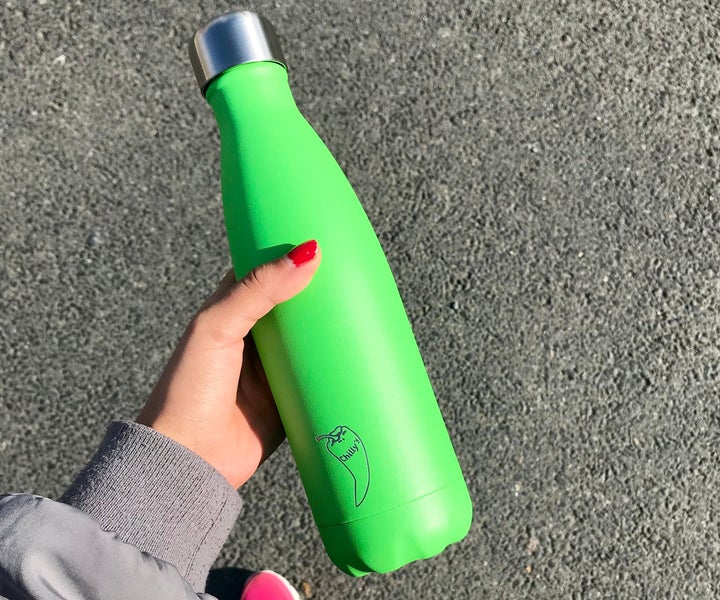 The Chilly's bottle (in neon green no less) claims to keep water cold for 24 hours, and hot drinks warm for 12 hours as well having no leakage.
Though I didn't try hot drinks in the water bottle, it did keep my water cold for a long period of time. But what proved more tricky was the design of the bottle. Though attractive, when using a bottle like this at the gym it felt rather clunky –personally, I prefer not to have a wholly detachable top requiring the use of both hands.
I was initially very dubious about the 'leak proof' claims as I'm the kind of person whose bag is always damp with whatever drink I've thrown into it. Despite this it didn't leak once during the week it was tested.
Would you buy it? Though the chilly bottle is quite expensive after using it for quite some time, I would buy this bottle as it keeps my water cool for such a long period of time.
Stay Sixty 500ml - 'So much easier to clean than most bottles'
Price: £29.95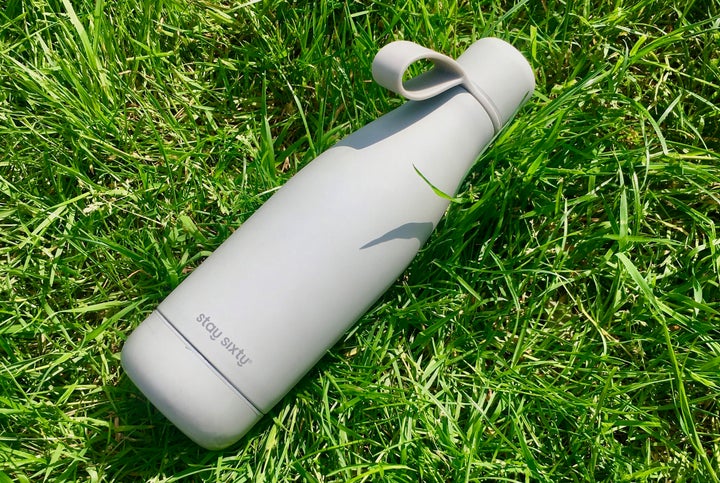 What first drew me to the Stay Sixty bottle was its minimalist Scandi design. But there are two functions that make this bottle really stand out. Firstly, the handle, which is great to use when on the move - especially as someone who drinks a lot of water and wears a backpack. Secondly, the bottom comes unscrewed which makes it much easier to clean than other reusable bottles. Other bottles require you to buy a separate brush and are almost impossible to rinse - you can taste soap suds for days.
My bottle succeeded in keeping my drinks cold for 12 hours and the rubberised finish is wipe clean, meaning I've been able to easily remove pen stains. The bottle has, however, had a few knocks which means the paint has ever-so slightly come off on the lid. As my bottle is grey, the steel isn't so visible, but it might be in the pink and black colourway.
Would you buy it?: Given how much money I was spending on buying water bottles (and not to mention the cost on the environment) I think it's definitely worth the cost. Added bonus that you don't have to buy a brush to clean it.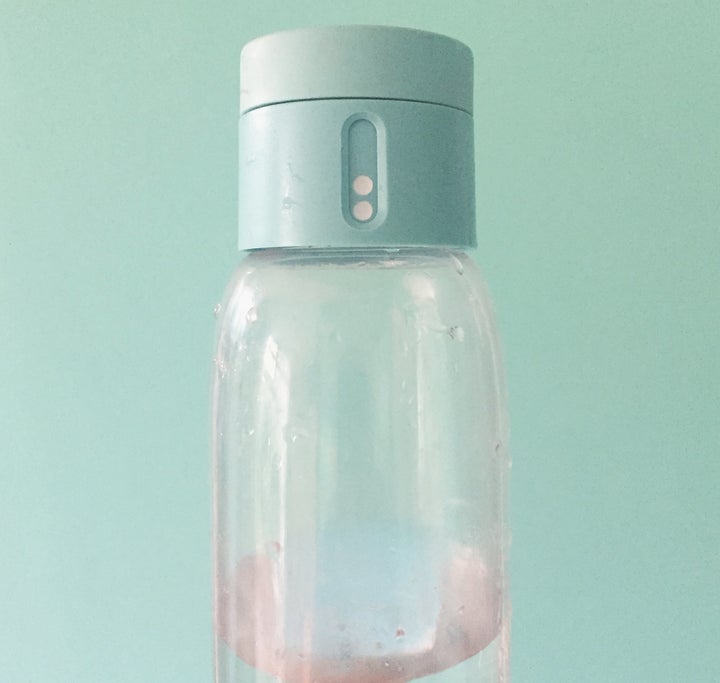 Like about half the office, I spend a good majority of my week telling myself I need to drink more water, and then getting to 3pm, totally parched, and realising that I have completely failed to do so. Joseph Joseph's BPA-free plastic bottle is meant to help with that. Essentially, the bottle comes with a two part lid: a top bit you screw off to reveal a drinking spout, and a collar section that clicks around to reveal a dot (you can record up to four) so you can keep count of how many times you've filled your water bottle up that day.
I found I preferred the taste and chilling qualities of a metal bottle over the plastic here, though this is lighter and a better shape for the gym. And I didn't love the drinking spout, which meant I ended up removing the whole collar to drink from the bottle – potentially defeating the object. Worth noting: the bottle can go in the dishwasher, but the lid can't. Also worth noting: it can be tricky to properly twist the top shut without moving the water tracker dot. Which is how I ended up with water leaking all over my bag …
Would you buy it?: It didn't suit my tastes, but it's decent value for money and could be a smart buy for someone else.
S'well 500ml - 'The bottle looks fab, until you put it in your bag with keys'
Price: £35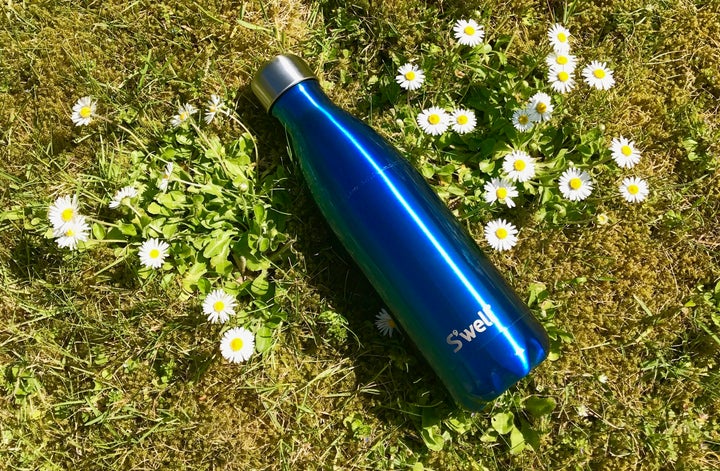 The blue S'well bottle looks fab, until of course you put it in your bag with keys like I did, leaving it with an unsightly white scuff. The insulating stood up to the maker's claims and kept my water cool as ice during a long walk on the hottest Spring bank holiday on record. Better yet, the water didn't have a metallic taste.
I'm not a fan of using this bottle for hot liquids though. The bottle is hard to hand wash due to its slim neck and is not dishwasher safe, meaning after I used it for tea, I had to go through a laborious soaking process putting it repeatedly in hot soapy water, then clear water, to budge the tea residue. The design could also do with the addition of some texture for grip.
Would you buy it?: Considering the price, I'd expect this bottle to look pristine for more than a day, so unfortunately I can't recommend it.
Official Love Island Water Bottle - ′Its mouth piece sometimes made you feel like a baby drinking from a beaker'
Price: £15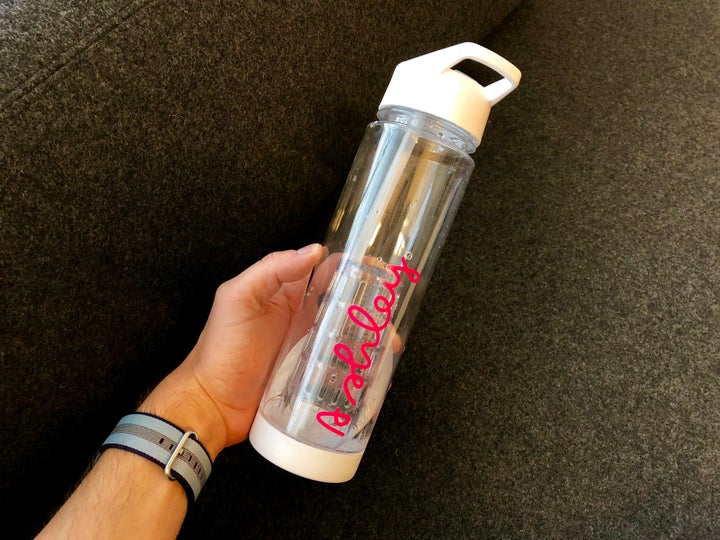 The official 'Love Island' water bottles are the accessory of the summer for any fan of the ITV2 series, and last year, they couldn't keep up with huge demand. Luckily though, they're fully restocked and now you can pick from three colours to have your name written in.
At first, the bottle itself took a bit of getting used to, as you don't actually have to tip the bottle up as the liquid inside gets less because there is a straw inside. Its mouth piece also sometimes made you feel like a baby drinking from a beaker, but I was willing to suck that up.
I'm not entirely sure what the plastic filtery-looking bit inside was for or what it does, but it's a great place to put some fruit to infuse the water (having looked it up, that's precisely what it's for).
Would you buy it? At £15, it's definitely at the cheaper end of some of the water bottles on the market, but it does have great novelty value. While I might cop some Flack for walking around with it, the 'Love Island' fan inside of me can't get enough.
Camelbak Chute Vacuum - 'No dribbles thanks to its excellent, ergonomically designed spout'
Price: £30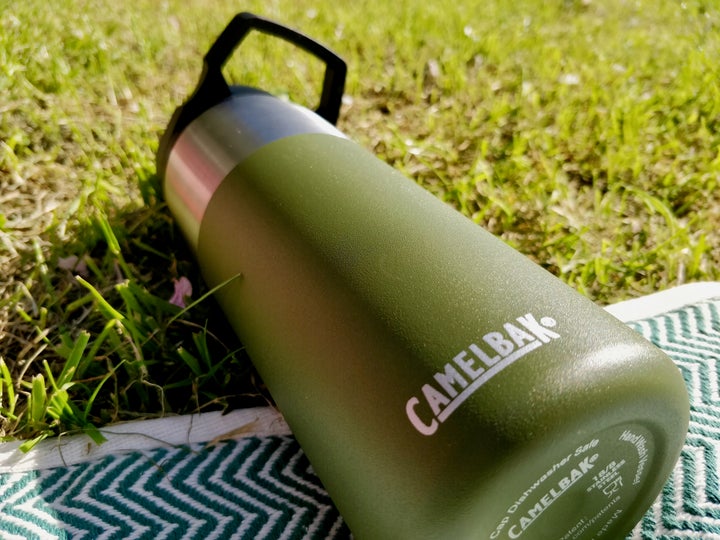 When a khaki green Camelbak water bottle landed on my desk, the first thing I thought was: 'Wow, this is heavy duty.' It's pretty bulky, with a rather inconvenient handle attached to the lid (presumably for attaching to your rucksack, bike or some other form of outdoorsy paraphernalia). But when the weather took a turn and we were graced by some of the hottest days of the year, this bad boy kept me hydrated and my water stayed cold for ages - even when I left the bottle in the sun.
I was worried about leakage, but shouldn't have been. The bottle lid stayed tight and I was particularly impressed by the magnetic cap. Whether it's because of my face or the shape of the bottle lid, I do sometimes dribble. Not with the Camelbak – I'm putting it down to an excellent, ergonomically designed spout.
The bottle isn't exactly handbag size, but when you're exceptionally thirsty and it's a hot day, that's not even an issue (more water FTW).
Would you buy it? I wouldn't buy the water bottle purely because the top part of it is quite bulky and I've since struggled to fit it in various handbags. If they made a smaller, less bulky version I would buy it.