An investigation confirms that as Schiaparelli neared the surface of the Red Planet, it made a wild miscalculation that would ultimately prove fatal.
Thinking it was below ground level when it was actually 3.7km above, the lander promptly jettisoned its parachute and fired its landing rockets.
It instantly started to freefall, crash landing on the dusty Meridiani Plain shortly after at a speed of 335mph.
All that remains of the lander today is a crater of scattered hardware, photographed by an American satellite last month.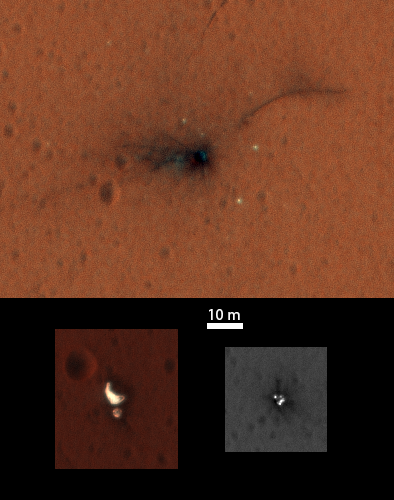 The details were released in a preliminary conclusion of the ESA's technical investigation of data Schiaparelli relayed during its descent.
David Parker, ESA director of human spaceflight and robotic exploration, told the BBC the completed investigation would be released early next year.
"We we will have learned much from Schiaparelli that will directly contribute to the second ExoMars mission being developed with our international partners for launch in 2020," Parker added.
The ExoMars programme, a collaboration between the ESA and Russia, seeks to find evidence of past or present life on Mars.
Schiaparelli was designed to demonstrate that technology built into the six-wheeled rover set to land on Mars in 2021 is viable.
While the report found that the lander's navigation system misinterpreted altitude data, it also showed that several key processes worked.
The parachute and the heatshield deployed at the right time, working as planned before the miscalculation was made.
ESA engineers are now waiting for approval from Europe's research ministers before going ahead with the next mission.