After what feels like years of waiting, Netflix's most expensive series yet, 'The Get Down', is finally available to watch on the streaming service.
Baz Luhrmann's show begins with a feature-length first episode, and introduces viewers to '70s New York, when the Bronx is in ruins and hip-hop doesn't yet exist.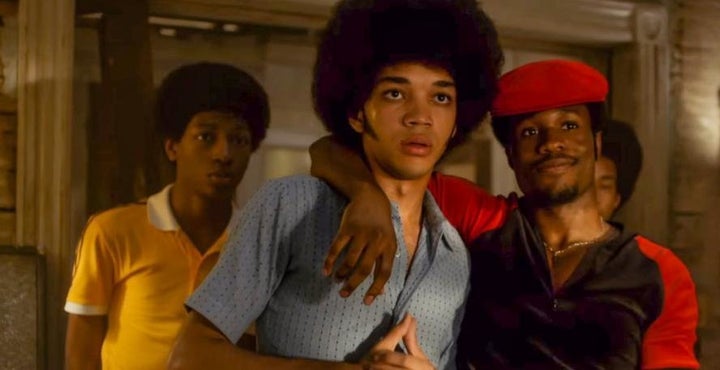 At the centre of it all is Ezekiel Figuero, a teen with more than a few girl problems, and a gift for poetry and rap, played by Justice Smith.
But who is Justice? And how did he land the role of Zeke? Get to know him a little better below…
1. You might know him from 'Paper Towns'
He played Marcus 'Radar' Lincoln in the movie, which also starred Cara Delevingne and Nat Wolff.
2. He's older than his character
The ages of the characters in 'The Get Down' aren't made clear, but given the fact they attend school together, it's fair to assume they're under 16.
Justice isn't quite pulling a Stockard Channing though, as he was 21 - not 33 - when he began playing the teen.
3. He comes from a musical family...
Justice's parents are both musicians and his sister is a singer.
4. ...And had to prove his musical abilities for the show
There's no way Baz was going to hire a tone deaf actor for the role of Ezekiel, and Justice had to perform at the very first audition.
"I remember three months before [my audition], coincidentally, I [was] really heavily into Biggie Smalls because he was one of my sister's favorite rappers. Then from there, Kendrick Lamar, Ab-Soul, Schoolboy Q," he explained to CNN. "Then I got this audition for "The Get Down" and I had to rap for the audition. That was nerve-racking.
"I rapped a Biggie Smalls song and I got the call back and the rest is history. "
5. He still had to go to rap bootcamp, though
Kurtis Blow, who wrote some of the series' early raps, led proceedings, where the young cast members were taught the art of MC'ing, reports MTV.
6. Justice is genuinely good friends with his castmates
A quick look through his Instagram account reveals that they really do love hanging out together.
7. Working with Baz Luhrmann was understandably nerve-wracking
"Every time he opens his mouth he has a life lesson to share," he said of the Hollywood director. "He wanted us to have this back and forth where we could talk about the characters because he really wanted us to make the characters our own - which was a dream come true."
8. He's getting used to his celebrity status
9. If 'The Get Down' gets a second series, Justice will probably be in it
Reports have speculated that if Netflix decide to produce more episodes, we may see a jump to the '80s and exploring what happens after the collapse of disco.