Nintendo's revamped NES, the Classic Mini, goes on sale today, but you might struggle to find one in the UK.
Most retailers have little to no stock and marketplace suppliers are charging well over the £50 RRP, as Engadget first noted.
A quick scroll through Amazon's listings reveals that some sellers are asking for up to £290.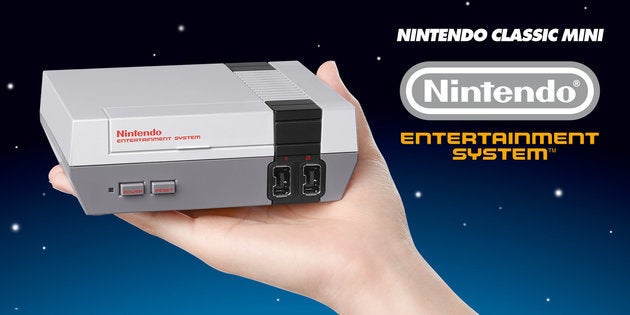 The new NES is much smaller than its predecessor, but it comes with 30 classics pre-installed, including:
Balloon Fight
BUBBLE BOBBLE
Castlevania™
Castlevania II: Simon's Quest™
Donkey Kong
Donkey Kong Jr.
DOUBLE DRAGON II: THE REVENGE
Dr. Mario
Excitebike
FINAL FANTASY®
Galaga™
GHOSTS'N GOBLINS™
GRADIUS™
Ice Climber
Kid Icarus
Kirby's Adventure
Mario Bros.
MEGA MAN™ 2
Metroid
NINJA GAIDEN®
PAC-MAN™
Punch-Out!! Featuring Mr. Dream
StarTropics
SUPER C™
Super Mario Bros.
Super Mario Bros. 2
Super Mario Bros. 3
Tecmo Bowl™
The Legend of Zelda
Zelda II: The Adventure of Link
The console comes with an HDMI cable so you can finally play those classics on the big screen.
It's powered by USB and while it comes with a cable you'll need a plug. Any smartphone/headphone charging plug will do.
We're excited, but not excited enough to shell out £290 for the privilege of securing one.