'The Replacement' "promises to do for maternity leave cover what Fatal Attraction did for adultery", said the Daily Mail last week.
There are certainly enough disincentives on display in Joe Ahearne's creepy thriller landing on BBC One tonight to make you think twice before you head out of the door, proudly armed with a bump, a balloon and a box of pressies.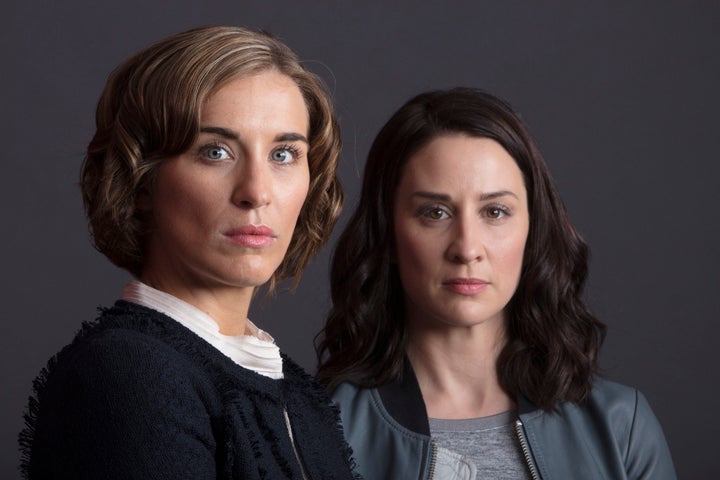 When is it on?
'The Replacement' starts on BBC One tonight, Tuesday 28 February, at 9pm, and runs for three weeks
What happens?
Ellen is a successful architect working in an too-cool-for-school office in Edinburgh. When she discovers she is expecting her much longed-for first child, she prepares to hand over the reins to her maternity cover Paula. The latter seems too good to be true, cosying up to Ellen's employers, improving on her ideas for clients and generally becoming every woman, and possibly man's, worst office nightmare. And all the while she seems to be tending to Ellen's welfare too, even… touching the bump, uninvited. Ouch! Is Ellen becoming increasingly paranoid, or is Paula really out to get her? Tune in.
Who's in it?
Morven Christie (The Missing Series 2, One of Us) is Ellen, while Vicky McClure (Line of Duty, This is England) plays Paula with stunning aplomb.
Richard Rankin plays Ellen's increasingly exasperated husband Ian, while Dougray Scott is back on the small screen as her enigmatic boss David.
What's so good?
The fact that, even as the plot sharpens and gets increasingly complex, you still don't know whether Ellen is becoming more and more paranoid, or whether Paula really is out to get her. Is anyone a reliable witness in this story? (And you only have to wait three episodes to find out. This is a shortie.)
And another thing… it's yet another cracking pair of roles for two female actors at the top of their game. This shouldn't still need saying, and the tide is turning, but it remains a rare pleasure to see women given dialogue and central plot-lines that aren't dependent on their love/fury for a good/bad man. So bring it on, and maybe if there's one thing to take away from this chilling three-parter, it's… keep your passwords to yourself when you're heading out of the office, even if it's just for a sandwich.
'The Replacement' begins on Tuesday 28 February at 9pm on BBC One.