As Dominic Grieve waved the white flag on Brexit yesterday, for his critics the much-vaunted Tory 'Remainer rebellion' ended not with a bang but a simper. The former Attorney General once again looked and sounded more like a lawyer than a politician. He apologised for his previous "excessive" demand to mandate ministers how to act on Brexit, talked about his second home in France and then finally voted against his own amendment. I wrote our snap analysis of the cave-in HERE, pointing out that Grieve really had been outfought and outgunned by David Davis. The assurances of government time to debate future motions are simply paper promises, and constitutionally meaningless at that.
The Lords finally passed the EU Withdrawal Bill into law last night, though Brexiteers decided not to gloat too much publicly at Grieve's humiliation. "We have the bill, they have words. They knew damn well they didn't have the numbers, that's why they didn't stand and fight," one says. Some Leavers think May gave Grieve a get-out purely to keep alive a possible future Remainer rebellion, and some leverage against the 'clean Brexit no-dealers'. But given that Grieve has now made the issue one of trusting the Government (as opposed to pinning it down in statute), the irony is that few trust him ever again to vote against May. Even if all Labour MPs had voted against the PM yesterday, she would still have won by three votes.
As May celebrates yet another Houdini-like escape from a Brexit-shaped box, there will be long-lasting damage caused by the Tory whips' refusal to 'nod through' sick MPs. Labour's Naz Shah had to check herself out of hospital and arrive in her pyjamas and be pushed through the voting lobby in a wheelchair. She's told the Guardian: "I thought I'd just be able to stay in the back of the car, where I'd made a bed for myself, and be counted there, but the Tories wouldn't have it." Labour's heavily pregnant Laura Pidcock told BuzzFeed she has been in "extreme discomfort – the baby is lying on my sciatic nerve – I have had to struggle in to Parliament, aided by a wheelchair at times, only to be checked out by government whips to make sure that I'm not faking it." A senior Tory MP told me yesterday that a minister has a dying husband, but she was still expected to turn up to vote. No wonder calls to modernise the voting lobby system are growing.
One Labour wag joked yesterday that the first rule of Tory rebel fight club is 'don't rebel'. Yet as they surveyed the wreckage this morning, some Remainers were still clinging to the hope that they could defeat the Government on specific issues like customs and the single market when five more Brexit bills (on trade, customs, agriculture, fisheries, immigration) return to the Commons. Already pleased they have a 'status quo' transition period, pro-EU MPs also hope they will have the last laugh and secure a 'soft Brexit' if Cabinet ministers face down Boris and Gove and co in coming weeks on trade. But with Brussels prepping its own 'no deal' plans, this fight is far from over.
Challenged by the SNP's Ian Blackford in PMQs yesterday over Trump's child separation policy, Theresa May said: "The pictures of children being held in what appear to be cages are deeply disturbing. When I was Home Secretary, I ended the routine detention of families with children." And the PM will be mighty relieved that last night the President finally caved to domestic and international outrage and signed an executive order insisting migrant families stay together. Either Trump is not immune to the sound of children crying, or his polling numbers showed it was hurting him with voters. (My US colleague Amanda Terkel has this poignant piece on the toys taken from kids at the border too).
With the Trump visit looming, No.10 were obviously wary of direct criticism of Trump, preferring their oblique and pointed references to UK policy instead. Yet the PM once again looked like she'd had the condemnation dragged out of her. As with the Muslim ban, it took a junior minister to sound really angry. Sam Gyimah tweeted: "Separating children from their parents in this way is beyond dreadful. This policy is indefensible, pure and simple!" The added problem for May is that just as she adopts her masochism strategy of binding close to Trump, he moves further away from the West. The Times splashes on alarm in Whitehall that the President plans to meet Vladimir Putin immediately after his British trip. NATO chief Jens Stoltenberg has a joint press conference with May this afternoon.
And despite her boast yesterday, May's own record on migration is also coming under scrutiny. One campaign group claimed that "parents are routinely separated from their children through immigration detention in the UK". The BID Detention group said the Home Office doesn't release stats but its Separated Families project provides legal advice to about 170 parents per year on how to get released. And this morning, ahead of tomorrow's 70th anniversary of the arrival of the first Windrush migrants, Diane Abbott has demanded figures on how many people were wrongly held in detention centres, lost jobs, made homeless and barred from benefits or NHS treatment.
In the overnight trail of his Mansion House speech tonight, we're told that Philip Hammond will signal tax hikes to pay for the new NHS cash increase. "Across the nation taxpayers will have to contribute a bit more in a fair and balanced way to support the NHS we all use," he will say. Given that he will also pledge to stick to his fiscal rules, that suggests he won't increase borrowing and that a spending squeeze may be on its way to non-health areas. The 'bit more' also looks like a hint that Hammond is going beyond just cancelling planned corporation tax cuts. A new Institute for Government report calls for a cross-party Parliamentary inquiry into not just health funding but social care too (a policy black hole currently as big as the spending shortfall in the Government's plans).
Speaking of how you pay for things, Hammond is also expected to make some pro-Brexiteer noises tonight too on how the City can keep funding all our public services once we've quit the EU. He will talk of "ground-breaking financial partnerships" with countries and cities thought to include Hong Kong and Singapore, City AM reports. Influential government adviser Shanker Singham has talked of UK regime of 'multilateral mutual recognition' (a new kind of MMR jab, you could say). But business may be more worried about Brussels' dark warnings this week not being able to have its cake and eat it.
Hammond and May were both at least given a major political bit of ammo yesterday by the Office for National Statistics, which put out a report that stating that income inequality after tax increased slightly last year "but was still lower than a decade ago". Still the ONS had more evidence of the regressive nature of VAT and other indirect taxes. The poorest fifth of households paid almost 30 per cent of their disposable income on indirect taxes compared with 14.6 per cent for the richest fifth. Meanwhile, the FT has a report on Universal Credit claimants pleading for housing and food help. "I'm dealing with one eviction notice after another," one volunteer says. Jeremy Corbyn has this morning issued a Twitter video demanding a halt to the roll-out of the new benefit.
BECAUSE YOU'VE READ THIS FAR...
Watch North Carolina school receptionist Regina Ballard announce the start of the summer holidays to pupils, with a fabulous rendition of Etta James' 'At Last'. She says over the intercom,"That's it. It's 3 o'clock y'all", before lining up the music and bursting into song.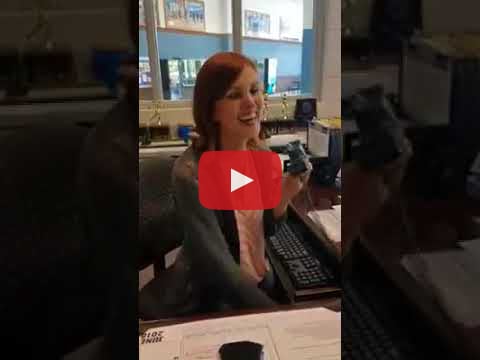 Tory fears about a defence spending squeeze will be heightened by the FT's cracking front page exclusive this morning, which reveals the PM asked the MoD to justify the UK's role as a 'tier one' military power. At a tense meeting this week, May asked Defence Secretary Gavin Williamson to rethink Britain's conventional capabilities and focus on cyber warfare. Her intervention caused 'shockwaves' in the department, the FT reports.
With Williamson having fought a high-profile campaign to protect and increase his budget, the leak may further raise eyebrows, given the meeting was a 'trilateral' session between May, Williamson and Chancellor Philip Hammond. Asking the MoD to go back to first principles is one thing. But Brexiteers may worry this is an ominous reminder to the former chief whip of what happens if you step out of line in the Cabinet Brexit Sub-Committee.
In PMQs yesterday, Tory backbencher Simon Hoare added to the ridicule of Sir Chris Chope's decision to object to a bill criminalising 'upskirting'. Referring to Chope's Christchurch constituency, Hoare said: "Dorset is the home of the Jurassic Coast. But my Rt Hon Friend will be pleased to know it's not full of dinosaurs." But he knew this was no laughing matter, swiftly stressing that "as a husband, father" it was "the safety and dignity of women" that mattered most.
The planted question allowed the PM to say "upskirting is a hideous invasion of privacy" and to announce that today a Government bill will be introduced outlawing the practice of secretly taking photos up women's skirts. The most serious offenders will also be added to the sex offenders register. In a strange way, Chope has managed to show that if ministers really want something done they can use Government time to do it. But the damage he caused to the Tory brand overall was considerable. May wants ministers like Lucy Fraser (who blogs for us today on the 'vile' practice) to be seen as the face of the party, rather than old men like Chope. Let's see if that takes aeons.