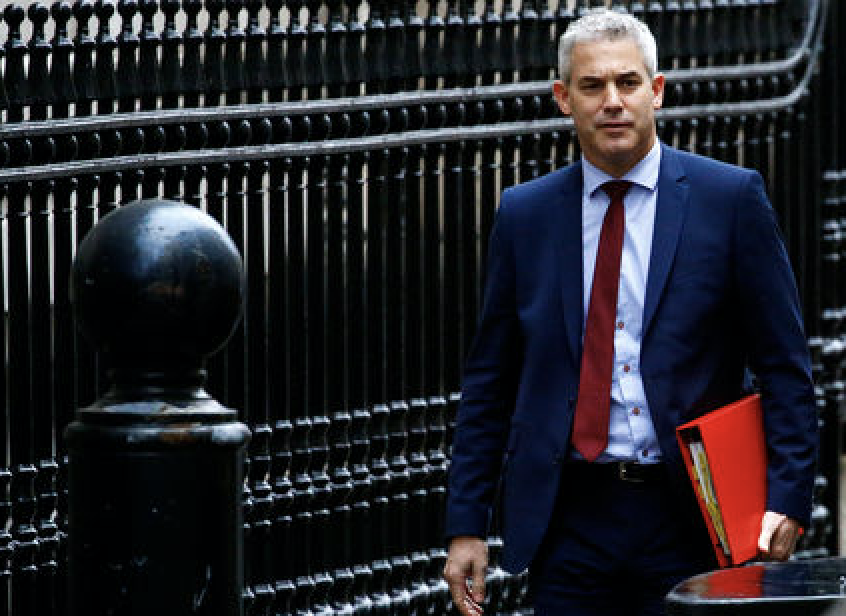 1. THE INDEFINITE ARTICLE
If Theresa May's Brexit deal is defeated in the Commons next week, will she tell the EU 'er, we need more time please'? Whitehall chatter about extending Article 50, the two-year legal timetable for our departure, has certainly become more intense in recent days. And yesterday digital minister Margot James became the first member of the government to publicly admit the possibility. She told BBC's Politics Live that if MPs can't agree on the PM's deal then 'we might have to extend Article 50'.
James swiftly added the caveat that she felt it was 'unlikely' Parliament would 'stare down the barrel of that particular gun', but many colleagues think her candour should be commended. Scottish Secretary David Mundell made a similar point privately in Cabinet before Christmas, and the threat of delaying Exit Day actually puts flesh on the bones of May's own warning that it's her deal or the risk of no Brexit at all.
What was very notable yesterday was that No.10 didn't actually contradict James. Instead, it just said it was not the government's 'intention' to seek an extension of Article 50. And on the Today programme, Brexit Secretary Steve Barclay struggled to deny a Telegraph report that EU officials had received 'feelers' from British counterparts on the subject. All Barclay would say was that an extension was not a unilateral decision and would run up against the practical problems of Euro Parliament elections in May. Neither was a denial. Similarly, in the Commons yesterday he repeatedly refused to rule out extension, sidestepping a request from backbencher Julian Lewis to pledge that under 'no circumstances' would Brexit be delayed.
May's big play to swing the DUP and Tory waverers behind her deal is to resurrect the idea of getting the EU to agree to start trade talks in 2021, effectively putting a time limit on the dreaded 'backstop'. While an exchange of letters or new language could help, many MPs won't be so easily bought off by vague promises. The Telegraph's Peter Foster cites EU sources saying it's difficult to agree a firm date when the UK hasn't a firm idea of what trade deal it wants. Still, leaving No.10's drinks last night, the DUP's Nigel Dodds was still in 'wait and see' mode. And Tory backbench rebel James Gray joked he could only change his mind if May offered him 'some really good quality champagne' and proper nibbles. He told Newsnight: "I'm going to make up my mind entirely based on the quality of the wine and canapes that are served. If we get bog-standard No.10 nasty red, warm white, and a sausage on a stick, no chance." He didn't change his mind.
Another No.10 drinks attendee, Richard Harrington. became the latest minister to threaten he would resign rather than agree a no-deal Brexit, adding 'my view is not an uncommon one'. Today, Yvette Cooper and Nicky Morgan's amendment to the finance bill will aim to make no-deal harder too. The Treasury sounds relaxed about the amendment, while Brexiteers say it would have little practical effect. More significant, as the Guardian first revealed, is that Labour's frontbench is backing it. Government whips may be sanguine now, but they won't be if such alliances become habit-forming. Cross-party rebellions rely on trust, and anything that builds such trust is bad news for No.10.
The dreadful harassment and abuse suffered by MPs and journalists on College Green opposite Parliament reached its nadir yesterday. Footage emerged of British 'yellow vest' protestors - some of them with links to the far right - shouting 'Nazi' and 'traitor' at Anna Soubry and Owen Jones. Sky's Kay Burley complained about the appalling sexist abuse she's received. One protestor in particular was caught on camera vowing a 'war' and declaring his opponents were 'fair game', as he racially abused a police officer: "You ain't even fucking British".
Several MPs raised the abuse in the Commons yesterday, including Labour's Stephen Doughty and Mary Creagh (who pledged her 'solidarity' with Soubry) and Tory Nick Boles. Brexit Secretary Steve Barclay joined the condemnation, pointing to the plaque in the chamber devoted to Jo Cox, who died at the hands of a far-right extremist in 2016. But Soubry may not be pleased that Barclay used her 'disgraceful treatment' to argue on the Today programme against a second referendum, saying it showed 'how divisive this process has been' and hinting another vote would only make things worse.
The Speaker vowed to look into extra protection, as well as the way groups made money from Facebook videos of their harassment. Last night, more than 50 MPs wrote to police to demand greater action and Scotland Yard is investigating whether any criminal offence had been committed. The police have a tough job trying to protect free speech while keeping the peace. But there's clearly a big difference between robust heckling and the physical intimidation and verbal abuse that several have suffered in recent days. For many ex-cops and lawyers, it seemed like a clear breach of Section 5 of the Public Order Act. Soubry told GMB this morning that after witnessing racial abuse of Faisal Islam in December by 'the same group' she concluded 'the policy of the Metropolitan Police is to ignore it'.
What some of the abuse has laid bare however is the way the far-right have hijacked the French 'yellow vest' tactics to give themselves credibility. On a lighter note, I hear health secretary Matt Hancock got into a bit of a pickle with his own favourite yellow NHS tabard recently. During a visit to his office before Christmas, his French counterpart spotted the offending workwear on Hancock's coathook and expressed his worry that a minister of the British crown could be a secret 'gilet jaune'. Hancock reassured him the reality was much more prosaic.
3. LORRY IS THE HARDEST WORD
The farcical no-deal Brexit lorry-park exercise was summed up beautifully in a series of tweets by the Indy's sketchwriter Tom Peck yesterday. But Transport Secretary Chris Grayling, already under fire for his emergency shipping contract with a firm that owns no ships and for the Gatwick drone delays, faces fresh embarrassment today.
The FT has got hold of a UCL study that shows that truckers at Dover would face six-day queues to board ferries if each lorry was delayed by just 70 seconds each. The study commissioned by the Department for Transport found that a delay of 80 seconds per vehicle would lead to a "no recovery" situation. This is described by one official as permanent gridlock, where 'the whole country [I'm not making this up] is in a traffic jam'.
The DfT stresses the research, done two years ago but only now revealed, is just one of several documents it has commissioned. Well, the FT has another. Imperial College, London has worked out customs delays at Dover would mean 'paralysis' on the M20 and A20. Just two minutes of extra checks would triple traffic queues to 29 miles.
BECAUSE YOU'VE READ THIS FAR...
Yesterday marked six years exactly since George Osborne's child benefit cuts began to bite. And a new study by the IFS found that a decision to freeze income eligibility thresholds has left increasing numbers of families out of pocket. A 36% surge means an extra 370,000 families will lose some or all of the benefit. John McDonnell told HuffPost that the 'stealth' cuts will leave one in five families affected, up from the one in eight when Osborne first announced the austerity measure. He is pushing for a fresh vote today on the Budget's impact on child poverty and equality. Meanwhile, Amber Rudd gave a strong hint yesterday of a further row-back on Osborne's squeeze on Universal Credit, even suggesting the five-week wait could be scrapped if she gets the cash from the Treasury. Blink and you missed it, but we spotted it.
Another legacy of the Lib-Con Coalition of 2010-2015 is Andrew Lansley's infamous reforms of the NHS. And the Guardian rightly splashes on a very significant line buried in yesterday's Long-Term Plan: a call by NHS England chiefs to repeal those parts of the 2012 Health and Social Care Act that force automatic tendering of care contracts. This would mean a reversal of the number of lucrative contracts handed to private companies like Virgin Care and Care UK. Given the PM has official endorsed the plan, surely it's a matter of time before she and Matt Hancock confirm the policy shift?
HuffPost is part of Oath and on 25 May 2018 we will be introducing a new Terms of Service and Privacy Policy which will explain how your data is used and shared by Oath. Learn More.
If you're reading this on the web, sign-up HERE to get The Waugh Zone delivered to your inbox.