The small, teardrop-shaped island in the Indian ocean has so much to offer: from tropical wildlife and beautiful beaches, to enchanting temples and picturesque tea plantations. Oh, and did I mention the food?
I spoke to Lonely Planet writer, Iain Stewart, to get his top tips for visiting the gorgeous country – and added a few of my own.
1. Climb A Mountain For Sunrise At Adam's Peak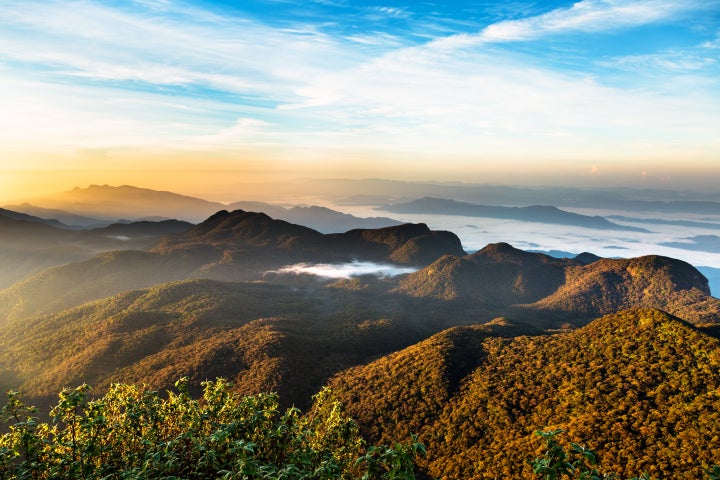 There's nothing quite like hiking up 5,000 steps and back before breakfast. Adam's Peak, or Sri Pada ("sacred footprint"), is one of the highest points in Sri Lanka, at 2,243m (7,359 ft). It's arguably at its most breathtaking at sunrise. Climbing up in the pitch black, you'll have no idea of the sheer beauty that awaits once the sun comes up – lush rolling hills, epic lakes, and countless waterfalls.
The only problem? You'll need to get up at 2am to make it up there in time. But don't worry, it's definitely worth it.
Address: Sabaragamuwa, Sri Lanka
2. Surf's Up On The South Coast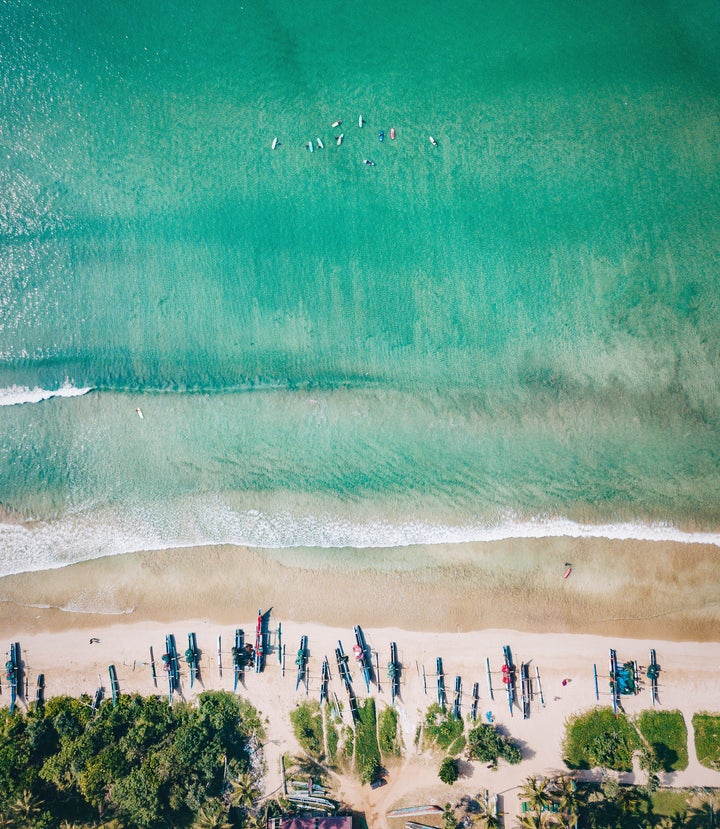 Whether you're an experienced surfer or a belly-boarding novice, there's something for everyone on Sri Lanka's south coast. Surf schools line the beach at the popular Weligama and the smaller Hiriketiya, which is backed by coconut groves and described by Stewart as "the south coast's best-kept near-secret".
Whether you pay for a lesson, or rent a surf board (around £10 for a full day) – just remember to pack that sun block as it's hard to come by when you're there.
Address: Weligama, Matara District, Southern Province, Sri Lanka
3. Visit An Ancient Civilisation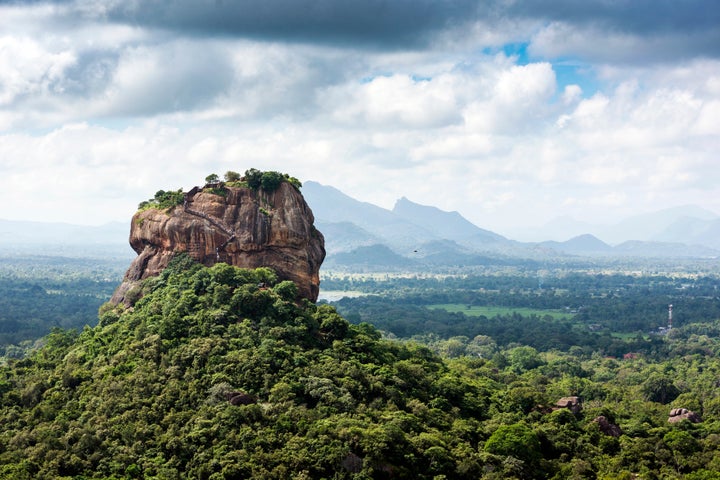 "For most travellers, the country's most enigmatic and spectacular site is the breathtaking rock-temple of Sigiriya, a huge outcrop which soars to 200m (600 feet) above the plains of central Sri Lanka," Stewart says.
"You can climb up Sigiriya's near-vertical rockface via stairways to a natural platform called the Lion's Gate, where only the giant carved paws of the original structure remain. Then a final ascent takes you to the ruins of a 5th Century fortress, on table-flat summit."
Gates open at 7.30am and while that might seem unnecessarily early – it's worth it to beat the crowds. And trust me, there are crowds. The tickets are quite pricey at $35, so if you're on a budget try climbing neighbouring Pidurangala rock for about £3. I climbed both – Pidurangula for sunrise (starting at 5.30am), before descending to grab a quick breakfast and heading to Lion's Rock at 8.30am.
Address: near Dambulla in the Central Province, Sri Lanka
4. Enjoy A Picturesque Train Journey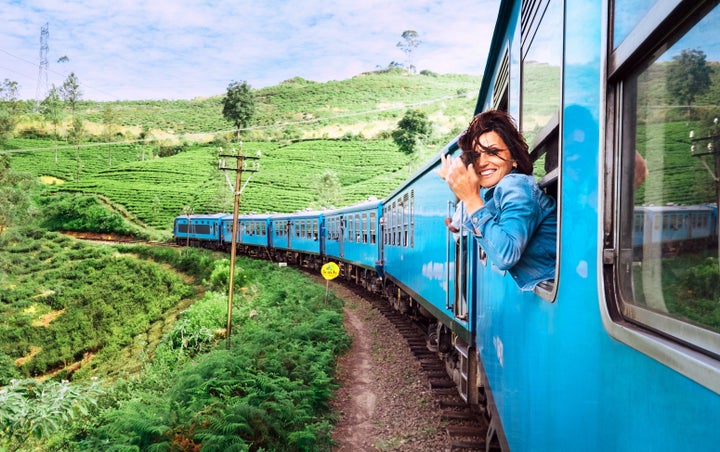 You can't go to Sri Lanka without getting the train to (or from) Ella, through the breathtaking hill country. Wind through lush tea plantations and glorious waterfalls, and make sure you take the perfect Instagram shot of yourself leaning out the train door or window – just be careful, OK?
Pick the train up from Kandy or Hatton if you've climbed Adam's Peak. You can easily get unreserved seats on the day, but if you want reserved seats you'll need to book in advance.
Train stations: Kandy, Hatton, Nuwara Eliya, Ella, Demodara
5. Sightseeing In Ella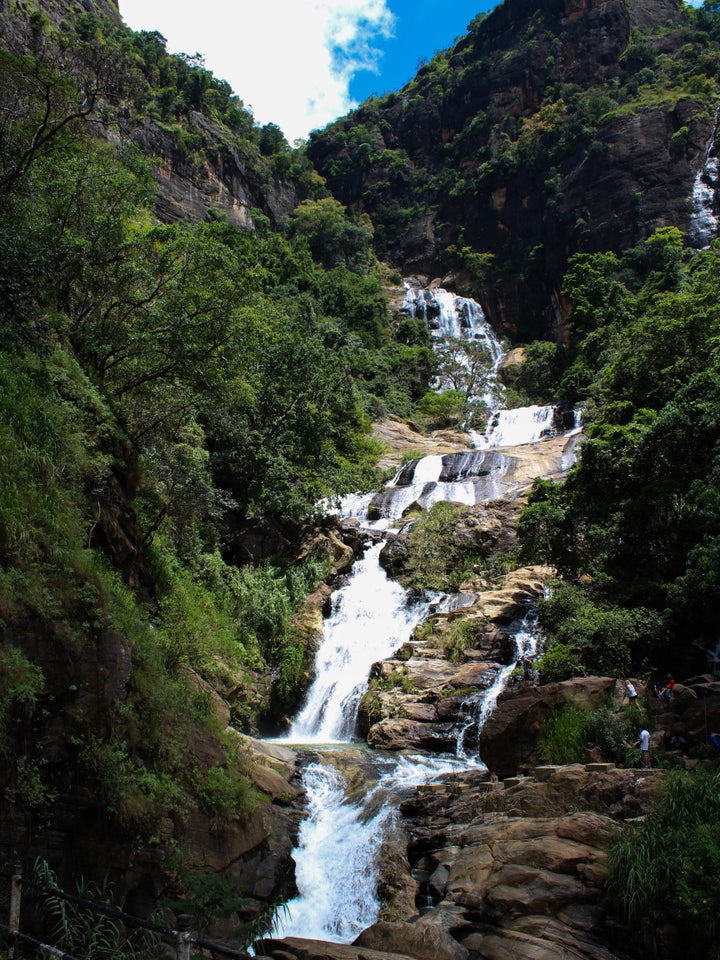 Seeing as you're getting the train, you might as well spend a couple of days in backpacker heaven to soak up the sights – because there are lots of them.
This is where you can hike up Adam's Peak or Ella Rock (the latter is a harder climb), visit the epic Ravana waterfall, or head to a tea factory. A hike over to the Nine Arch Bridge is also worth your time if you can ignore the hoards of people posing on the bridge for Instagram – which is both infuriating and mesmerising at the same time.
Hungry? Avoid Chill House, unless you want to be packed in like sardines with hundreds of others. Opt to eat at Matey Hut, which is a tiny roadside joint – it doesn't look like much from the outside, but is absolutely delicious. The chef also does cookery classes, which have had great reviews.
Address: Badulla District of Uva Province, Sri Lanka
6. Safari, Safari, Safari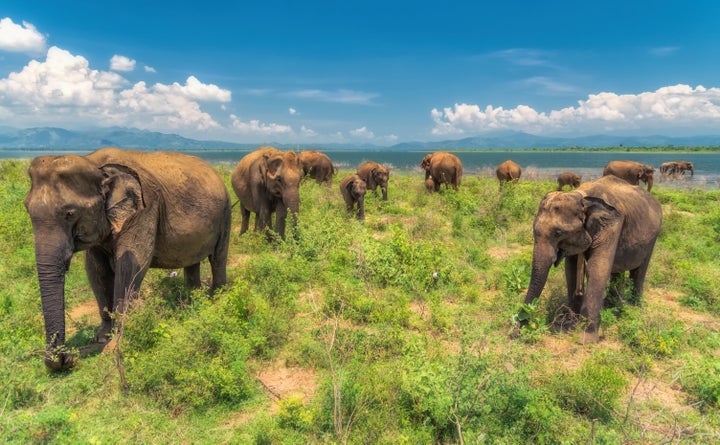 Sri Lanka has an incredible amount of wildlife, with more tropical birds than you can shake a tail feather at. So it stands to reason that it's also a fantastic place to go on safari – and cheap as chips.
Udawalawe is one of the world's best places to see wild elephants and well worth a visit, while Yala is famous for leopards – but Stewart warns it can get crowded.
Or why not try an ocean safari (a.k.a whale watching trip) that departs from Mirissa on the south coast. Check out Raja And The Whales, which offers responsible whale watching and 50% money back guarantee if you don't see any whales.
Address: Udawalawe, Ratnapura District in Sri Lanka
7. Visit Galle Lighthouse At Sunset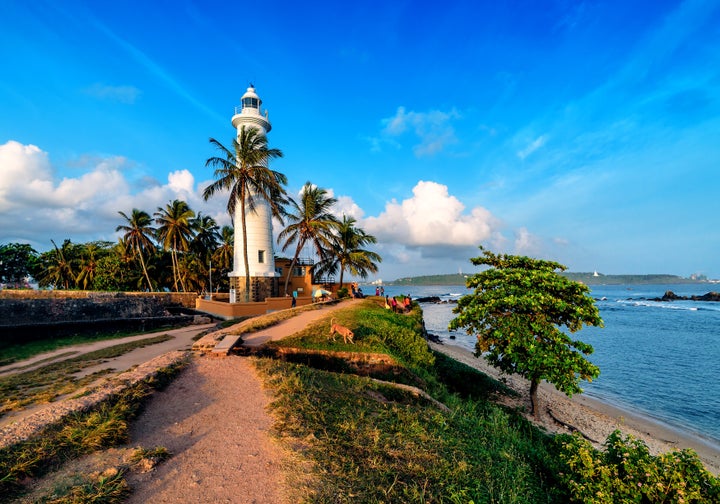 "Jutting into the Indian Ocean, the idyllically-located old port of Galle is Sri Lanka's most atmospheric heritage town," says Stewart. "Replete with Dutch, Portuguese and British buildings, it's a joy to explore on foot, as it has lanes dotted with historic churches, tombs and temples and a landmark lighthouse."
The lighthouse is Sri Lanka's oldest light station dating back to 1848. Visit in the evening to soak up the glorious pastel-coloured sunset and head to Lucky Fort Restaurant for dinner.
Address: Bay of Galle, southwest coast of Sri Lanka
8. Get Cultural In Anuradhapura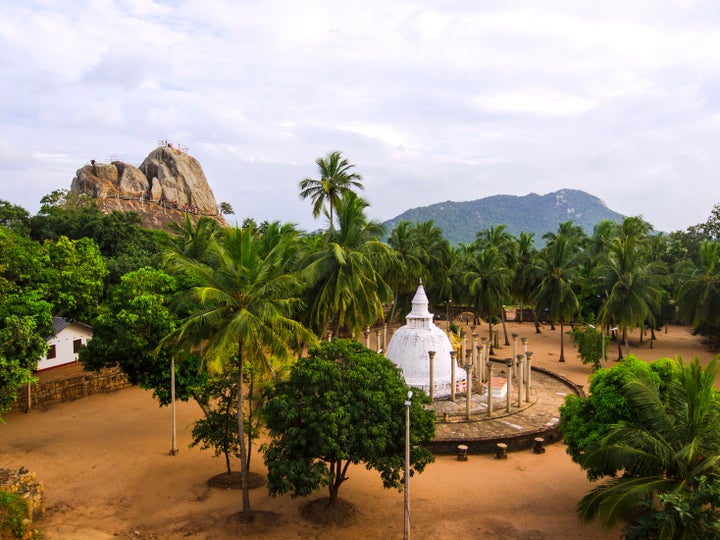 It would be remiss not to mention the extraordinary UNESCO World Heritage site of Anuradhapura, which boasts a stupendous collection of ancient monuments, dating back to 380BC.
"A pilgrimage destination for the island's Buddhist majority, Anuradhapura's skyline is defined by the bulbous outlines of three colossal dagobas (stupas), the largest of which tops 70m (230 feet) – though it originally was around 122m (400 feet)," says Stewart. "You'll also find a wealth of ruined palaces and museums to survey, and the nation's finest carved moonstone to admire."
Address: North Central Province, Sri Lanka
We all work hard to earn our money – so it shouldn't feel like hard work to spend it well. At HuffPost Finds we'll help you find the best stuff that deserves your cash, from the ultimate lipstick to a durable iron to replace the one that broke (RIP). All our choices are completely independent but we may earn a small commission if you click a link and make a purchase.