England has been divided into a new, three-tier system in a bid to wrestle back control of the pandemic. While the finer details continue to be discussed with local leaders in some areas, there are now some general rules we all have to follow, depending on our postcodes.
The system – which categorises areas as "medium", "high" or "very high" risk – is supposedly designed to simplify the rules and tackle the virus at a local level. But following its inception, social media was full of questions about the system, suggesting yet more confusion across the country.
To help you make sense of the rules, we've trawled through the government guidelines to answer some of the most common questions people have. Be sure to also check restrictions in your area, though, as local lockdown measures are subject to change.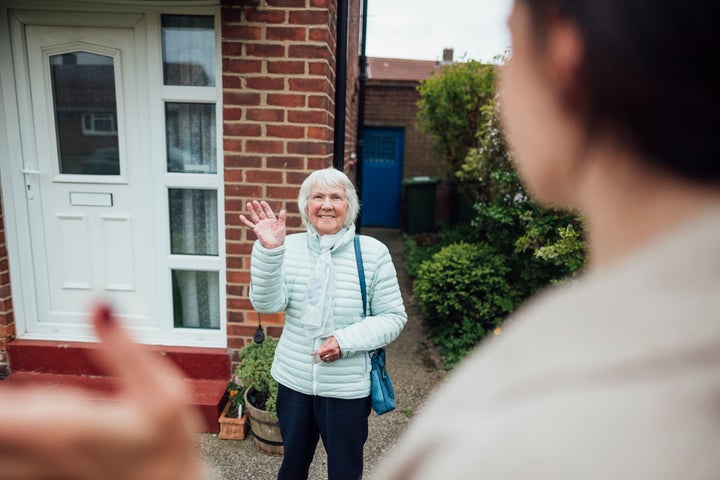 Where can I find out what tier I'm in?
The government has launched an online postcode checker on its website, where you'll be able to enter your details and view the exact restrictions in your area.
Before making any big life plans or changes, you should also check your local authority's website for more information, as added restrictions may be implemented in some areas.
Can you travel between tiers to see friends and family?
It's not recommended. The guidelines state you should avoid travelling to "any part of the country subject to higher local Covid alert levels". This means a person in a medium area should avoid travel to a high area where possible.
The rules are stricter in very high alert areas. The guidelines say people should not travel in or out of these areas, with a few exceptions: if you need to travel for work, education, to access youth services, or because of caring responsibilities.
"You may also do so where necessary as part of a longer journey – such as when a journey between lower risk areas passes through a very high alert level area, or when going to an airport, port or international rail terminal to travel abroad," the guidelines state.
You can also travel to a very high alert area for a wedding or funeral.
But what about my support bubble?
For those who live alone, maintaining your support bubble is relatively simple if you all live in the same area tier as your bubbled household.
If you live in a medium alert area, the rule of six still applies and you can still meet with your bubble as usual, indoors or outdoors. In high risk areas or very high risk areas, your bubble can stay in place, too. The guidelines state: "Households in that support bubble can still visit each other, stay overnight, and visit public places together."
Things are a little tricker if you don't live in the same tier as your bubble, though. The government advice is to form a support bubble with a household that lives locally wherever possible. "This will help prevent the virus spreading from an area where there might be a higher rate of infection," it says.
It's worth noting that "caring responsibilities" are an exception for the travel rules – even in very high risk areas. So if you've formed a bubble with an elderly relative, for example, and you still need to visit them to provide crucial support, that's permitted.
What are the rules on childcare?
Formal childcare settings remain open and there are some exemptions written into the guidelines to make informal childcare possible. In all three tiers, families are allowed to form "childcare bubbles" with relatives who help them with childcare.
"A childcare bubble is where someone in one household provides informal (unpaid and unregistered) childcare to a child aged 13 or under in another household," the guidelines explain. "For any given childcare bubble, this must always be between the same two households."
The rules if you're all in the same tier are simple enough, but HuffPost UK has contacted the government to check if you're allowed to travel across tiers to provide informal childcare. We will update this article when we receive a response.
So, what's happening to weddings?
In areas under medium and high alert levels, weddings, civil partnerships and receptions can go ahead with 15 people. Receptions should be sit down meals to ensure "people can keep their distance from each other and mustn't take place in private dwellings", the guidelines state.
Things differ in areas under the very high alert level, however. While weddings in these areas are generally permitted to go ahead with 15 people, receptions are not allowed at all.
It's also worth highlighting that the guidelines for very high areas set out by the government are "baseline" agreements. The government says it is also seeking to agree additional interventions in consultation with local authorities, so check the specific restrictions in the area of your wedding venue.
Guests can still travel to weddings when the venue is outside their area or tier, but there are some restrictions in place.
Travel from a medium alert area to a high alert area is permitted to attend a wedding, but the guidelines say guests "must not meet with another household indoors" when they're outside of the Covid-secure venue (e.g you can't pop into your aunt's house for a cuppa while you're in the area).
If the venue is in a very high alert area, guests can still travel to the ceremony, but the guidelines state that you must not meet with another household in a private home or garden and that you can't stay in the area overnight.