The BBC's Wimbledon coverage is one of the great staples of the British summer.
Last year, the Corporation committed a crime of federal proportions, revising their tennis highlights show with a string of changes that found little traction with an intolerant audience.
'Today at Wimbledon' became, unforgivably, 'Wimbledon 2Day'. Clare Balding presided over an event, housed in a hospitality suite not a studio far away from Centre Court, with a format that ended up somewhere between a chat show, gastro-pub reality show and, occasionally, some tennis.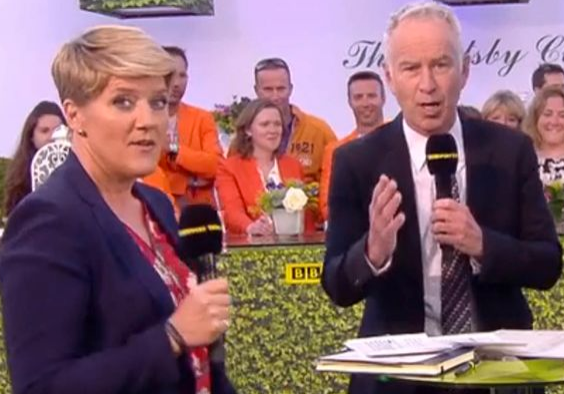 The guests were perched awkwardly on bar stools, a live audience stood awkwardly in shot while Clare gamely read out tweets from viewers.
The show barely lasted the first week, despite Clare's guest, the irrepressible John McEnroe, telling her live on air '"ignore them Clare", referring to critics, presumably. Changes were made and the second week saw a format far more similar to previous years' offerings.
You can't say the BBC doesn't learn from its mistakes. They've announced that this year's highlights show will be called… 'Today at Wimbledon' and will come from a studio inside the All England Club, next to Henman Hill and overlooking the grounds.
If it ain't broke, people…
Clare Balding remains in the host's chair, with a pair of expert guests every night. The BBC will have a few more famous names to call on this year, with news that former world number one players Jim Courier and Lleyton Hewitt will be joining their commentary teams.
Now, if they can just sort out 'Top Gear', we'll be set for summer.
Popular in the Community