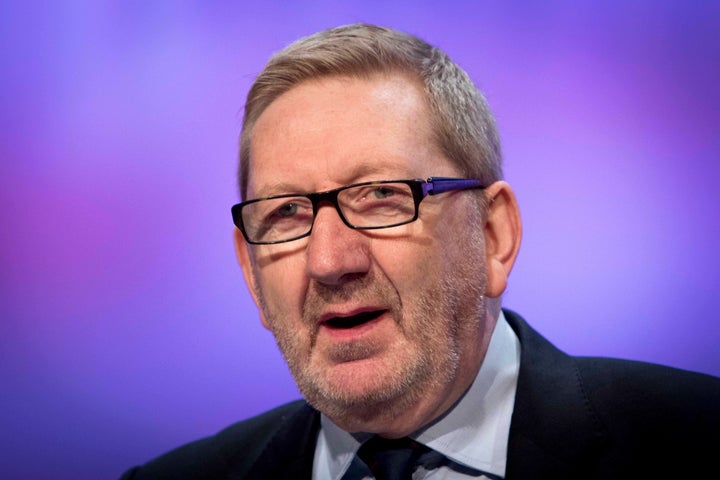 Britain's race equalities watchdog should formally investigate Tory "dog whistle" tactics, Unite the union has urged.
The country's biggest trade union called on the Equalities and Human Rights Commission to probe the impact on community relations of Conservative party statements and campaigns.
General Secretary Len McCluskey hit out as he published a new dossier claiming that little disciplinary action had been taken by the Tory party against those who made racist remarks.
Labour MPs and activists have been furious at the "smear" campaign run by Zac Goldsmith in a bid to stop Khan from becoming Mayor of London.
Unite said that its dossier showed that Tory representatives had made anti-semitic, Islamophobic and other racist remarks without any suspensions or expulsions from the party.
The report details cases of elected Tories using words like "Pakis", "pikies", "chinks" and "camel drivers", as well as highlighting Boris Johnson's own use of the word 'picaninnies' and 'watermelon smiles' to describe Africans.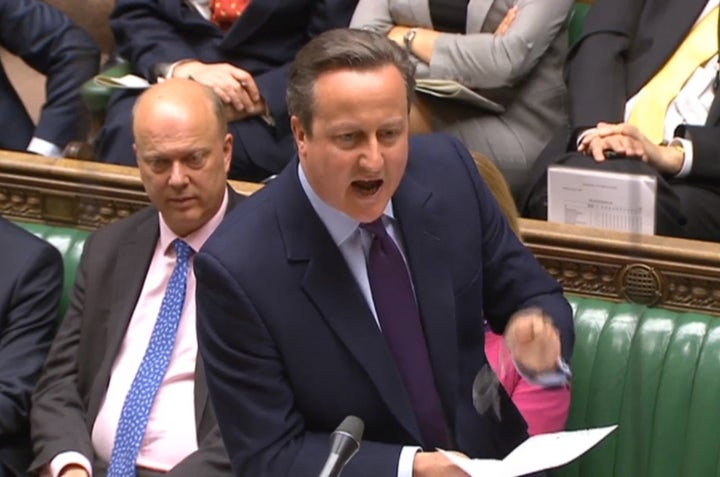 McCluskey said: "The prime minister has debased his office, not only by allowing a culture of division to be fostered in the London mayoral election campaign but to use the House of Commons as the platform for his hateful brand of dog-whistle politics.
"How dare he whip up fury about the Labour party, which has acted swiftly and thoroughly when allegations of racism among members is made in sharp contrast to his party's behaviour? He is dragging this country back by decades and his party into the sewer.
"The Equalities and Human Rights Commission should look very closely at the conduct of the Conservative party and its repeated indulgence of fear-based politics. Heed the warning from one of their own, Baroness Warsi, that the dog-whistle politics beloved by this prime minister and his party is damaging our country."
Unite says that the ECHR should investigate as part of its remit to "challenge policies or practices that cause significant disadvantage, sometimes across a whole industry or sector".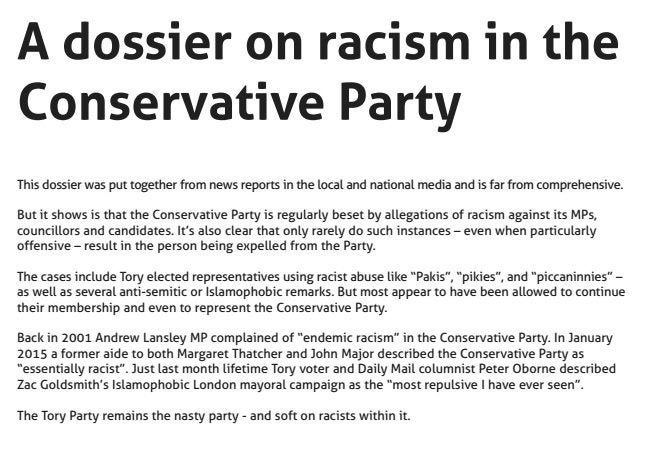 The dossier produced by Unite lists a string of allegations, including a Leicestershire Tory councillor last year referring to a fellow councillor as a "Chink". It says there is no record of any disciplinary action.
It adds that in August 2014 a UCL Conservative Society member was reported to have commented "Jews own everything, we all know it's true. I wish I was Jewish, but my nose isn't long enough". The dossier states there is no evidence that the Conservative Party investigated the incident.
Unite officer for equalities Harish Patel said: "The Labour movement has fought for years to tackle racism, with little or no help whatsoever from the Conservative party.
"In fact, its nasty mayoral campaign in London is undoing the decent work communities have done to build bridges between one another. The message from the Conservative party is that ignorance, intolerance and racism have a place in their ranks."
Among the incidents where the Tory party did act decisively were the suspension last month of the deputy chairman of Bradford Conservative Association, Abdul Zaman, made inappropriate comments about Jews and women while speaking at a launch event for the local election campaign.
Tory councillor David Whittingham was expelled this year after he mimicked foreign accents, said he didn't want foreigners living in his road and made comments and behaviour that were "racist in nature".
Conservative spokesperson dismissed the claims.
"This is a pretty cheap attempt by a Labour-linked union to distract from the overwhelming evidence of anti-Semitism in Labour that has emerged in recent weeks," he said.
"Instead, why aren't they making sure the Labour leadership actually finally get to grips with the problem?"