WASHINGTON ― With President Donald Trump back tweeting from the White House and his chief of staff's advice to the world about ignoring those tweets still fresh, the world has a simple question: How, exactly?
Retired Marine Gen. John Kelly told reporters near the end of Trump's 12-day Asia trip that he doesn't read his boss's tweets and neither does his staff.
"We don't. I don't. I don't allow the staff to. We know what we're doing," he said. "Believe it or not, I do not follow the tweets."
But while some in the foreign policy community understand why Kelly might want to pay no attention to Trump's Twitter voice, they argue it just cannot be done.
"There is no way that Trump's tweets are insignificant," said Eliot Cohen, a former top State Department official under President George W. Bush. "There is a measure of wishful thinking here, particularly by those around him who try to corral Trump."
Adam Thomson, a former British representative to NATO, said European leaders have been trying to do exactly as Kelly suggested for months now, with some minor success.
"As their experience of President Trump grows, European governments have learned to tune out the tweeting detail and concentrate on what Trump's utterances reveal about his general underlying instincts," Thomson said.
Western European nations also have multiple communications channels with the United States, through both public and private entities. That is not the case, warned a former top Pentagon official, with the nuclear-armed country posing perhaps the most dangerous foreign policy challenge today: North Korea.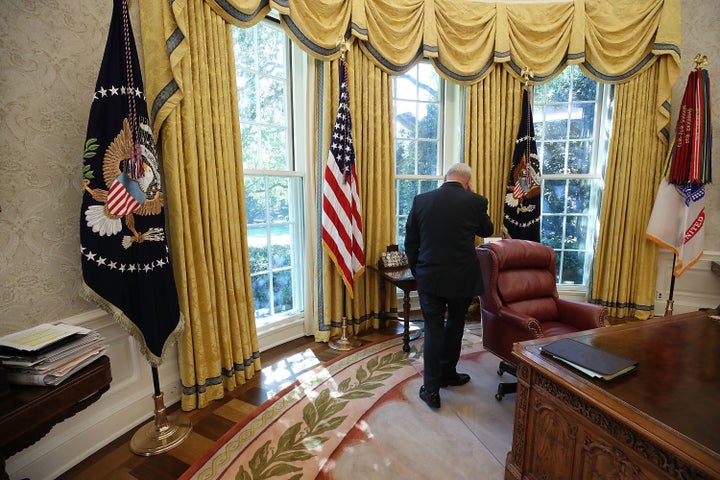 "The statements the president makes through his Twitter account no doubt cause concern and confusion on the other side of the Pacific. They don't have a constellation of satellites to see where we are moving our forces," Brian McKeon, a former undersecretary of defense under President Barack Obama, said at a Senate committee hearing on Tuesday.
"And people may say, well, what he says on his Twitter account doesn't matter, we have policies, we have leadership of the national command authority," McKeon said. "That doesn't compute in Kim Jong Un's mind that what the president says doesn't matter. So I would be very worried about a miscalculation based on continuing use of his Twitter account with regard to North Korea."
Kelly's comments, in fact, came shortly after Trump called Kim "short and fat" on Twitter. It was among a string of angry messages the president posted from Vietnam not long before he was to depart for the Philippines, the final stop on the Asia trip. In addition to Kim, Trump also attacked former Democratic opponent Hillary Clinton, the "Fake News Media," and those who criticize his cozy relationship with Russian leader Vladimir Putin.
Kelly emphasized that regardless of what Trump chooses to tweet, his White House and National Security Council staff are the ones who research and implement his actual policies on global affairs.
"The tweets don't run my life. Good staff work runs it," Kelly said, according to the Los Angeles Times report about his remarks. "We develop policy in the normal traditional staff way."
The Trump administration generally has been conflicted about the significance of the president's 140-character communiqués since he took office in January. Then-press secretary Sean Spicer, when asked to clarify the difference between messages on Trump's Twitter account and what Spicer himself said in press briefings, snapped at the questioner.
"You're equating me addressing the nation with a tweet?" Spicer said. "That's the silliest thing I've ever heard."
But later ― perhaps chastised by a boss who believes his Twitter practice is a key to his success ― the press secretary backtracked. "The president is president of the United States. So they are considered official statements by the president of the United States," Spicer said about the tweets.
Executive branch agencies have been similarly caught off guard. Trump in July declared that the military would no longer permit transgender service members. The Defense Department's reaction: "What you saw in the form of a tweet was representative of an announcement. That doesn't result in any immediate policy changes for us. We will await formal direction," said Navy Capt. Jeff Davis, a Pentagon spokesman.
(A formal executive order on transgender troops was later issued. It is now tied up in court.)
To some degree, the rest of the world has been ignoring many of Trump's more incendiary remarks for months. Norway's then-defense minister, Ine Eriksen Søreide, said during a visit to Washington this spring that she and other NATO leaders had come to accept assurances from Defense Secretary Jim Mattis that the United States was committed to the decades-old alliance, notwithstanding Trump's statements.
Mattis has "jokingly sometimes referred to himself as the secretary of reassurance," said Eriksen Søreide, who is now Norway's foreign minister.
But Thomson said there are limits to ignoring Trump.
"What he says doesn't foreshadow or even shape the detail of administration policy but has accurately heralded significant setbacks in European eyes," he said. "For example, on the Iran nuclear deal, the Paris climate accord and trade policy. Not exactly a reliable guide, but less obscure than the Delphi Oracle and more than random noise."
And in the United States, Trump's tweets are clearly presidential utterances and treated as such, said Ned Price, a former CIA analyst and a National Security Council spokesman under Obama.
"It's convenient for the chief of staff to say the tweets are immaterial, but we've learned in recent months that the executive and legislative branches view them as communicating presidential intent and conveying presidential orders," Price said. "We saw this in the case of the Muslim ban, when the 9th Circuit cited the tweets, and the White House itself also pointed to a tweet when responding to litigation regarding Trump's false claim that he was spied upon by the Obama administration."
Cohen added that it makes no sense to ignore a president's words. "The main thing is this: Policy is, if you think about it, nothing but words," he said. "And the most powerful man in the world's words matter."
Related