These twins have proven to be quite the sister act after celebrating their 100th birthday.
Irene Crump and Phyllis Jones have spent a whole century together after being born 25 minutes apart on November 20 1916 - and even live together in Stourport, Worcester.
The twins - who aren't identical but look remarkably similar - attended the same school and shared their first job at Steatite Porcelain Products before Irene married farmer Samuel Crump.
The duo put their milestone birthday down to 'hard work and good food' and celebrated in style with 48 friends and a traditional Sunday roast.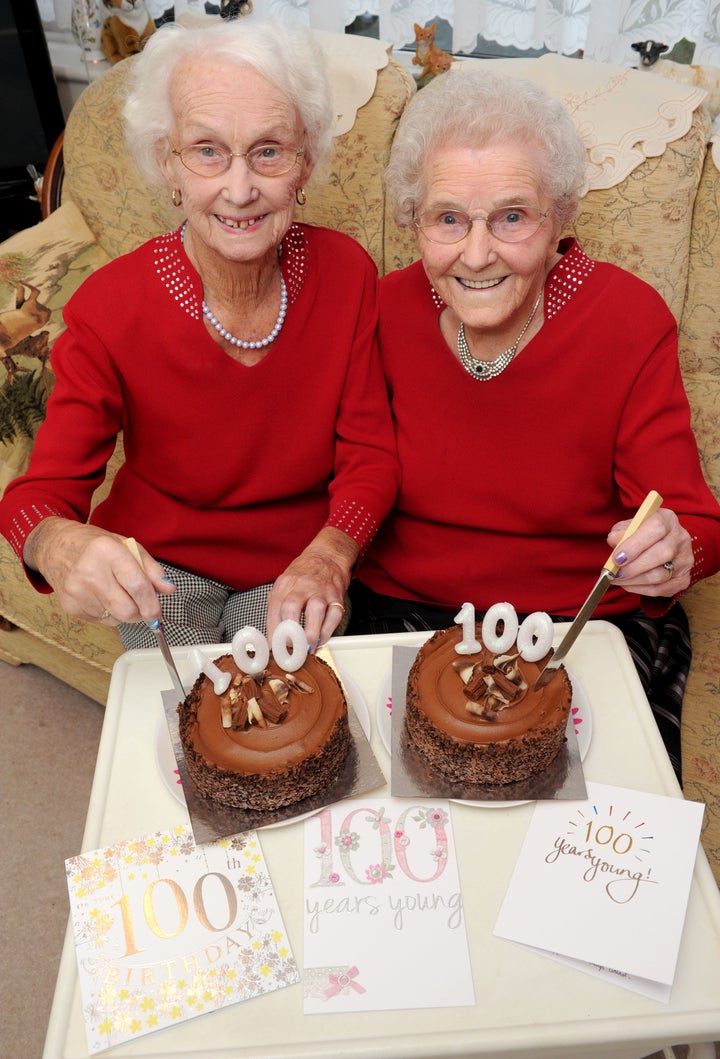 Irene, the younger of the two, said: "We often celebrate our special birthdays together, and we had a lovely day.
"We celebrated our 90th together, and last year we celebrated our 99th birthday too.
"Hard work and good food is our secret, that's all I can put it down to."
The twins have each other's first name for their middle name and say they have always been close.
Irene added: "We've always been close and we live together now, Phyllis moved in with me five years ago.
"I can't walk very far now but Phyllis walks around the block every day."
The pair can't remember how much they weighed when they were born, but Irene - or Auntie Rene as she's affectionately known - says she's always been 'plump'.
She said: "I've always been heavier. I'm not fat, more plump, but Phyllis is the thin one.
The twins had an elder sister, Dorothy, who died in 2006 aged 92.
Dorothy was also a twin, but her sibling passed away during childbirth.
Both Irene and Phyllis married: Irene's husband Samuel died in 1999 and lived well into his 90s, and Phyllis' husband, Ray Jones, died aged 91 in 2006.
Although Irene never had any children, Phyllis' only son, Carl Jones, helps care for them both, especially now Phyllis has vascular dementia.
Carl, 58, said: "My wife Patricia and I are here every day and we phone them at least once.
"They live independently and they're doing great, and if there's an emergency they'll ring me.
"They get on well but they do have their moments - but that's going to happen whether they're 100 or 20!"
Carl, who's now retired, added: "Mum and Auntie Rene, as most people call her, have always lived a few miles apart, and now they live together.
"They're totally different though - Auntie Rene has always been very methodical and careful, but Mum always races around doing things."
The pair are thought to be one of just six sets of 'centenarian' twins in the UK and go out for lunch most Fridays at the Lenchford Inn, where they celebrated their birthday.
They didn't ask for presents to mark their special day, instead requesting donations for the air ambulance.
Irene said: "We didn't want presents, we just wanted donations.
"We haven't got all the money in yet but we think we've done pretty well, it's a cause close to our heart."