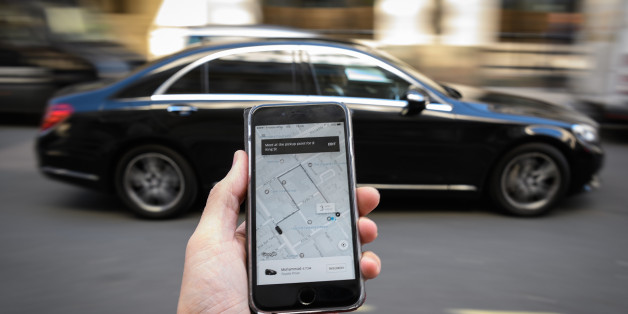 Leon Neal via Getty Images
At 45 years old, I'm no spring chicken. But neither am I ready to hang up my ambitions and start planning for retirement. I'm an entrepreneur. I was born and bred in London and I'm married with a three-year-old tornado called Benjamin. Being an entrepreneur, I wanted to work flexibly so that I could pursue other projects, and make a better life for my family. And, thanks to Uber, I'm doing just that. It's a great example of the upward mobility that our country strives to facilitate. But when I heard that TfL wouldn't be renewing Uber's operating license, I realised that a question mark hung over my aspirations and those of more than 40,000 other Uber drivers in London.
About two and half years ago, just after the birth of our son, I decided that I needed to put more money on the table. With nappies to buy and baby milk costing £10 per box, the money I was making from my websites just wasn't cutting it. So after sending out nine job applications and getting nine rejections I was forced to think outside the box. A friend had mentioned a service called Uber some months before, but I dismissed it as a passing fad. However, when my wife mentioned it at the kitchen table one evening over dinner, I decided to investigate. Here was a vocation that would allow me to meet people (which I love doing) whilst driving around the poshest parts of London in a nice car (I had a Mercedes in mind. Shallow, I know). 'And while I'm doing that' I thought, 'I could be working on my plan for financial independence and a better life for my family!'. Suddenly Uber seemed like the only way to go.
And so began the application process. I decided to go to a forum to find out what I had to do but was careful to guard my attitude against the negativity that you so often find on sites like those - people complaining that it took too long to process applications; stories of passengers throwing up in cars etc. I was lucky. It took four weeks to complete my application and get my PCO (the license which certifies that you know how to drive, don't have a criminal record and aren't likely to have a heart attack behind the wheel.) So, with my car almost ready to be delivered and licenses in place I was ready to hit the road.
Nothing can prepare the new Uber driver for what it's like on the road, because every day is different. I once picked up a lovely couple in South London who were on their way to hospital. It was only when I heard her panting in the back that I realised she was going into labour. On another occasion I met one of the senior executives of Netflix who waxed lyrical about the upcoming drama The Crown. And on another day a request came through to pick up a guy called King Kong. He was enormous and made my car lean to one side.
And I guess that's what I love most about the job; the variety and the flexibility. I have had conversations that have been so good neither I or the passenger wanted the trip to end, and sometimes I've just had smooth journeys that the passenger has really appreciated. But with every vocation, there are downsides. While I never thought it would happen to me, I have had a passenger throw up in my car. I spent three days teasing carrots from the window seal, after a young man vomited one New Years Eve. And there are the low rated passengers who's attitude is less than perfect. But on the whole I've had nice people.
And that's my story so far. I guess the question is, where do I go from here? We all hope that the issues mentioned will be resolved and that Uber and TfL can come to an agreement. Well I love to write so maybe I'll write a book about how to be a Five Star Driver.