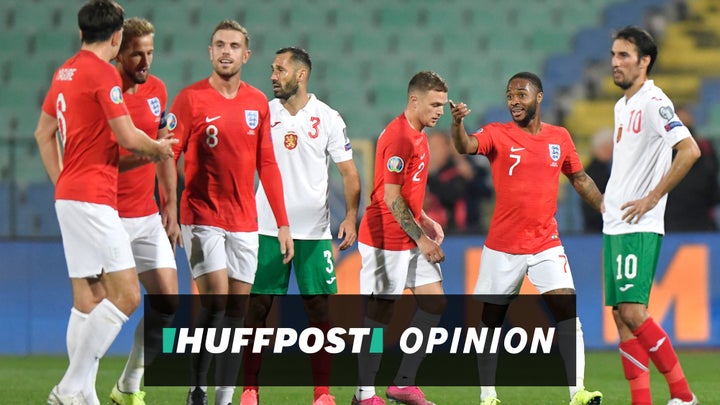 UEFA has announced its long-awaited sanctions against the Bulgaria Football Union in response to its fans' racist abuse of black England players in their two Euro 2020 qualifying matches.
But that's where the positivity ends because instead of taking the opportunity to send a strong message that racism will not be tolerated, Europe's governing body for football sent the message that it is seven-and-a-half times worse to be racist than it is to interrupt a national anthem, by charging the BFU just €75,000 (they charged the BFU €10,000 for the latter, in case you don't have a calculator to hand).
"You do rather wonder why Bulgaria have not simply been excluded from the tournament. That is until you remember the massive problem international football has not just with racism but it's willingness to turn a blind eye to a myriad of other problems."
But not to worry, they've also decreed that Bulgaria's next two matches must be played behind closed doors. It's a real kicker, if you'll excuse the pun, for any fans hoping to racially abuse the Czech Republic's solitary player of African descent, Theodor Gebre Selassie, who they will face next in the qualifying matches. Though the decision on that second match is suspended for a probationary period of two years, so they might yet get the opportunity.
It's an interesting decision. Not least because Bulgaria's fans couldn't even be on their best behaviour after abusing England's players a month earlier in their first qualifying match. But sure, why not give them the benefit of the doubt over a period of two years?
To say it is disappointing is an understatement, as Kick It Out, English football's equality and inclusion organisation, and Fare, its European counterpart, have both done so. You do rather wonder why, after the public outrage that followed the first fixture between the two teams and the speculation as to whether or not England would continue to play under the same circumstances a second time round, Bulgaria have not simply been excluded from the tournament.
That is until you remember the massive problem international football has not just with racism but it's willingness to turn a blind eye to a myriad of other problems in and around the sport. You wonder why, perhaps, the Russian World Cup wasn't boycotted in 2018 given the country's terrible record on LGBT+ rights. Not to mention the hooliganism problems that beleaguered Euro 2016, thanks in no small part to Russian ultras. You wonder why we are not boycotting the Qatar World Cup, due to be held in 2022, given that we effectively know its stadiums are being built by modern-day slavery. But why should we let any of that get in the way of a good old-fashioned cash cow, right?
But let's not ignore our own problems, as England manager Gareth Southgate rightly pointed out in the pre-amble to that second match. And while we're on that subject I apologise that this article is not being written by a person of colour who at least has some experience of racism. If you have ever been near a sports desk in the UK, the almost complete absence of anything other than white male faces will be your first clue as to why.
Hartlepool have been charged by the FA after fans directed abuse at Dover player Inih Effiong during a National League match between the two back in September. Just ten days ago, Haringey Borough walked off the pitch in their FA Cup tie against Yeovil Town after fans racially abused Haringey players. And, of course, who could forget the televised wall of gammon shouting abuse at Manchester City and England player Raheem Sterling as his team faced Chelsea at Stamford Bridge?
One of the issues prior to England's second encounter with Bulgaria in the Euro 2020 qualifiers was whether or not England would be penalised for abandoning a match should its players be abused again. Though this wasn't an issue for Haringey boss Tom Loizou as he removed his players from the pitch during their ill-fated match. He did not care if the team forfeited their place in the tournament, he said, he could not bear to keep his "distraught" players in the line of fire. Enter the valiant Football Association, here to heroically offer the two teams the chance to play again, hopefully under better circumstances this time.
But it's missed the point, hasn't it? Like UEFA has missed the point. Like the Premier League and the EFL are constantly missing the point if Kick It Out's assertion that there has been a 43% increase in reported racist incidents in the last year is to be believed.
And the point is this: racism is apparently socially acceptable to many more football fans than we would like to admit, and racism needs to become their problem as much as anyone else's. It needs to become socially unacceptable to all football fans and while it is sad that the simple fact of witnessing another human being's degradation isn't enough to make that the case, clearly the consequences need to be more severe – you can bet a 10 point deduction will be enough to focus the mind of the fan of a struggling club, or one pushing for a place in Europe.
The leader of the free world is a man who has told a host of non-white politicians to "go back" to where they came from. We see the far-right progressing across a swathe of European countries and, here, in the UK, we are governed by a man who likens Muslim women to "letter boxes" and have seen hate crimes double in the last five years. The world is on fire, but football, when done the right way, has the opportunity to set an example our world leaders cannot, it is up to us as fans to support that.
Jen Offord is a journalist and presenter of the Standard Issue Podcast