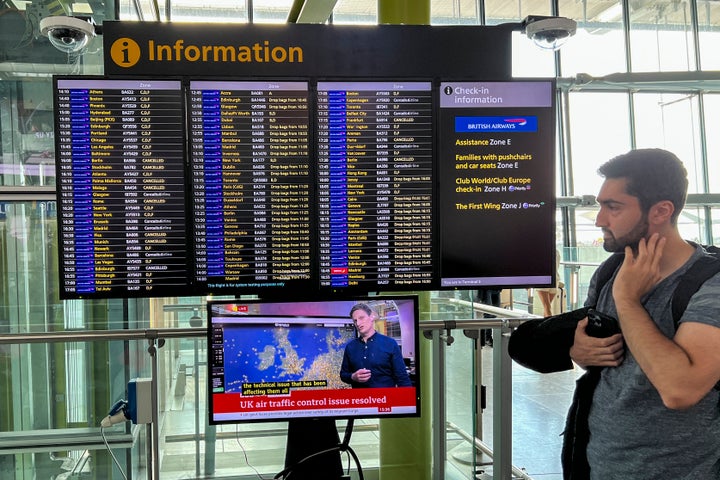 Thousands of air travellers have faced significant delays after Britain's air traffic control system said it was experiencing a "technical issue" – with problems compounded by the meltdown happening at the the end of a holiday weekend.
Airlines and airports warned that disruption would continue for some time despite the issue being "identified and remedied" by flight control operator National Air Traffic Services (NATS) on Monday afternoon.
Monday is a bank holiday for many parts of the UK, and a date when families return from holidays before the start of the school year. Some experts warned it could take days for the backlog to be cleared as delays of up to 12 hours were reported.
So what has happened?
An apparent IT glitch has meant that flight plans, ordinarily submitted automatically by airlines to air traffic control, were being processed manually by NATS staff – a much slower process. This led to "flow restrictions" on flights in and out of the country as UK airspace remained open.
In a statement on its website, NATS said: "We have identified and remedied the technical issue affecting our flight planning system this morning. We are now working closely with airlines and airports to manage the flights affected as efficiently as possible.
"Our engineers will be carefully monitoring the system's performance as we return to normal operations.
"The flight planning issue affected the system's ability to automatically process flight plans, meaning that flight plans had to be processed manually which cannot be done at the same volume, hence the requirement for traffic flow restrictions.
"Our priority is always to ensure that every flight in the UK remains safe and we are sincerely sorry for the disruption this is causing. Please contact your airline for information on how this may affect your flight."
How many flights have been affected?
Tens of thousands of passengers have been hit by delays and cancellations caused by the problems.
On Monday, 3,049 flights were due to depart UK airports and 3,054 were scheduled to arrive, according to analysis by aviation analytics firm Cirium. This equates to more than 540,000 seats on departing planes and 543,000 on arriving planes.
As of 2.30pm, its data showed that around 8% of all departures have been cancelled and around 9% of all arrivals.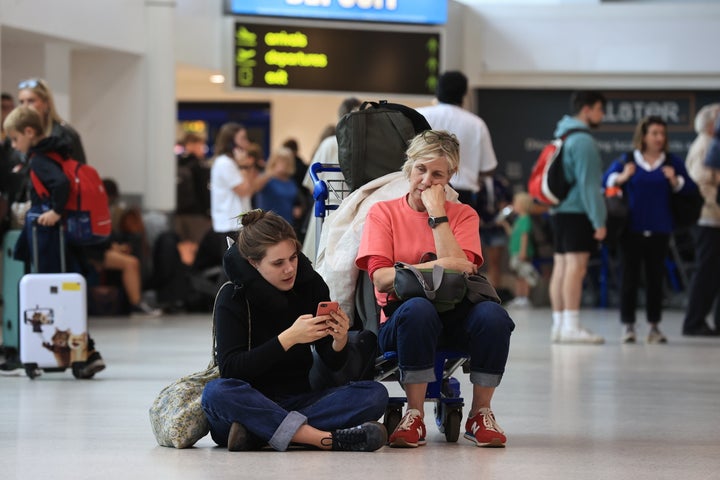 And it's not just limited to the UK.
European air traffic authority Eurocontrol warned of "very high" delays, and airports both inside and outside the UK told passengers to expect waits and cancellations.
Earlier Irish air traffic control provider AirNav Ireland said the issue was resulting in "significant delays for flights across Europe that are travelling to, from or through UK airspace".
What do travel experts make of it?
Travel journalist Simon Calder said that Monday is one of the busiest days of the year, as many people return from long weekend trips abroad.
He told Sky News: "There is no danger because the entire aviation system is designed to cope with a situation like this. But what you will find is that immediately there is going to be absolute disruption, chaos spreading across Europe.
"Because if you are on the ground at Heathrow or Gatwick, there is very little slack in the system.
"Meanwhile, thousands of aircraft in the skies above Europe, hundreds of them heading to the UK, and what's going to happen with those aircraft is some of them are getting down if they're in the vicinity of the airfield, then they will be landing.
"But otherwise you are going to start seeing aircraft either being held on the ground in airports such as Amsterdam or indeed being diverted if they're on a longer flight and that would typically be to a continental airport."
What are airports and airlines saying?
A spokesperson for London Heathrow, the busiest hub in western Europe, said schedules would remain significantly disrupted for the rest of the day.
"We ask passengers to only travel to the airport if their flight is confirmed as still operating. Teams across Heathrow are working as hard as they can to minimise the knock-on impacts and assist those whose journeys have been affected," the spokesperson said.
British Airways said its flights were being severely disrupted and it had made "significant changes" to its schedule, while other airlines, including Ryanair, also said some flights to and from the UK would be delayed or cancelled.
Manchester Airport, London Stansted and London Gatwick were among the many UK airports who warned of delays and cancellations, while Dublin Airport said the issue had resulted in delays and cancellations to some flights into and out of the Irish capital.
How are passengers taking it?
Many passengers took to social media to say they were stuck on planes on the tarmac waiting to take off, or being held in airport buildings in Spain, Portugal, Greece, Israel and elsewhere.
TV presenter Gabby Logan said she has been left stranded on the runway at Budapest Airport while returning from the World Athletics Championships. She wrote: "After almost 3 weeks away from home I am hours from hugging my family. And have just been told UK airspace is shut. We could be here for 12 hours. So we sit on the plane and wait."
She later tweeted she was "heading home".
Can passengers get compensation?
Under UK law, an airline is obliged to provide a hotel room, meals and a new flight as soon as possible to customers flying from a UK airport, arriving in the country on an EU or UK airline, or arriving at an EU airport on a UK airline.
Airlines are required to pay compensation if flights arrive more than three hours late – but only when it is their fault, so the air traffic control problems could fall under the definition of "exceptional circumstances".
Related