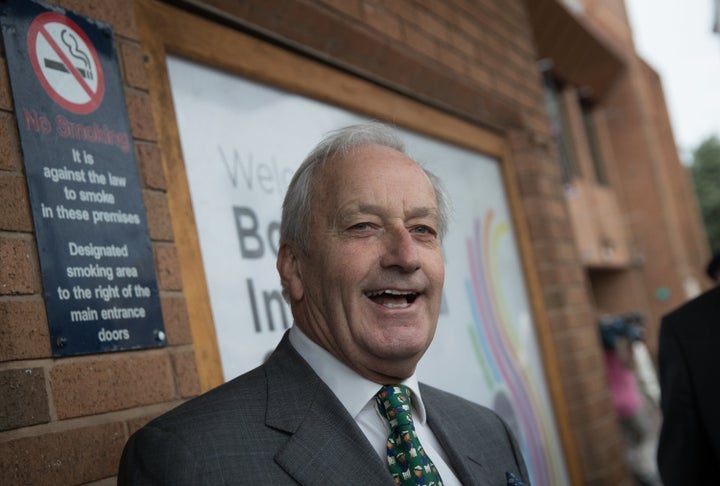 Ukip's new leader sparked yet more infighting in the party this afternoon as she banned Neil Hamilton from speaking on the conference stage.
Hamilton was only made aware he had been dumped when he was handed a revised conference agenda on Friday afternoon.
The move goes in contrast to James's claim that her leadership represented a "new leaf", as previous leader Nigel Farage had repeatedly clashed with Hamilton.
James also axed plans for the four defeated leadership candidates to speak at the conference on Friday afternoon.
Speaking to HuffPost UK after he discovered he had been cut from the agenda, Hamilton said: "You better ask her why and what purpose this serves. She obviously looks at the Labour party and thinks that how we should behave."
He added: "If I was her PR advisor it's not a decision I would have taken, put it that way."
The row between Hamilton and Farage dates back to earlier year, when the then Ukip leader tried to block the disgraced ex-Tory being chosen as a candidate in the Welsh regional elections.
That decision was overturned by Ukip's ruling National Executive Committee, which balloted members over who should be the party's Wales candidates – a poll which gave Hamilton a place on the list.
Since being elected to the Welsh Assembly in May, Hamilton has ousted Ukip's Welsh leader Nathan Gill to become the party's lead spokesman in Cardiff. Gill now seats as an independent in Wales, but represents Ukip as an MEP.
"Ukip has not been a happy camp for over a year and the animosity has spilt over into the media. No one has emerged from this with their head held high.
"The designation process between Leave.EU and Vote Leave created a cancer in the heart of the party and led to its leading lights using Ukip as a football. So much so that at the present moment the party resembles a jigsaw that has been emptied on to the floor."
This afternoon, James dismissed the warning and said: "I don't know why Paul said that, I'm somewhat surprised he decided to choose those words. I'm not aware of anything more than an opposition narrative that would like to portray us as being un-united."
She added: "There are certain individuals who have fallen out with Nigel in the past, who have made comments which have been interpreted as being negative that have actually fuelled the opposition narrative in terms of really negative soundings for Ukip. Those individuals know who they are.
James also insisted that she would be seeking a meeting with the party's only MP Douglas Carswell – another party member who clashed with Farage.
The South East MEP suggested Carswell could move a Private Member's Bill in Parliament to try and pass a law ensuring Article 50 was triggered by Christmas.
"Sounds a great idea!" tweeted Carswell.