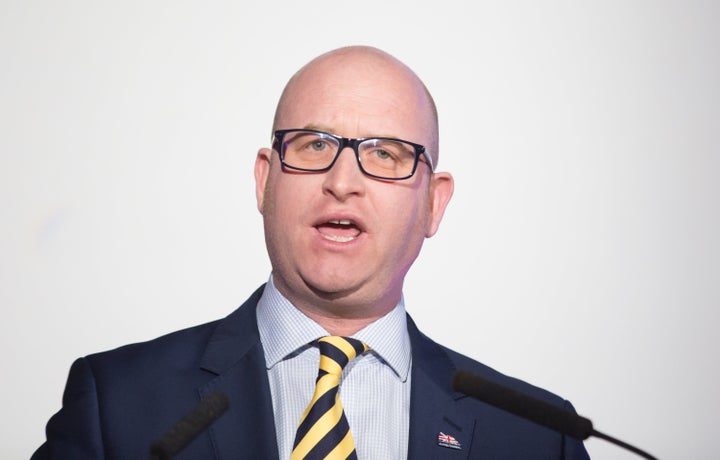 A frontrunner in Ukip's leadership race has said he would hold a national referendum on bringing back capital punishment.
Paul Nuttall told Sky News that "if enough people" signed a petition to bring it back, he would be "quite committed to" triggering a referendum on the death penalty.
Ukip's former deputy leader has long been in favour of bringing back capital punishment for some crimes in Britain.
"I've been quite open that I believe in capital punishment for the killers of children, for Ian Brady, which is what the majority of the British people think", he told the programme.
He said he was in favour of holding more UK-wide referendums in the interests of "direct democracy", which could include reinstating the death penalty.
"What we are quite committed to is holding national referendums. If a certain number of people sign a petition it would trigger referendums. It is called direct democracy", he said.
In 2011 Nuttall himself signed a controversial petition on the matter, saying "I am in favour of restoring the death penalty for child and serial killers".
"I think capital punishment is needed for such heinous crimes and I know that many other people feel the same. A YouGov poll last year found that 74% of people supported the death penalty for murder in some circumstances".
"With improvements in science there is virtually no chance of mistaken identity – especially when it comes to serial killers.
"While is not Ukip policy to bring back the death penalty I would vote yes if any such referendum was held on capital punishment", he said at the time.
Nuttall told Sky News he would also hold a referendum on whether the legal period for abortions should be shortened, should the public want it.
There are currently seven candidates in the leadership contest, which closes in November. Nigel Farage has temporarily returned to lead the party, after his successor, Diane James, resigned 18 days into the job.