A University of Liverpool student has started a petition to ban a "misogynistic and hateful pro-life society" at the uni.
The society, which claims to "embrace defending life from conception to death" was approved by the Liverpool Guild of Students last month.
But a petition on the Guild's website by fourth year Katriana Ciccotto has been liked by fellow students almost 300 times.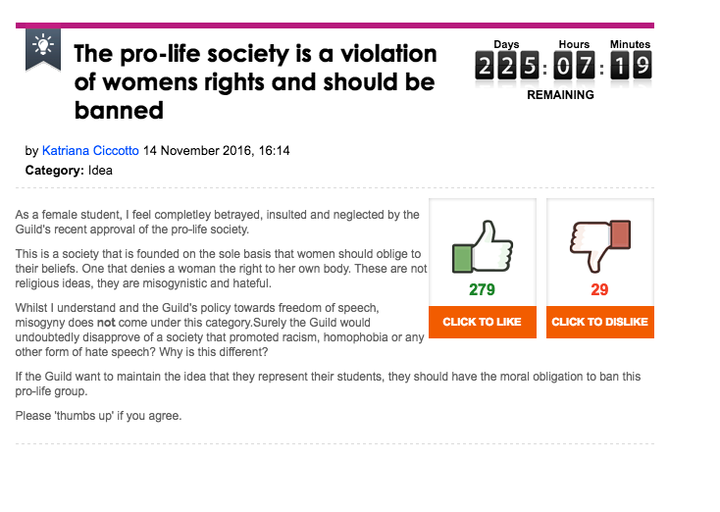 Ciccotto says the approval of the pro-life society by the Guild has left her feeling "completely betrayed, insulted and neglected" and says it has a "moral obligation" to ban the group.
Her petition reads: "This is a society that is founded on the sole basis that women should oblige to their beliefs. One that denies a woman the right to her own body. These are not religious ideas, they are misogynistic and hateful.
Ciccotto continues: "Surely the Guild would undoubtedly disapprove of a society that promoted racism, homophobia or any other form of hate speech? Why is this different?"
A petition on the site only needs 20 up-votes from students in order for the Guild to discuss the issue. Ciccotto's campaign has already been liked 279 times since it was posted on Monday.
Student Alexandra Ward commented: "A pro life society, no matter how harmless the name sounds, is essentially an anti-abortion society.
"An organised group, supported by the university, attempting to reduce and withdraw women's access to reproductive services is undoubtedly harmful and damaging."
However, not all students are behind the History and Spanish student's campaign.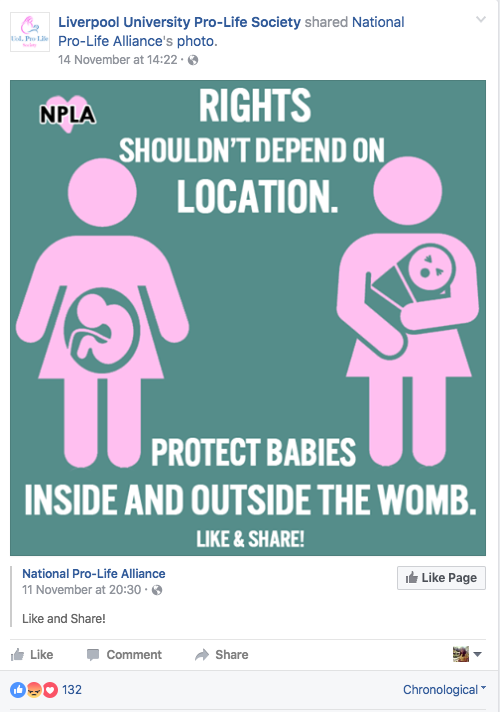 The pro-life society has been liked 259 times on Facebook since the page was founded in October.
The petition to ban them has also been down-voted 29 times. Tom Willett wrote: "I'm massively pro-choice but this is outrageous. If you want to challenge ideas you don't agree with then debate them, discuss the issue with them, try and change their view. Don't ban them.
"I despise how this mentality has been spreading across campuses all over the country. This petition is as illiberal as the pro-life movement itself, and it'll be a sad day for freedom of speech and freedom of expression if this petition succeeds."
The Liverpool Guild of Students released a statement saying it was committed to "facilitating respectful, inclusive debate".
A spokesperson for the Guild said: "Before approving this society, we met with them to ensure they understood the Guild's commitment to ensuring that students are only signposted to non-judgemental, non-directional, confidential advice and support services.
"The society committee confirmed that they would not be offering pregnancy advice to students, nor signposting them to agencies who seek to advise on pregnancy."