A record number of people signed up to do Veganuary this year, with 500,000 pledging to adopt a plant-based diet throughout the first month of the year.
From ready-meals to meat replacements, the HuffPost UK Life team has taste tested a lot of vegan food from UK supermarkets over the past few weeks to find out what's worth shouting about.
Some dishes didn't go down so well, but others – with a few record ratings of 5/5 – are definitely worth your cash. Here, we rank them from bottom to top.
GRO Mushroom & Spinach Wellington – Coop
Reviewed by: Tasha Hinde, Life reporter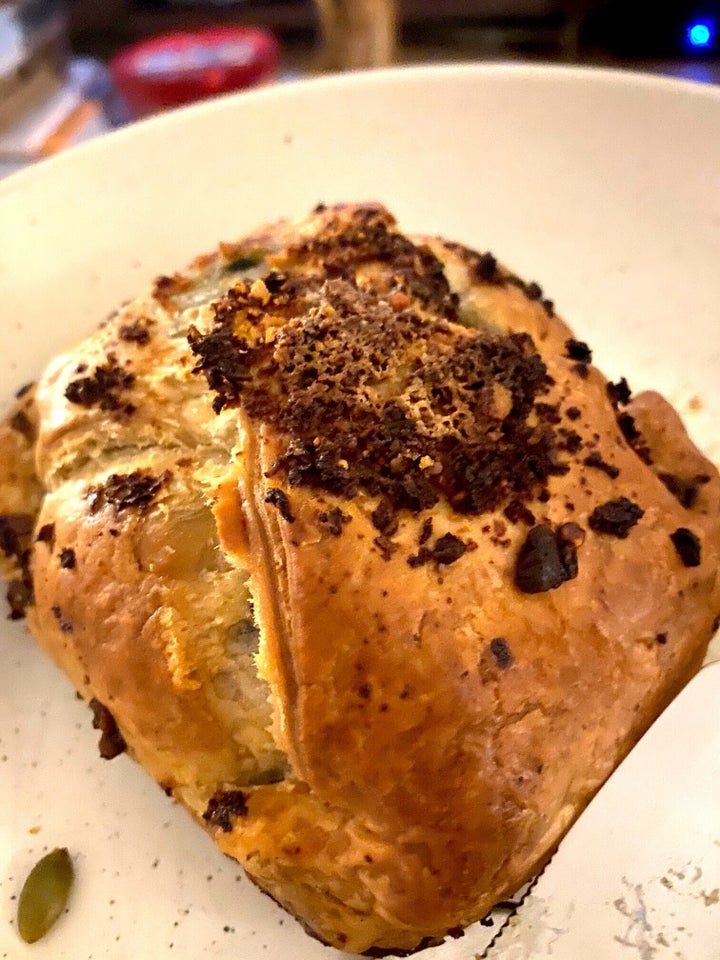 "I have high hopes for this as I love pretty much anything wrapped in pastry, but sadly I can't get past a couple of mouthfuls. The name 'wellington' is particularly apt for this dish, as it tastes to me like feet. It has a mushroom and seitan base, topped with a coconut oil sauce, spinach and sliced portabello mushrooms. On paper, it should be delicious but sadly I struggle to take more than a few bites. There is a really potent – and feety – flavour in there that I can't put my finger on, but is reminiscent of an old boot. The pastry is flavourful and flaky, but the filling lets the side down."
Vegan Voussaka – Waitrose
Reviewed by: Nancy Groves, head of Life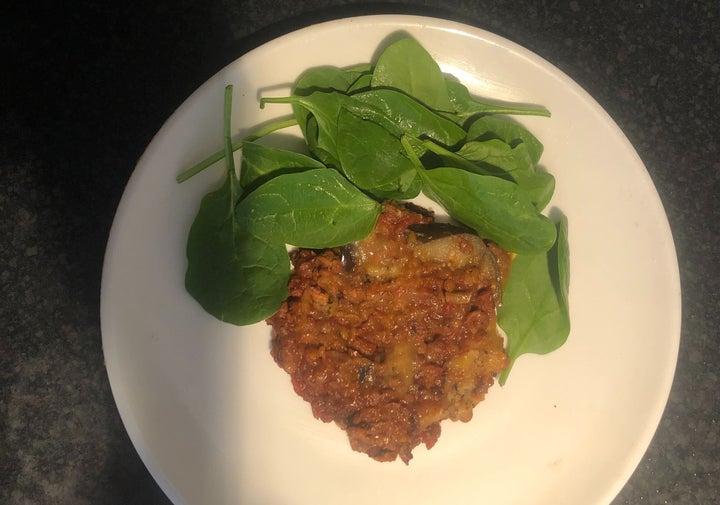 "I've definitely upped my home cooking game in lockdown but that doesn't mean I'm not excited by the prospect of a ready meal, especially this take on moussaka, my old favourite when we still had a work canteen. Sob. So, it's with reluctance I have to report this a lowlight in Waitrose's large and otherwise excellent vegan range. The meat substitute isn't the problem – the soya mince more than holds its own, but it's a rare plus in an otherwise sloppy mess of overcooked aubergines, underwhelming potatoes, damp breadcrumbs and a "creamy vegan sauce" that looks and tastes like beige goo. Disappointing."
Plant Pioneers Spicy No Meat Pizza – Sainsbury's
Reviewed by: Angela Hui, Life reporter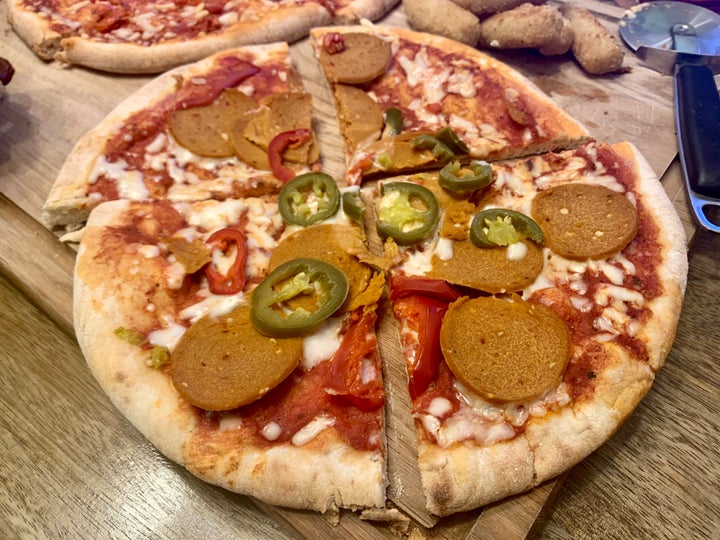 "A word of warning with this pizza: have a drink and some kind of condiment on hand because it's so dry – Sahara desert dry. The tomato and basil sauce tastes like it came straight from a tube. Nothing wrong with that if you want a fake school pizza, but for a marinara sauce I'd have liked deeper flavours to shine through. Some sweetness and richness from the slow-cooked tomatoes would've made this pizza sing. Don't get me started on the sliced spicy seitan that's supposed to be pepperoni, more like chewy circles of rubbery sadness. The red and green chilli peppers are its saving grace and that's saying a lot."
Plant Kitchen Chickenless Tikka Masala – Marks & Spencer
Reviewed by: Adam Bloodworth, Life and Entertainment reporter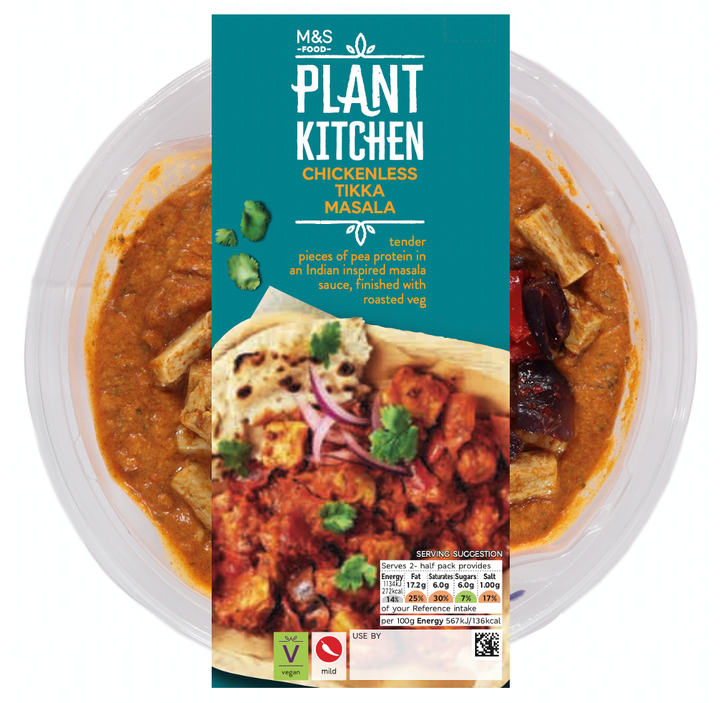 "This one works well for former meat eaters who still rely on ready meals, just without the meat. The tikka masala flavouring is slightly too sweet (but that's often the way with ready meal recipes) and there's a gentle spiced note, too. As for the pea protein chicken, it's light and rubbery, so it doesn't take the form of chicken particularly. The taste is slightly closer, but it doesn't smack of the real deal. You might be better off forgetting these pieces are 'chicken' and just enjoy them for their rubbery pea protein vibe instead: as a texture, it's intriguing."
Plant Chef Breaded Meat-Free Nuggets – Tesco
Reviewed by: Rachel Moss, Life reporter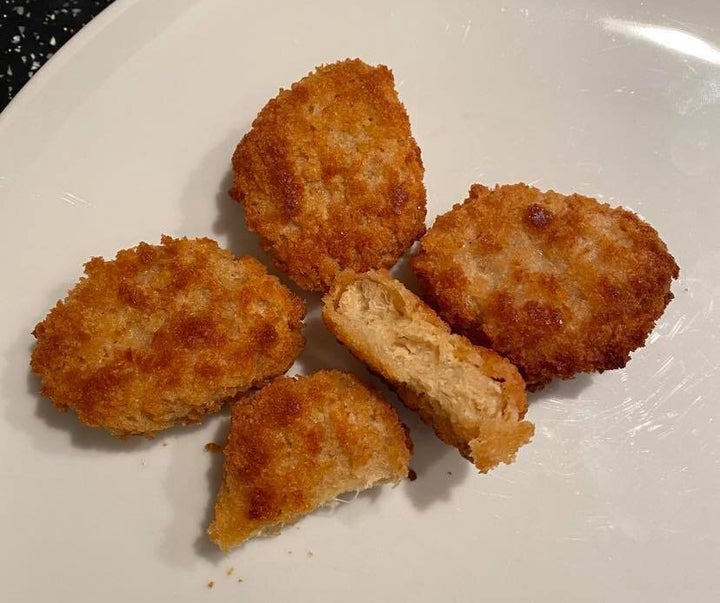 "Like all cheap nuggets – chicken or otherwise – the overriding flavour for these soya-based badboys is breadcrumb. They're not as greasy as regular nugs, but I miss that, in a way. What's the point of nuggets if they don't kill a hangover? This version is a little dry, so I'd recommend using them as a vessel for ketchup. There's just nine in the packet – annoying to split between two people – so I've ended up with a measly four nuggets on my plate, plus a mountain of chips to make up for it. There's nothing hugely wrong with them, but I wouldn't bother again."
Plant Chef Hunter's BBQ Traybake 450g – Tesco
Reviewed by: Rachel Moss, Life reporter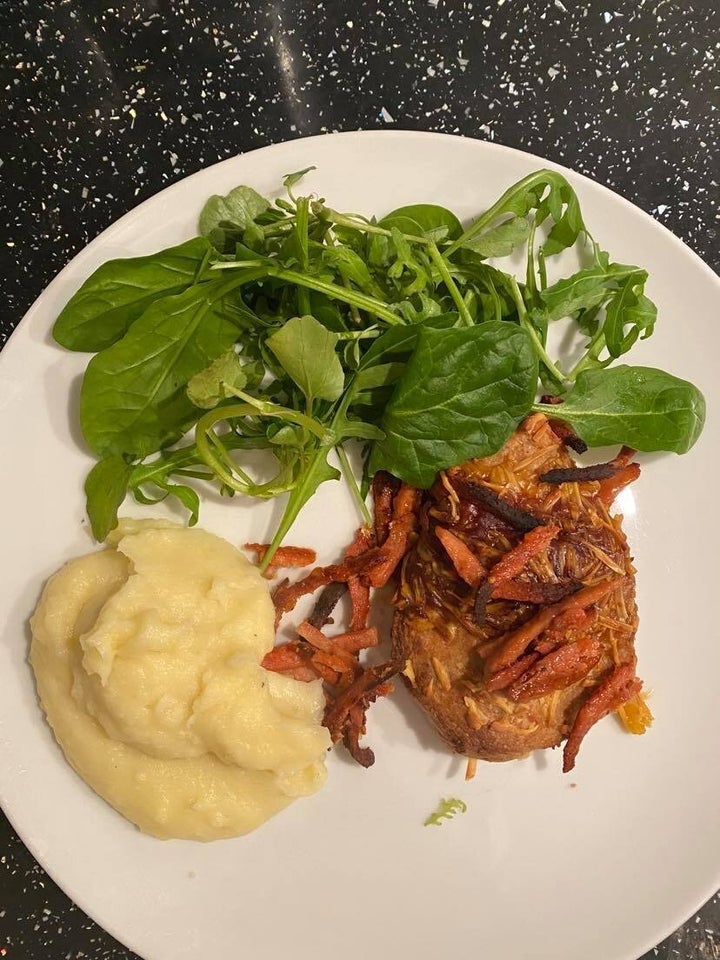 "This vegan alternative to a 'gastro pub favourite' sadly misses the mark. The main fillets – made from a plant-based wheat protein – are bland and a little dry. This could have been saved by the BBQ sauce, but there's not enough of it. I'm excited to try the coconut-based cheese alternative, but it melts away to nothingness, with just a few remnants stuck stubbornly to the tray. The flavoured soya strips help to redeem the dish, bringing some much-needed flavour and moisture, but it's not enough to convince me overall."
Vemondo Lentil Cottage Pie – Lidl
Reviewed by: Amy Packham, Life editor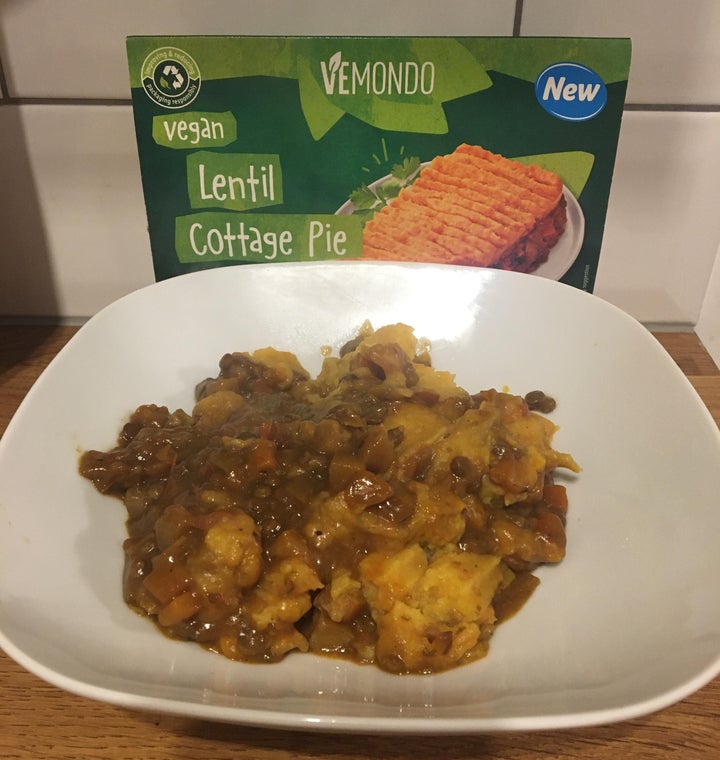 "Cottage pie – vegan or not – doesn't photograph well, does it? This is a microwave ready meal, ideal for when you can't be bothered to cook but are really hungry. I am pretty impressed with the flavours and the root vegetable mash is good. I'm not overwhelmed, but it does the job well. I enjoy the lentils and veg, but would prefer a bit more. I add a bit of salt and pepper for some extra seasoning and wolf the whole meal down on a Friday evening. I'd eat again, but not in a huge hurry."
Plant Kitchen 2 Melt in the Middle No Fish Cakes – Marks & Spencer
Reviewed by: Adam Bloodworth, Life and Entertainment reporter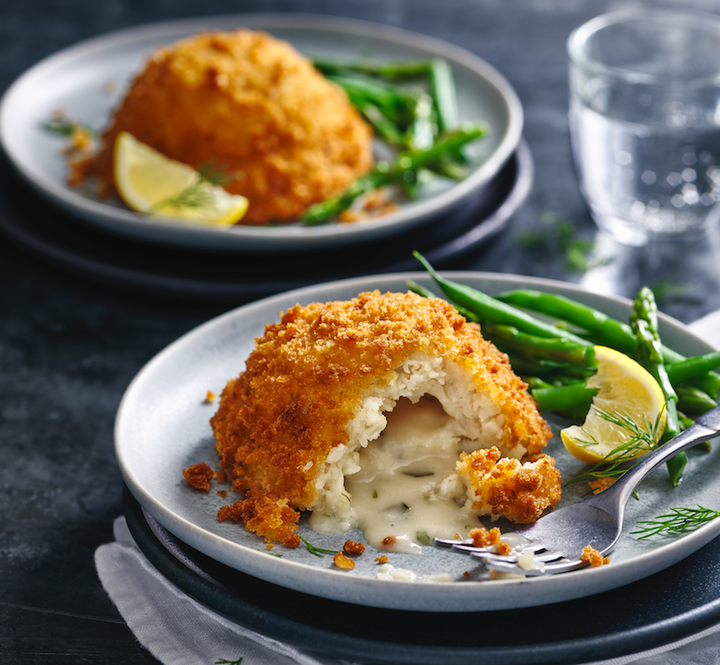 "The texture's really satisfying on these fish cakes, which get the brittle crunch of the breadcrumbs and the soft ooze of the 'fish' just right. They're pleasing on the fork, as the cake splits to reveal the goodness inside, and they taste alright, too – the rice protein, which forms the flaky pieces, is held together by a slowly moving, gooey and creamy sauce. The fish is pretty convincing, if not as strongly fishy as, well, fish would be."
Plant Katsu Power Bowl – Aldi
Reviewed by: Amy Packham, Life editor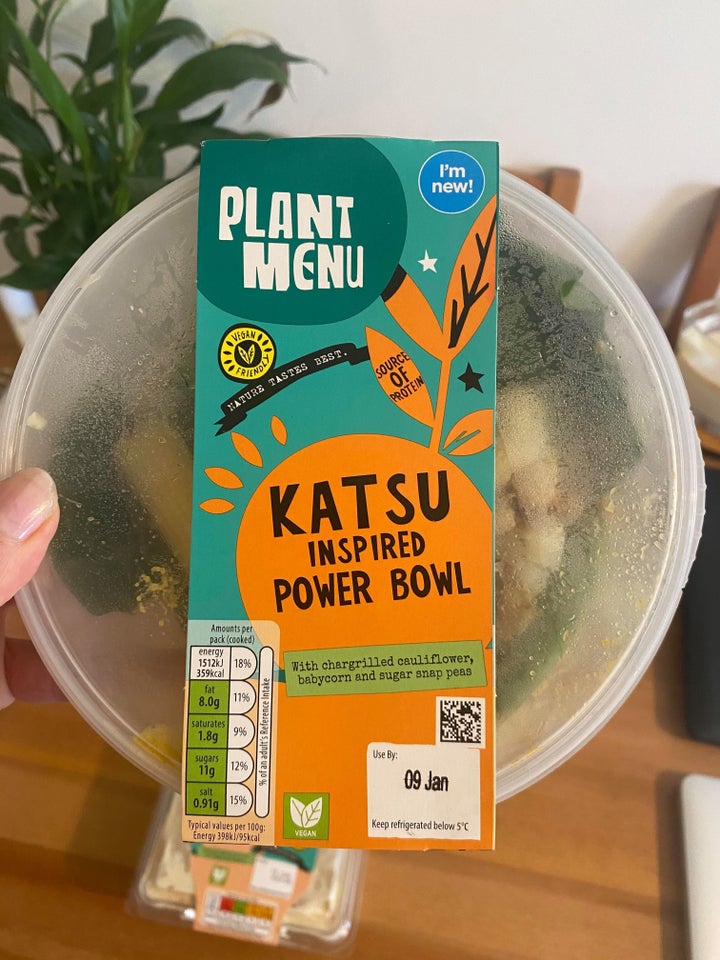 "This is a delicious, albeit very healthy, lunch (I'd say it's a bit too small for dinner) with bulgar wheat and quinoa, barley, charred cauliflower, baby corn, sugar snap peas, spinach, chickpeas and katsu sauce. The mark down is more to do with the fact I want more katsu sauce, because it's so good! The best mouthfuls are the ones where lots of sauce is involved. Considering it's basically a load of veg and grains, I'm impressed with the flavours. And it's so cheap. I'd definitely get this again."
No Beef Bourguignon Pie – Aldi
Reviewed by: Amy Packham, Life editor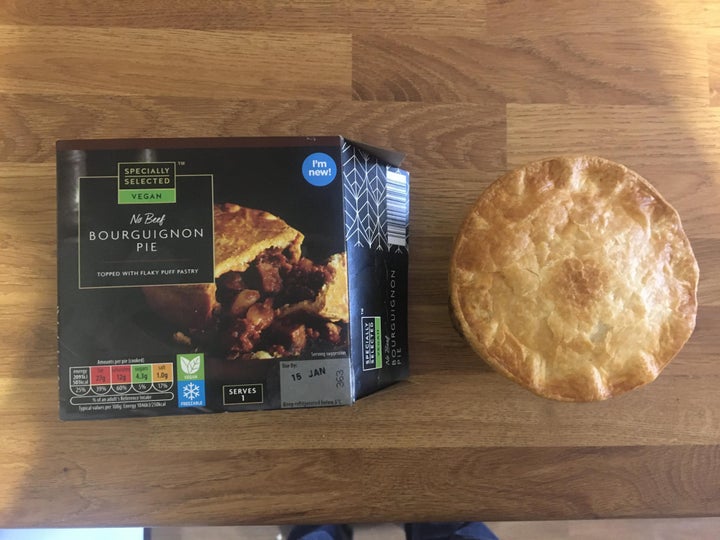 "The smell of the pie cooking is delicious, I forget, for a while, that there isn't a beef pie in there – but a vegan one. The 'beef' is seitan and it's also filled with onion, mushroom, and red wine gravy. The pastry is lovely and flaky (despite the fact I burnt the top, down to my cooking, oops!) and the inside consists of a thick sauce. There isn't loads of filling, but the sauce is flavoursome and hits the spot with a lovely touch of red wine."
No-Chick-In Kievs With Garlic Filling – Morrisons
Reviewed by: Becky Barnes, Audience editor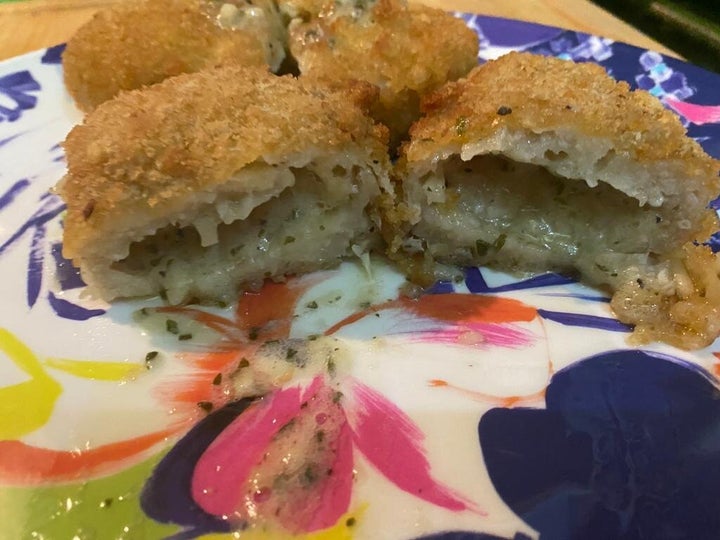 "The thing I love about chicken kievs is when you cut them and the garlic spills out onto the plate and these absolutely delivered on that count. I wouldn't know I wasn't eating a chicken kiev if you hadn't told me. They are a generous size with lovely crispy topping – and yes, I ate both."
GRO Sizzle Steaks – Coop
Reviewed by: Natasha Hinde, Life reporter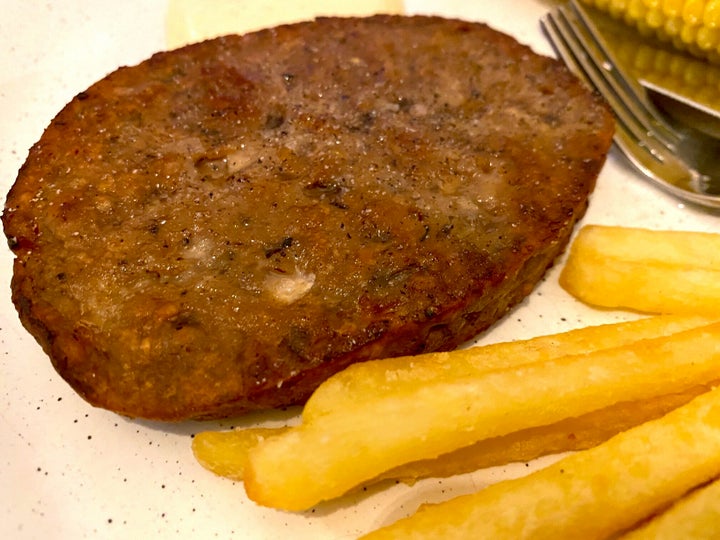 "These are described by Coop as 'tender, marinated vegan steaks made with shrooms and plant protein'. I'd say they come across as more of a burger than a steak, mainly because of the texture. That said, they are delicious. You can't tell they're made from mushrooms at all and they genuinely taste like meat. There was something slightly smoky about them. I end up eating them with chips and corn on the cob, but they're pretty versatile so would go with lots of things."
Fry's Plant-Based The Big Fry Burger – Sainsbury's
Price: £3.50 for two patties
Reviewed by: Angela Hui, Life reporter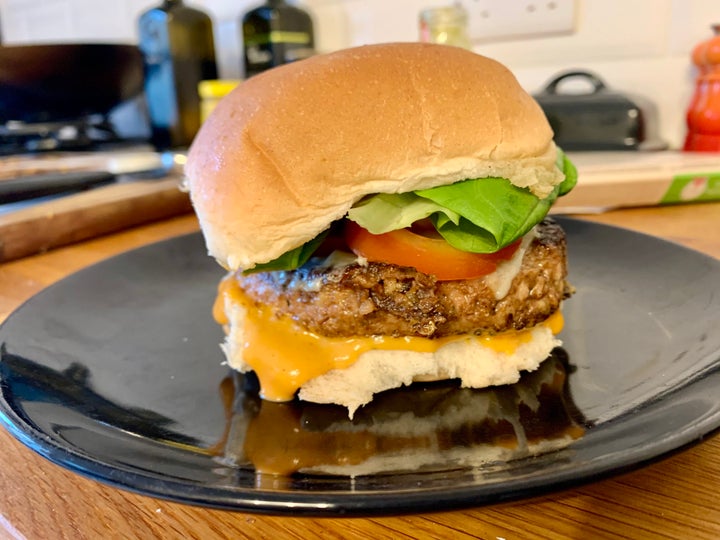 "Move over Beyond Meat, there's a new plant-based burger in town that sizzles when it cooks and looks like the real deal. This patty holds its shape and has a good texture that's a little on the looser side. It's incredibly moist, so moist in fact the juices start to run off everywhere when eating (a sure sign of a good burger). There's a slight barbecue flavour and a light smoky grill note coming from the patty, which doesn't overpower. If I were vegan but craving a big, fat juicy burger, I reckon this would hit the spot."
Vegan Crisp Crumbed Fishless Goujons – Waitrose
Reviewed by: Nancy Groves, head of Life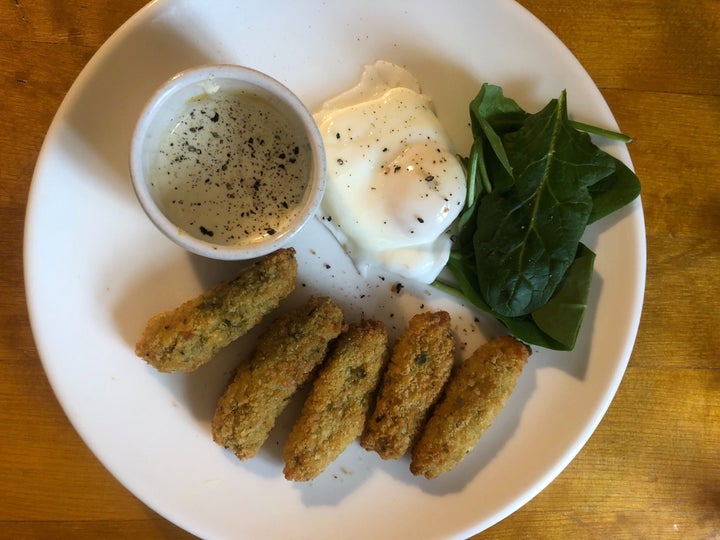 "Jackfruit is the wonder ingredient in plenty of vegan shop food now – often substituted for meat, but here combined with oyster mushrooms and banana blossom for a creative take on goujons. Baked for two minutes longer than the suggested time, the breadcrumb casing has the perfect crunchy bite, while the filling plays a kind of trick on you. It doesn't look or taste of fish – just as well for those vegans who'd be put off by that – but somehow your mind still processes it as such. Enjoy dipped in tartare sauce, ketchup or, if you're not strictly vegan, is this where I admit they're also great soldiers for a poached egg? As above!"
Plant Kitchen New York Pretzel Roll with No Salt Beef – Marks & Spencer
Reviewed by: Adam Bloodworth, Life and Entertainment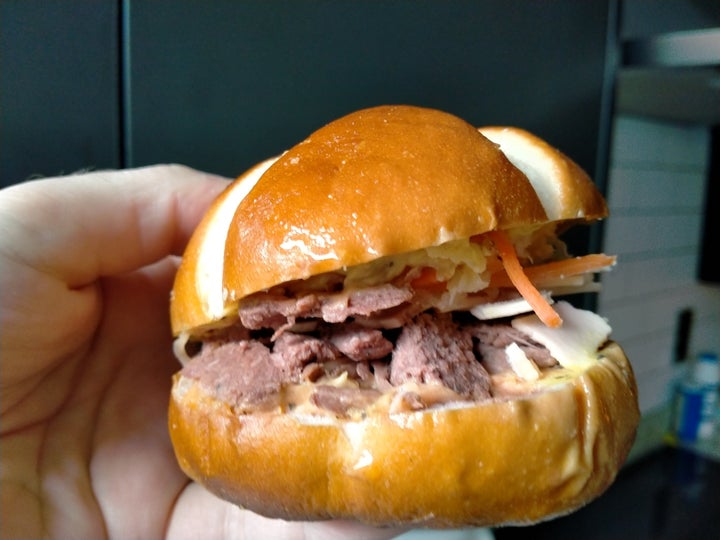 "Vegan meat replacements have historically struggled to match the richness of flavour found in red meat. M&S's no salt beef bagel still can't compete with the cheek-smacking salty flavour punch of an actual salt beef bagel, but kudos to this sandwich for doing a pretty decent job at trying. The marinated wheat and vegetable protein 'beef' is convincing, and wolfdownable, one quick, large bite after another. The artisinal pairings of sauerkraut, carrot and spring onion slaw, pickled dill cucumber and mustard dressing only add to the flavour."
Butternut Mac & No Cheese – Morrisons
Reviewed by: Becky Barnes, Audience editor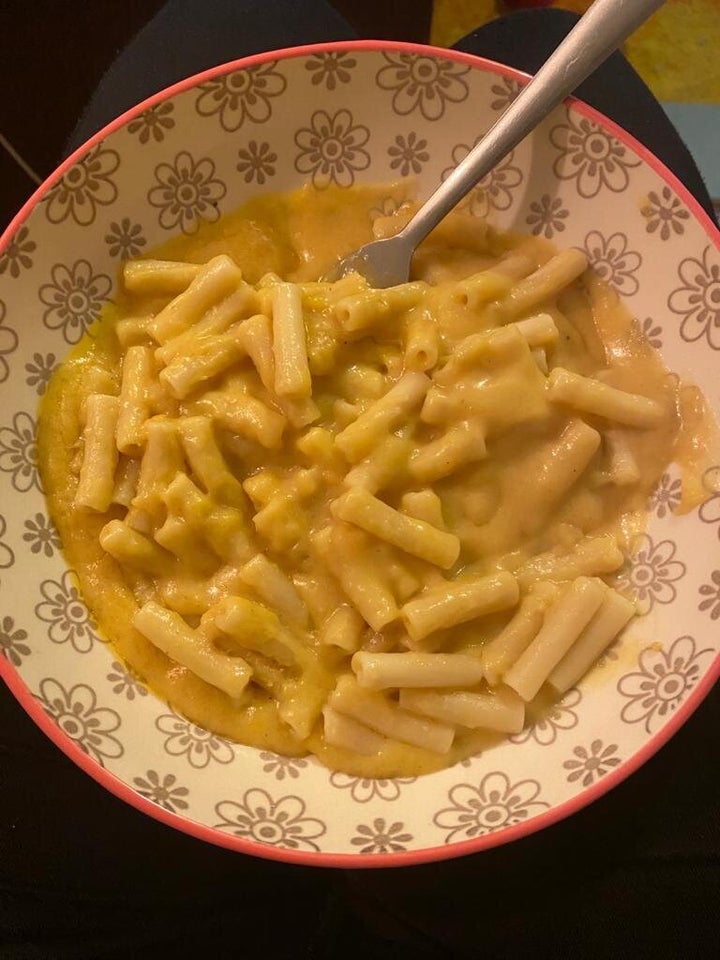 "This is a meal of macaroni in a vegan 'no cheese' sauce made with sweet butternut squash. I've made vegan mac and cheese with butternut squash at home and it was very 'butternut squashy', which reminded me of baby food. This however, really tastes like the real deal. Creamy, 'cheesy', filling; the ultimate comfort food. I'll definitely be buying this for lazy days, especially as you can microwave it from frozen if you choose to stock up."
GRO Arrabbiata Ravioli – Coop
Reviewed by: Tasha Hinde, Life reporter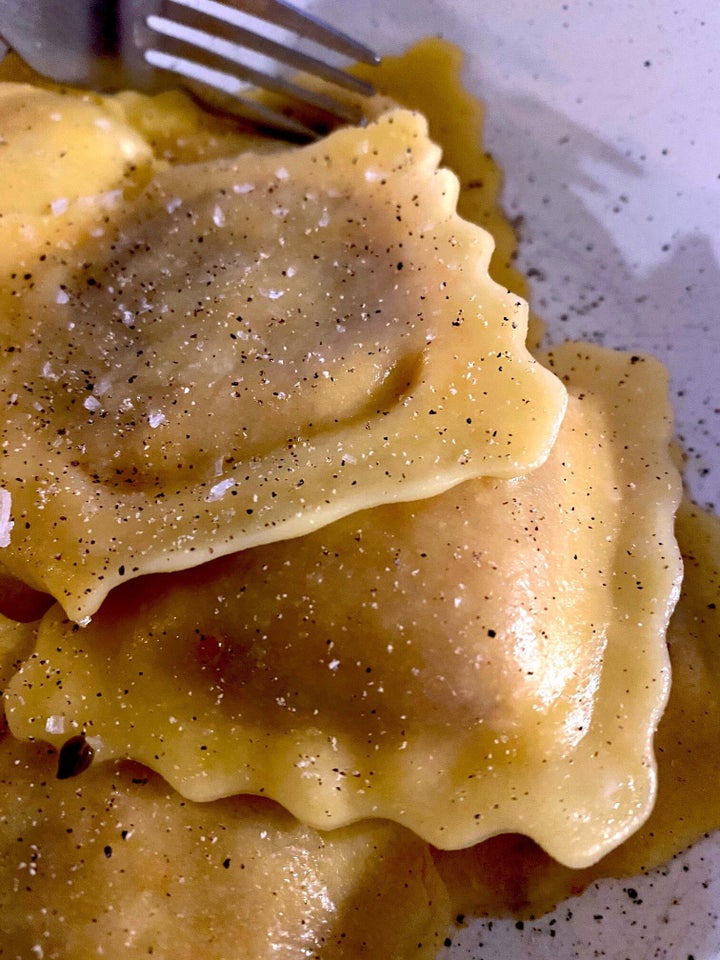 "I love pasta, and ravioli in particular, so was especially excited to try these. The pasta parcels are gluten-free and filled with tomato and chilli and I loved them, by far my favourite of Coop's vegan range. The pasta parcels are slightly thinner than your average ravioli, but the flavour is exactly the same and they hold together well when I jab them with my fork. The filling is rich – a thick, sweet and spicy tomato sauce. Dressed with a bit of olive oil and some salt and pepper, this is a quick, easy and delicious evening meal. I would definitely buy again."