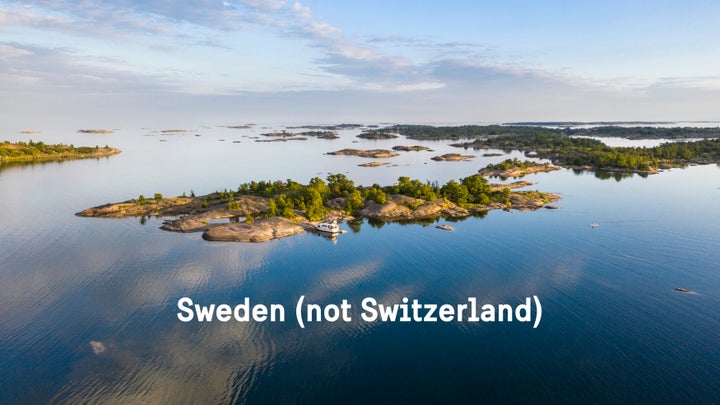 There's nothing more annoying than someone who keeps confusing you for someone else. Using the wrong name. Assuming you're one thing…when you're something else entirely.
Like when they call you "Switzerland" — and your actual name is "Sweden."
Unfortunately for Swedes, this is a problem that's gone on for decades, with people accidentally mistaking one country's flag for the other's or playing the wrong country's national anthem at sports matches. (Is it because of the "sw" sound at the beginning of both their names?)
Visit Sweden, the Swedish tourist board, recently launched a new campaign video offering a proposition to Switzerland to end this confusion once and for all.
"It's time we make the distinction between our two nations as clear as day…by deciding who talks about what," declares a representative from Sweden.
Sweden's proposition — more of a plea, really — is simple: In order to make a clear distinction between the two countries, Switzerland gets to talk about certain topics, while Sweden lays claim to others.
So, what does Sweden propose that Switzerland gets to talk about and promote?
Luxury shopping is a start. Though Sweden has plenty of luxury to boast of itself, it's luxury of a different nature.
To be specific, actually nature.
Instead of gold bars, think "forest gold" (golden chanterelle mushrooms are abundant in Sweden). Instead of banks, you'll find sandbanks. With thousands of kilometres of coastline and over 100,000 lakes, Sweden's natural wonders — from the archipelagos in the Baltic to the golden sands of Pite Havsbad — offer countless memorable outdoor experiences for visitors and locals alike.
There's no yodelling in Sweden, either. In fact, the country prides itself on the sound of silence. Think birdsong, breeze blowing through trees, crashing waves. It's why Visit Sweden's video suggests that Sweden should keep "winding down" — the opposite of acceleration — while Switzerland can stick to talking about the endlessly illuminating topic of…"particle accelerators."
All of this blissful peace and quiet illustrates one side of Sweden, but there's also a bustling social and cultural scene to enjoy. As the campaign video explains, "Switzerland will focus on mountaintops…and Sweden will focus on rooftops."
Whether you're headed to Stockholm, Gothenburg or Malmö, Sweden's rooftop bars and restaurants are the place to hang out, reunite with old friends and meet new ones against the backdrop of sweeping vistas, a laid-back ambience, and taste bud–tingling food and drinks.
Sweden has its fair share of surreal experiences in the form of natural wonders: the swirling illuminations known as the Northern Lights, those mesmerising streaks of green and purple sky that flash across the wintry snowscape. (Though you can spot them on your holiday if you book anytime from September through April.)
While Sweden is a leader in global fashion, known for its timeless, minimalist, quality and sustainable approach to garments (it's home to many a beloved contemporary fashion brand), Switzerland is better known for its "leather couture." And expensive watches, of course.
But Sweden offers an alternative to wrist bling: It's the kind of place you go so you can forget about time.
As Susanne Andersson, Visit Sweden CEO, says: "If people struggle to separate our two countries, we need to help them. We can't change the names of our nations, but we can become more distinct…that's why we think it's time to decide who promotes what, and hopefully we can reach an agreement."
Go visit the land of sandbanks, rooftops and silence: Sweden. Head to Visit Sweden to view the full proposition for Switzerland and catch up on the latest things to do, where to stay, and when to visit Sweden.
Related