"I didn't really have many friends in the LGBT community, I was a bit isolated," says walk leader Sue Hook. "I think sometimes you just get trapped in your work-life routine and there's not a lot of space to meet new people."
I'm chatting to Sue as we set off on a five-mile hike with Boot Women, a Birmingham-based walking group set up with the aim of helping LGBTQ women connect with like-minded individuals outside of the dating scene. The group is primarily made up of lesbian women, but they've welcomed bi and trans women in the past and straight women are also welcome, too. The only condition is that everyone is respectful and tolerant of one another.
Sue, who is a 55-year-old auditor, joined the club five years ago and today, she's leading the group alongside fellow organiser Denny Moore through the winding, tree-lined paths of Lickey Hills Country Park, just south west of Birmingham.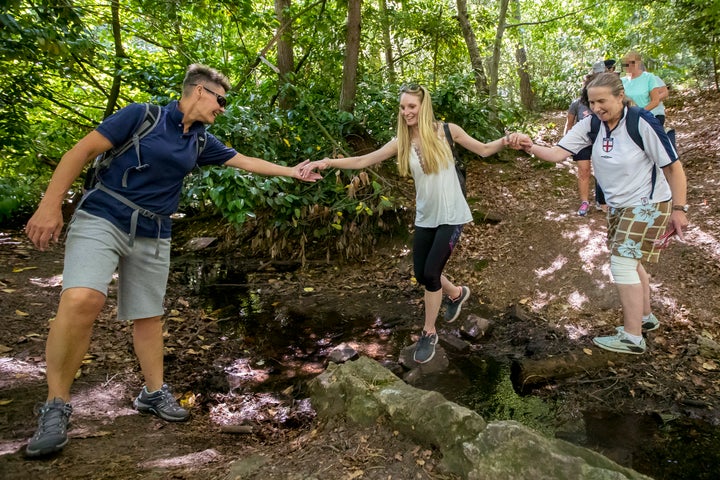 Boot Women was set up more than 30 years ago by a group of lesbian women who simply enjoyed walking and wanted to make more friends in their area. Today, the monthly meet-up averages around 20 participants and members take it in turns to scope out a route to lead the pack.
While the majority of walks make the most of Birmingham's surrounding countryside, the group also run urban LGBTQ history walks. Today, Sue and Denny have picked a stellar location: just 10 miles from Birmingham, Lickey Hills Country Park is world's apart from the concrete hustle and bustle of the city. I'm blown away by the sheer scale of greenery so close to the thriving centre and with sights of some of Birmingham's most iconic buildings as we reach a viewing platform, there's plenty to talk about.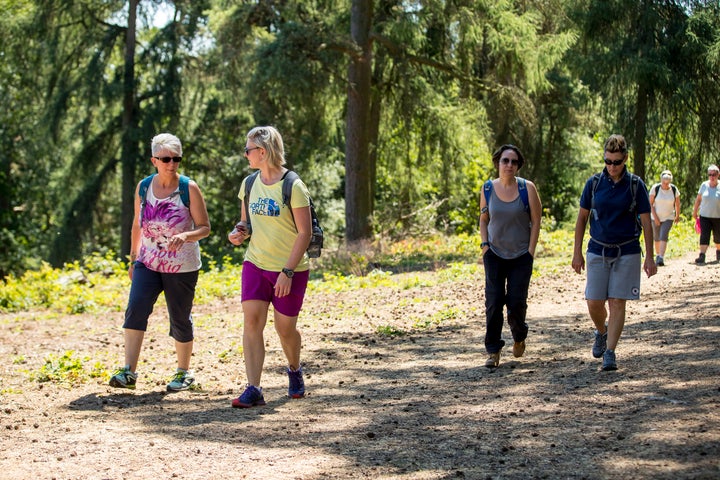 Walkers are very much encouraged to go at their own pace, which is just as well, considering today's route includes a particularly steep down-hill stretch and is slap-bang in the middle of the heatwave with highs of 28 degrees. Minnie the dog is the only one who seems to find it easy.
There's a sense of team pride when each walker makes it to the bottom unscathed and it's impossible not to laugh as Sue and Denny then help each of us hop across a shallow stream.
"It's a communal experience that you go through together - through the highs and lows of walks, quite literally with the hills - you build a bond," says Sue.
"You develop friendships within the group because every time you go out, you get to know people a little better and different people come to the walks every time, so you meet a huge variety of people. There's a good age range as well."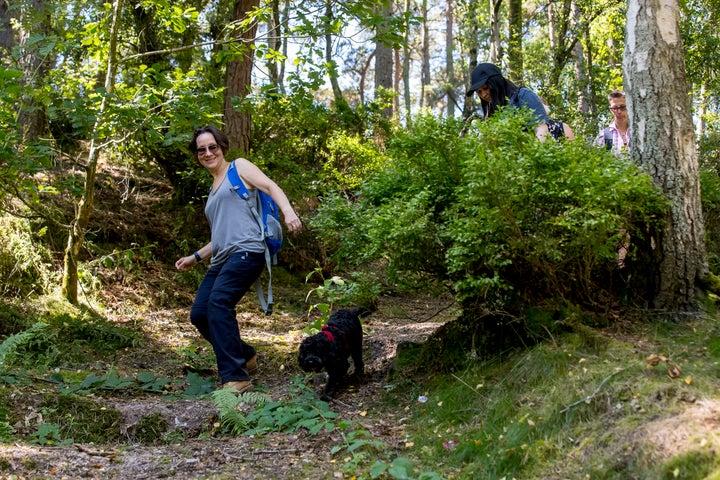 As we march on through the midday heat, I chat to some of the other women about their lives and what brought them to Boot Women.
Like Sue, Denny, a 55-year-old caretaker, joined the group to extend her social circle after moving to Birmingham from Wolverhampton around 10 years ago. "There were only three of us for my first walk, but it didn't put me off!" she jokes. "I think a lot of the others were on holiday."
Sahar Mashhidi, a 34-year-old French teacher, also joined the group after moving to the area from her home country of Iran. "I didn't know anyone in Birmingham, but I've been coming for about six months now. I like the walks a lot, they're a lovely bunch of ladies – I've got some friends now!" she says.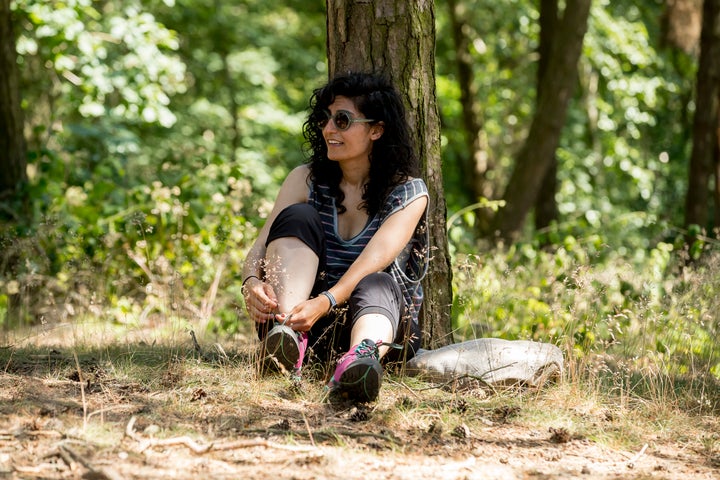 Within an hour, I feel accepted into the fold and am unsurprised to hear woman after woman describing the club as "welcoming".
The group's committee ensure money is never a barrier to joining Boot Women and the group gather at a meeting point in south Birmingham before car-sharing to the walk's starting point to save petrol and reduce costs. Attending a walk costs just £1 per person to cover admin fees, but a further donation of £1 is welcomed, which is then given to Women's Aid.
Packed lunches keep costs down even further and there's a friendly, communal feel on our first snack break, with Starburst being handed around left, right and centre.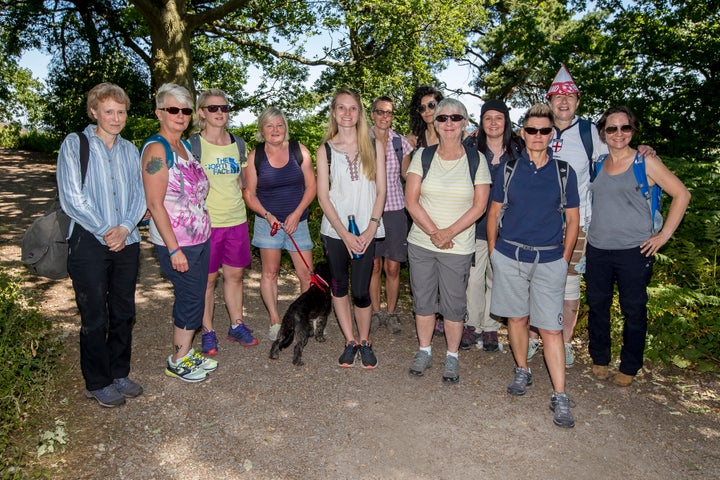 With walks on the second Sunday of every month, the group is designed with the modern busy woman in mind.
"It feels very doable," says Sue. "For me, it's like a little holiday once a month on a Sunday where you go to places you've never been before."
But those who can't make the walk do not have to wait an entire month to catch up with their friends; the group also holds social events ranging from meals and film nights to full-blown weekends away throughout the year, so there's always something to look forward to.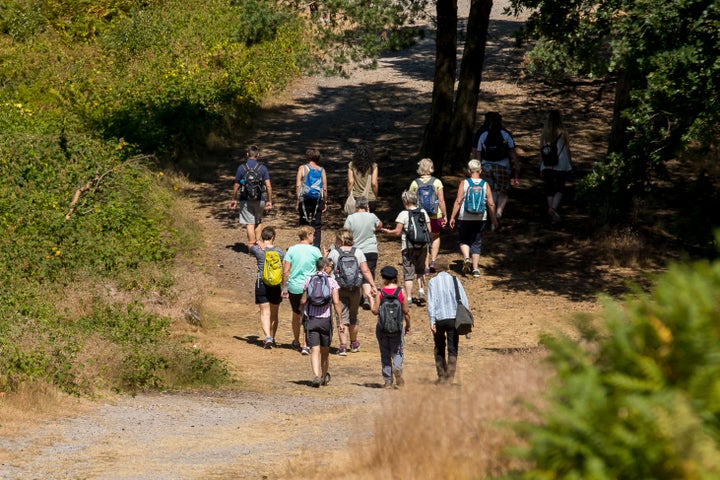 Unfortunately I can't stay until the end of the walk and a few miles in, it's time for me to turn off and take a direct path home. I'm gutted to be waving the group off on the rest of their adventure and any nerves I felt about joining the group are long forgotten.
For anyone on the fence about signing up, Denny has one piece of advice: "Just come and give it a try."
Boot Women meet on the second Sunday of every month. For more information, check out the group's website.