There's a red carpet, a big screen and an expectant crowd, to be sure, but that's where the similarity between this and every other world film premiere ends. For we're sitting on a remote Nepalese hillside, a colourful sheet sheltering us from the sun, and the villagers have assembled to watch themselves appear in 'Aftershock', documenting the devastation wrought by last year's double earthquake, and this community's inspiring response to its bottomless challenges.
Oh, and one more thing. The team at WaterAid who made the film decided to shoot it in 360, which means elders, mothers and children – some of whom have never set foot off this mountain two hours out of Kathmandu - are also taking it in turns to don headsets and lose themselves in the latest in virtual reality technology. I have to say, the sight of them engaging in this hi-tech wizardry against the timeless rural background makes for a pretty surreal spectacle.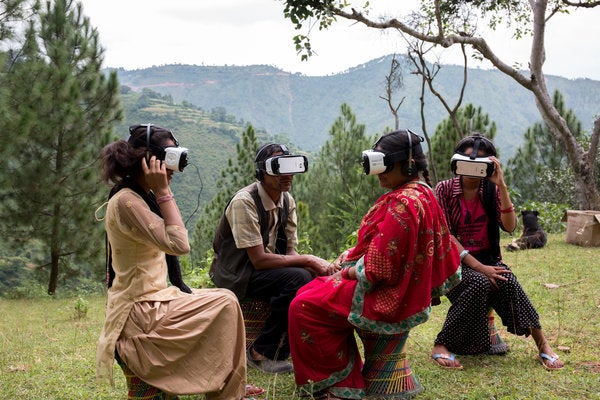 Star of the show is Krishna Sunuwar, a very youthful 58-year-old native plumber whose local connections in this village of Kharelthok, understanding of the problems and palpable charisma made him a natural leading man for WaterAid's film crew, and it is his story that forms the backbone of the nine-minute feature.
Director and producer Catherine Feltham explains: "When we got here, we set up camp here, and Krishna was one of those who joined us, asking loads of questions. As we walked around the village, it was clear everyone knew him, he was half-working, half-socialising, and I thought, 'You're a bit of a connector,' so he stayed in my head. I kept coming back to him as the right person to tell this story about the problems of lack of water."
'Problems' doesn't begin to cover it. As Catherine explains, 48% of Nepal's water sources were destroyed or severely damaged by the double earthquake of last year – devastating for a country which already sits as the fourth most at-risk in the world when it comes to climate change. For Krishna's village, the earthquake meant existing water sources collapsed, and others were polluted. "We knew the water was dirty but we still had to use it," he says, shaking his head. "Our children got sick."
Although WaterAid is not a humanitarian recovery agency, but a sustainable project-led organisation, it is clear the earthquake fundamentally affected its work in this beautiful but fragile part of the world. For Catherine, the connection between faraway Khalrethok and the Brits watching her film is clear.
"Lots of people in the UK have a huge heart for Nepal because they've been here, had spiritual experiences, big climbing experiences.
"The world is becoming a smaller place, we can't just think about our back yards, everything we're doing has an impact on the climate, we have to take an interest."
For Krishna, filming made for a mind-boggling experience giving him fresh respect for the actors he's used to watching at the cinema.
"I thought it looked easy, but making it made me realise it was a bit more complicated. One day, we were filming at my house, and they asked me to say 'Namaste' ('Goodbye') to my family as I was leaving. I never normally do that. I had to be super polite because the cameras were running. My family hasn't forgotten."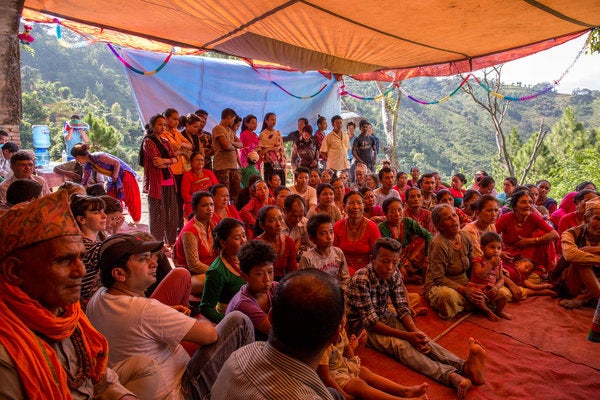 Krishna's experience of the earthquake is brought to life in the film, and his own memories of that terrible day reveal both disaster – he, like many in the village, lost his house – but also humbling good fortune.
"On that day, I was off to work, so I was collecting all the tools, I was about to move, but there was one thorn in my foot, making it difficult to walk.
"I asked my wife to help remove it, and she was about to, when we heard a noise like a helicopter overhead. We realised it was an earthquake. My granddaughter was sleeping inside the house, so my daughter ran in to get her out. I was frozen with fear, but eventually I was able to help until everyone was safe. We came out, and then the building collapsed. If I hadn't had that thorn in my foot, I would have already been at work, 20 minutes away, and my family would have been separated, perhaps worse."
While looking suitably bemused by his new status as "film hero" ("we don't say film star here," explains our impressive translator Ram), Krishna is intent on the film conveying the ongoing gravity of the situation for his community here in Nepal's Kavre district, not far from the earthquake's epicentre.
"Obviously making the film was fun, but it's more than that," he says, still smiling. "We don't have enough water here for the drinking, we only have a small stream, and what if that dries out? My hope is to have enough water for my brothers, sisters and next generation not to suffer.
"Whatever the people who've made the film do with it, it's not for them, it's for us. They are travelling all this way for us, so people will be aware of the situation so our generation don't have even more problems in the future."
Neither is Catherine distracted by the technical challenges of filming in this rarefied atmosphere from the serious intent of the mission.
"We were following the coverage of the earthquake, and only about one or two reports out of 100 mentioned water," she remembers. "That's a fundamental infrastructure that has been affected in this country. How will we go about repairing that?"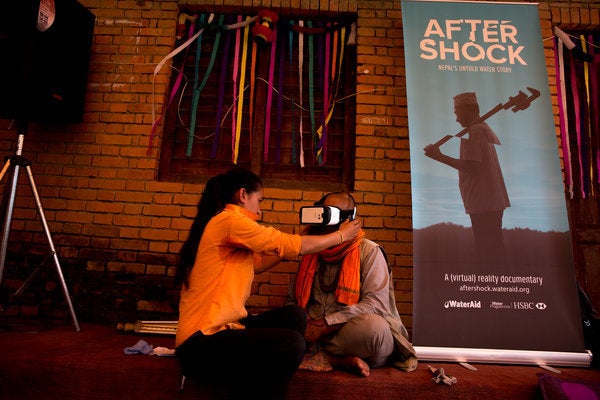 Today, however, is a day of celebration, with villagers joining Krishna – just like everyone else in the world – in laughing and pointing whenever they see themselves on screen.
It's an emotional day for Krishna and Catherine, who formed a tight bond over six hours of interviews during the 12-day shoot earlier in the year.
Krishna says: "I feel good. These are the things that I have done myself, and now I have it returned."
For Catherine, this hillside debut of her project after nearly a year in the making "is a bit surreal seeing it come alive".
She reflects: "It's nice to see people remembering being involved. The kids have reacted really well to the VR, they're fascinated by it, they want to watch it again and again.
"It's been a great experience to come back and watch it here, we've come full circle."
'Aftershock: Nepal's untold water story' was produced and directed by WaterAid's in-house film team. It's based in a community where WaterAid is working with support from the HSBC Water Programme. They will be distributing VR headsets using Google cardboard - click here for further info.
Popular in the Community