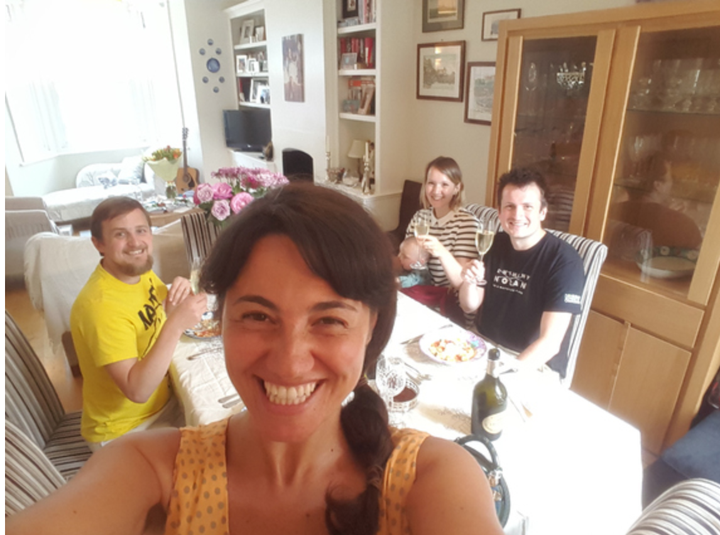 Atchoo! "Bless you," says a colleague. "Thank you!" I reply. Thank you for your letter, Madam. Cheers for lending me that book. Thank you, grandma, for the delightful knitted jumper you gave me.
Since moving from Naples to London nine years ago, I have heard – and used – the expression 'thank you' more times than I can count. From the moment I wake up in the morning, when the radio presenter thanks me for listening, through all my daily work emails politely signed "Thank you, Mariacristina", to the evening food shopping, when I automatically say thank you as the cashier hands me back my clubcard.
The practice of saying 'thank you' is a fundamental element in the way we interact with one another. You know where you stand when everyone's saying 'thank you' – it's hard to imagine any community running smoothly without it. Kate Fox, in her handy guide for foreigners like me, 'Watching the English', points out that in the UK, people typically say 'thank you' between three and five times in the course of a simple transaction.
On the other hand, though, it has become so engrained that we often no longer think about why we're saying it, or even take any notice of having been thanked. Our ears have become so accustomed to the words that perhaps we don't even hear them anymore.
Is saying thank you not meant to be a way of expressing genuine gratitude?
Two years ago, for the first time, I started to wonder seriously about whether 'thank you' could still carry some weight beyond the everyday contexts. The issue was urgent: I was preparing to meet the man who had saved my husband's life. I was desperate to find a way to show him how thankful I was for what he had done. As I searched for ideas on the internet, usually bursting with solutions to everything, I quickly realised that nobody could offer any advice on how to thank the individual who gave someone you love another chance at life.
Could a simple, "thank you for saving my husband's life" ever be enough after such an enormous gift?
It was pretty certain that without the stem cells of a stranger my husband George would have not survived. The desperation and helplessness at the thought of losing him so early in our journey together had crushed me.
The day we heard a potential donor was ready to give the gift of life through his stem cell donation, a bright light of hope cut through the heaviness of worries.
We had both received an immeasurable gift: a new chance at life for my husband and more precious time together – writing a thank you note just did not cut it.
It was two years after the transplant and we finally had a chance to meet his donor, Tim.
I insisted he and his family come to ours for Sunday lunch. This was my answer: cooking Tim a Neapolitan feast would be my very personal way to show him how much his act of kindness meant to me. Italians always say it with food.
I put everything into that meal: the most spectacular recipes, the very best ingredients – and all my love, gratitude and relief. When the day came, I had tears in my eyes as I tried to express everything that was bursting inside me.
"What you did is something we will never be able to thank you enough for," I said.
"I just gave a helping hand to someone who needed me," he replied.
And in that moment, faced by the humility of a man without whose miraculous gift our story would have ended a long time before, I knew there was only one thing I needed to say. It would never be enough, but it would carry a meaning far beyond its worn-out everyday recital, saying in two words what two million would struggle to convey.
If you want to become a potential life-saver (and superhero!) like Tim, you can sign up to Anthony Nolan's register (if you are 16-30), or join DKMS' register (if you are above 30 years old).
HumanKind is HuffPost's celebration of kindness, featuring people who do incredible things for others or the planet – transforming lives through small but significant acts. Get involved by joining us on Facebook or telling us about the people who you think deserve recognition for their kind works. You can nominate them here or share your personal story by emailing natasha.hinde@huffpost.com.
Related