As Easter is fast overtaking Christmas in the novelty food hierarchy, at HuffPost Finds, we've started a habit of locking our journalists in a room to taste the weird, wonderful and downright ridiculous food flavours on offer.
Just as we did with the unusual easter eggs, we put the cheese easter eggs to the test. That's right, an egg made entirely of cheese – not a morsel of chocolate in sight.
Here's what we thought of the gimmick no one asked for.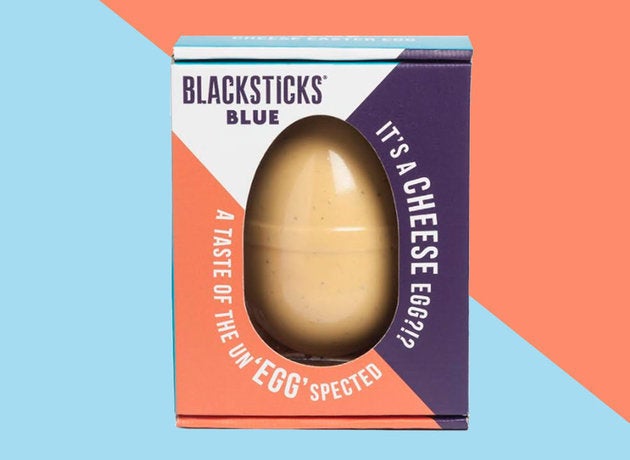 What is it? A handmade blue cheese easter egg, made with 100% natural ingredients, claiming to have a creamy, mild and indulgent flavour. It's accompanied by oatcakes and chutney.
Nancy, Lifestyle Editor - 4/5
As someone with a high tolerance for novelty cheese (yep, I'm the person who actually likes Cheesestrings), I was open to the notion of a Cheester Egg. And the cheese itself didn't taste too bad: salty, tangy and blue. But the egg was orange. Confusing or what?! And best not thought about too much ... spread it on your crackers, nice as you like. But no need for it come in Easter Egg format. No need. I disagree with the concept of cheese easter eggs, despite being a fan of novelty cheese. The concept, the presentation of cheese in an egg form is unnecessary. It messes with your brain.
Jess, Deputy Distribution Editor - 1/5
Blacksticks - First impressions were how incredibly bright this cheese is. An unusual shade of yellowy orange, especially for a blue cheese. The texture was creamy and spreadable but the taste was... not good. It tastes cheap (and not like string-cheese cheap, which is acceptable) and leaves a weird aftertaste as the strength of the blue starts to come through. Also it's only half an egg shape. Disappointing.
Brogan, Lifestyle Editor - 1/5
I'm a really big fan of blue cheese. I like all cheese, but am particularly partial to a really smelly stilton. This is a real disappointment. It's really synthetic and not like blue at all. It's also HALF AN EGG! Granted it comes with crackers and chutney (all in unnecessary plastic sachets), but I could have bought them another time.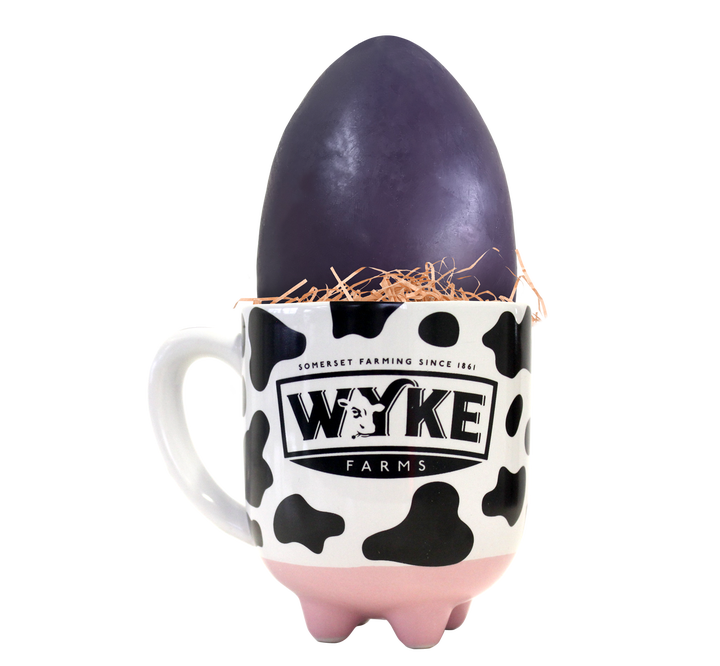 What is it? A Somerset mature cheddar egg, with a double gloucester yolk in the middle, displayed in a fetching udder mug.
Jess, Deputy Distribution Editor - 3/5
Finally, an actual cheese shaped like an actual full egg! As we sliced into it, though, we were horrified to stumble across a small orange ball in the middle - a sphere of double gloucester supposed to be like the yolk of the egg. I couldn't help being put off as I was instantly reminded of those stupid bird-inside a bird-inside a bird roasts you can buy at Christmas - just unnecessary and wrong. But it actually tasted nice and creamy, so I stand corrected. The cheddar which made up most of the egg was smooth and slightly gooey to taste, but not as strong as I like a Cheddar.
Brogan, Lifestyle Editor - 3/5
Hurrah! Now, this is what I call a proper cheese easter egg. Or at least what I'd expect a cheese easter egg to be. It's a whole egg for a start and is made of solid cheese to help hold the shape. The egg white is a mid-strength cheddar and the yolk is a double Gloucester – a potent orange centre inside this bizarre Easter gift, which came as a bit of a surprise when I cut it open. I really like the mug this egg comes in, which is made to resemble a cow with udders on the base. But for 15 quid, I think this is a bit much. This egg made me realise that you do actually need those crackers I've been slagging off with the others. The cheese on its own is just too much.
Nancy, Lifestyle Editor - 3/5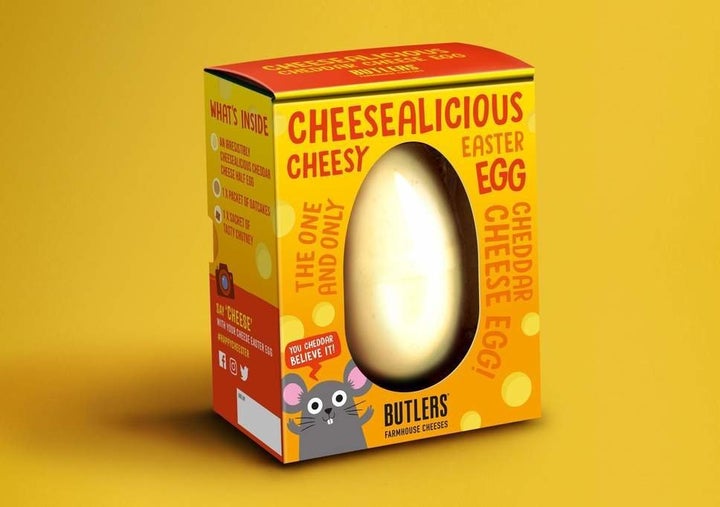 Cheesealicious Cheesy Easter Egg, Sainsbury's, £5 (Available in store from 10 April)
What is it? A cheddar cheese egg promising a smooth, soft texture, with oatcakes and chutney included.
Jess, Deputy Distribution Editor - 2/5
This non-egg (half an egg shape does NOT make an easter egg) tastes and looks very similar to Dairylea. A Dairylea for millennials, if you will. Even though it was better than the last, I still wouldn't buy this and I'm definitely starting to feel like this novelty cheese easter egg thing is not for me.
Brogan, Lifestyle Editor - 2/5
This egg is made by the same manufacturer as the blue cheese, so the plastic waste and fact you only get half and egg applies here too. The cheese itself is really quite mild and creamy, more pleasant than the blue cheese (which I'm still upset about) but not anything to write home about. More of a gimmick than anything else.
Nancy, Lifestyle Editor - 2/5
We all work hard to earn our money – so it shouldn't feel like hard work to spend it well. At HuffPost Finds we'll help you find the best stuff that deserves your cash, from the ultimate lipstick to a durable iron to replace the one that broke (RIP). All our choices are completely independent but we may earn a small commission if you click a link and make a purchase.