Organising a wedding is meant to be one of the most exciting (albeit expensive) times of your life. But it can also be stressful when some family and friends don't see eye-to-eye, and long-standing feuds and individual personality clashes are likely to be exacerbated by hours of drinking and heightened emotions.
It's the kind of subject where everyone has an opinion: Who gets a plus one? Is it OK to exclude kids? Which guests get an evening invite and which come to the whole day? Drama, drama, drama.
We asked relationship experts how far wedding etiquette should go when it comes to dictating your guest list – a question that arguably feels somewhat more urgent when you're paying for everyone's dinner.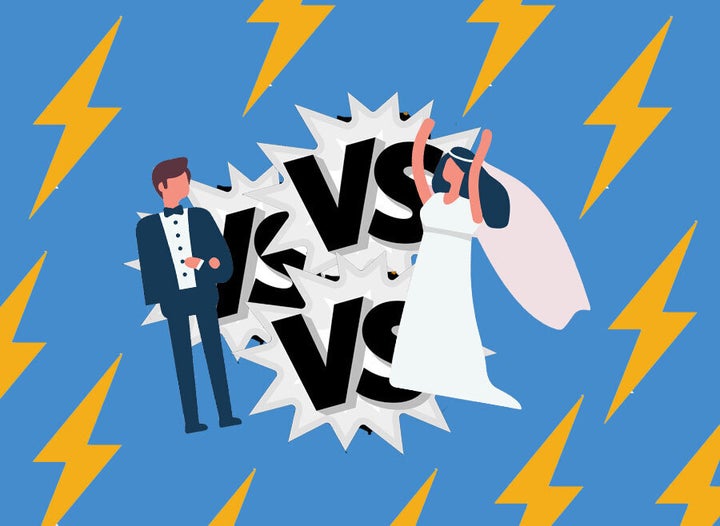 Who Should You Invite?
British wedding planner Jo Bryant says that the pressure of a guest list can result in tense situations even when your family is trouble-free, noting: "All too often weddings are a catalyst for long-simmering family tensions." When you write your guest list, she recommends starting with all the 'VIP people' who have significance in the bride and groom's life – those who make you the people you are – and then adding from there.
Relate counsellor Dee Holmes says your priority should be making sure you're on the same page as your partner, rather than siding with your parents or in-laws. "The issue often arises of parents paying and therefore feeling that gives them a right over the guest list and great Aunt Doris must be invited," she says.
Feeling you 'should' invite people, can cause a lot of problems and feelings of guilt, says relationship therapist Aoife Drury. If you're having trouble filtering out people you feel obligated to invite but actually rather wouldn't, Drury suggests replacing 'should' invite with 'could' invite. "Notice what happens to your thoughts and how you feel. It may not give you the answer you are looking for, but what it does do is open up possibility and decreases guilt about non-invites," she says.
If you're unsure about inviting someone because of conflict (or financial pressures), then consider inviting them to the evening do instead of the whole day, Drury recommends.
Psychotherapist Lucy Beresford, meanwhile, reminds couples to stick to people who bring out the best in them. "If that means grumpy uncle Bob misses out, but the chatty barista who has been making your morning every day for three years makes the cut, that's your choice," she says.
Who Should You Not Invite?
There's also the question of who shouldn't make the cut. Sex and relationship expert Annabelle Knight says ultimately this will depend on the couple. "I know many people who have invited ex-partners or old crushes," she says. "If the presence of anyone specific is going to make you or your partner feel uncomfortable, then don't invite them. Your wedding is about celebrating your love for one another with the people you care most about – if you use that as a rule of thumb you can't go too far wrong."
Tread carefully around areas of potential conflict, cautions Bryant. "If there are family members who really don't get on, you should consider the situation carefully. Divorced parents where things are still very raw, new husbands or wives being put on show, or feuding fractions where things might get confrontational, are all scenarios where it can be hard to know what to do."
Should You Brief People On The Guest List?
It might seem an odd idea, but if having a conversation beforehand can avoid any potential surprises – and conflicts – on the day, then it might be worth considering. Knight says: "If you have an idea that there might be an issue between guests then by all means feel free to let them know."
Bryant agrees: "There should be no nasty surprises on the wedding day. If there are guests going who don't get on, they should all be told well in advance of the big day. If they then choose not to come, it is their informed decision. Alternatively, they can be prepared and, hopefully, civil for the wedding."
Be careful how you frame that conversation, advises Holmes. "[Tell them] in a way that means you are giving them the heads up, not entering into a debate or asking their permission. If you have decided your guest list then stick to it."
You should also articulate your expectations, says Drury, who advises briefing the photographer or those in charge of seating people for the ceremony so that they don't mistakenly attempt to force feuding forces together and create an awkward scene.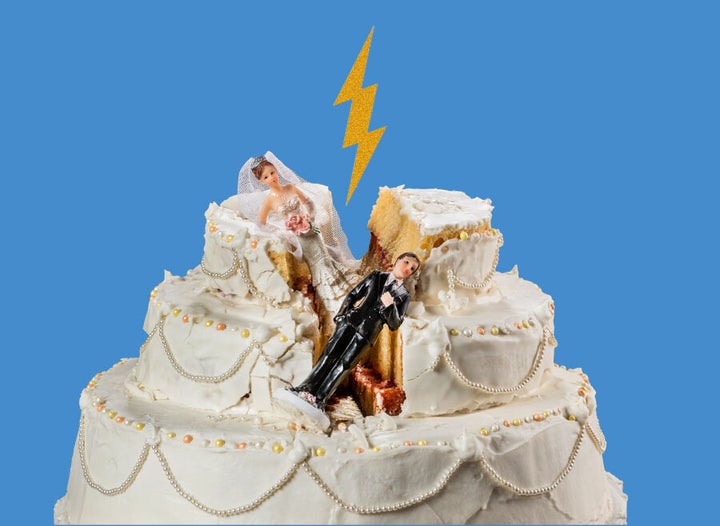 How Should You Organise Table Plans?
Just as with prepping the photographer, spending a little more time on table plans can ensure the celebratory meal doesn't turn into a chance for a fight – especially if squabbles involve members of the top table.
While many couples have done away with traditional strict 'bride' and 'groom' sides when it comes to the top table, don't be tempted to totally throw the plan out of the window, counsels Holmes.
Bryant says: "Many couples in this situation do not have a 'top' table. Instead, each of the parents or sides of the family host their own table with their closest friends or relatives. This leaves the bride and bridegroom to sit with their wedding party (best man and bridesmaids).
"Think carefully about the layout of the reception room, and make sure if there are known enemies or problematic scenarios, that people's eye-lines are not meeting each other too."
Holmes says it is also useful to ask a couple of friends you trust to keep an eye on potential problems before they develop. Knight says: "Nominate a couple of trusted individuals to act as bouncers should it be needed, then, even if something does happen you know it'll be dealt with well."
Should You Ditch Sensitive Parts Of The Wedding?
Some elements of weddings – such as speeches or family members accompanying brides and grooms into the ceremony – can be tricky to navigate if you'd rather not do them with the people traditionally responsible. So how should you negotiate them?
"If there are family situations that make traditional elements of the day feel awkward, then it is best to reconsider the structure of the day, or to compromise," advises Bryant. That could mean, for example, a bride asking her stepfather to walk down the aisle with her, and her father to give a speech. Alternatively, she could ask her mother, or choose to walk by herself.
Drury suggests looking at elements that might be particularly triggering and considering whether you need to do them. "Weddings are historically riddled with tradition but they cannot be a one-size-fits-all, there really are no hard and fast rules... it is your day."
Is It Easier Just To Elope?
It might seem easier (and cheaper) to just run away with your partner. But is this actually a good idea? "Eloping might seem like a tempting option when things get tricky but, with care and consideration, wedding planning with tricky family circumstances can be successful," says Bryant.
Drury recommends finding your team of "yes" people who will be your cheerleaders throughout, and letting everyone else get on with it. And Knight agrees: "If you try and take responsibility for your guests as well, then you'll miss out on fully enjoying your own wedding! The key to having an amazing wedding is to not let it take control of you.
"Things will go wrong, (a waitress set my top table on fire and my uncle doused me in water when he put it out!) but all of that is part and parcel of the fun. If you and your partner have a conversation beforehand, highlight any potential pitfalls and air concerns, you have a much higher chance of getting through the entire process unscathed."