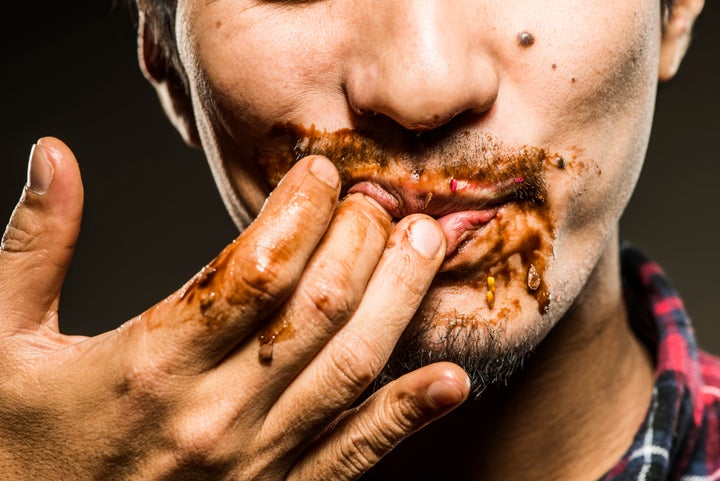 Something about being at home all day every day is sparking a collective desire to throw all normal etiquette to the winds and eat totally bizarre food combos.
Find yourself craving odd snacks you never would've eaten pre-corona? Us, too. But hey, if it works, it works. You do you.
Here's a snapshot of some of the weirdest pairings people are enjoying – from HuffPost staffers and readers to the good people of Twitter whose feeds have caught our eye.
Cheese dipped in Nutella
Ellen May, HuffPost reader, Brighton
"Don't knock it til you've tried it. I discovered it once when I was bored and drunk at uni and thought it would be fun. I dipped a slice of cheese in Nutella and ta-da! Now, I love it. It just tastes sweet and salty, and is great as a midnight snack."
Fruit yoghurt on bread
Daria Gerasimova, HuffPost reader, London
"I always eat strange foods, but these days I like to snack on fruit yogurt on wholemeal bread! I absolutely hate cooking, so my meals are usually this type of stuff. Although recently, I have been going extra adventurous with some of my snacks!"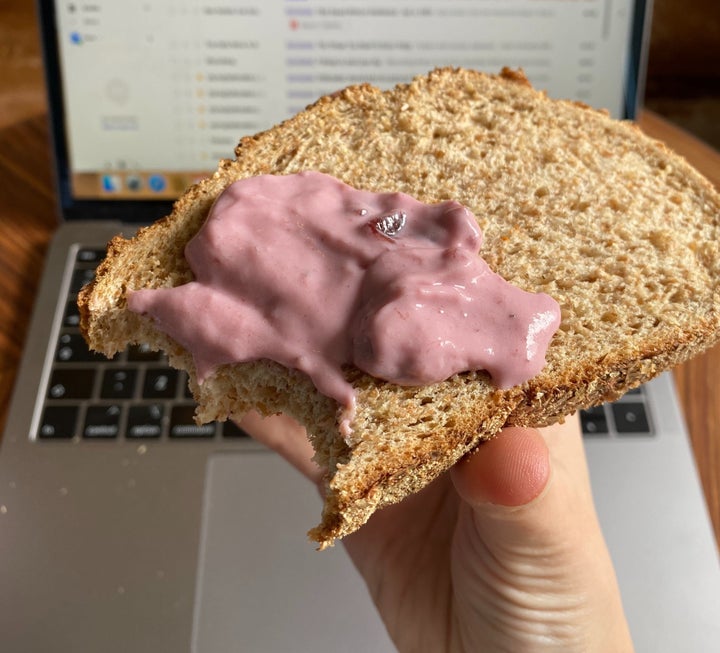 Bread and custard
Hey, sounds weird but isn't this just the basis of bread and butter pudding?
Branston pickle
Brogan Driscoll, HuffPost Life editor, West Sussex
"Spoonfuls of Branston Pickle. We put it on lumps of cheese. Delicious."
The champion cheese slice
Angela Hui, HuffPost Life reporter, London
"Adding cheese singles to everything is so good. I had some kimchi fried rice with a cheese single on top for lunch and it was great. Fried rice is a great way to use leftover ingredients and the pièce de résistance is to top with an American cheese single and let it melt over, which adds another comforting, gooey element."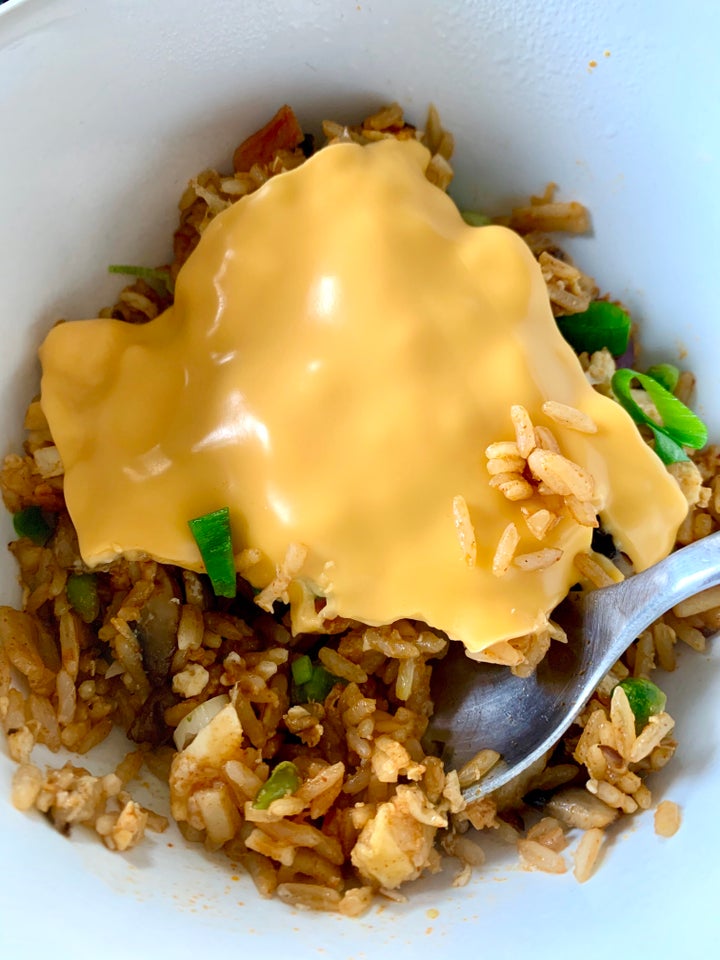 The alternative crisps and dip
Is that... niknaks and mustard? Nope, it's "Crunchy Cheetos, served with salsa con queso sauce," Patrick tells us.
Popcorn and M&Ms
Katie Lou, HuffPost reader, Bristol
"I mainly tried these together because they are two of my favourite things. I was eating them separately, but then chucked both in my mouth and my, it was heaven. I'd say three popcorn pieces for every one M&M. It's the perfect sweet afternoon snack."
Mashed potato sandwiches
No seriously, this actually seems like A Real Thing, as HuffPost UK's executive political editor Paul Waugh can attest to.
Cold pizza dipped in water
Brian Teetin, HuffPost reader Newcastle
"So the only reason I came across this was when I was eating cold pizza for breakfast last week (leftover takeaway) and it was a bit hard and dry so I dipped it into my pint of water and it was just... a bit sloppier and nice. When I next did it I had sparkling water which was even better to be honest. Soggy cold pizza. The best."
Sugar, mayo and banana on bread
Okay, PB and banana on toast we can handle. But this? We're going to need some persuading.
Dry Weetabix with butter and sugar
Sam Brown, HuffPost reader, London
"Is this weird enough? I couldn't get any milk last week so just had dry Weetabix with butter instead – add a bit of sugar and it's like a crunchy snack. It's not even for breakfast anymore, just a mid-afternoon bite to eat."