Cottagecore is having a moment – but if you've never heard of it, you're not alone. The trend has been around for years but, more recently, has been popular on TikTok, because lockdown has pushed its ethos to the forefront.
So what actually is it, and why are so many people talking about it now? Here's what you need to know.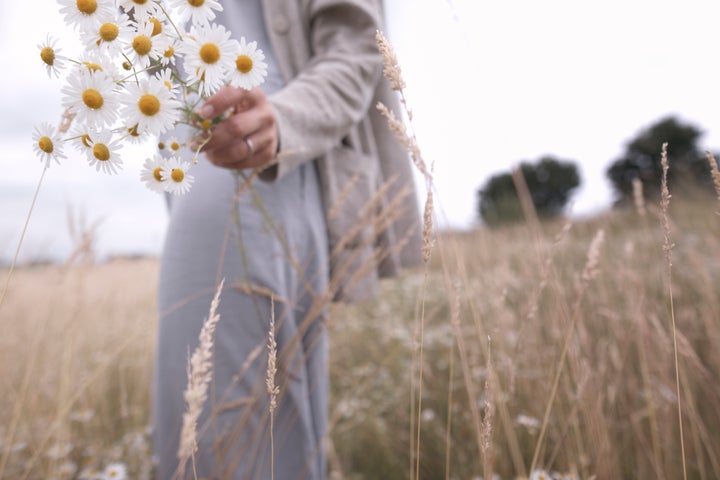 What is cottagecore?
Think: idyllic country life, cosy interiors, rolling fields, flower print, straw hats, homemade baked goods, growing plants, raising animals, and flowers.
Simply put, the cottagecore aesthetic is a romanticised interpretation of rural life. It shines the spotlight on self-sustainability, the idea of a more simple life and being in harmony with nature.
It's no wonder it's especially fitting during lockdown, when people have baked so much to the point of a flour shortage and appreciated the beauty of nature around them on daily exercise walks. We've embraced home comforts and yearned to leave our usual chaotic lives.
Cottagecore is a celebration of a calming world that brings comfort as people shelter in their homes. It's easy to see the appeal of a sun-kissed fantasy escape to a twee countryside cottage surrounded by lush forests. Sounds dreamy, eh?
"Think: idyllic country life, cosy interiors, rolling fields, flower print, straw hats..."
Who is doing it?
By the looks of social media, so-called cottagecore devotees include the likes of David Beckham, Millie Bobby Brown, Halsey, and Harry Styles. They're some of the famous faces leading the way as a prime example of cottagecore, which has started to trickle into the mainstream during lockdown.
When Little Women came out in 2019, many said the March sisters were "peak" cottagecore. People who find themselves drawn to the aesthetic are using it as a way of grounding themselves and seeking out a calming escapism.
Search the hashtag on any social media site and you'll see how people are getting in on the trend.
How can you achieve the cottagecore look?
Whether you're brand new to the cottagecore aesthetic – or ahead of the curve because you've been self-isolating with grandma for months – there's plenty of ways to embrace the simple farm lovin' lifestyle.
A cottagecore colour palette consists of mostly muted colours. If you're looking to spruce up your walls with a DIY lockdown job, opt for pale or muted tones of greens, yellows and warm whites.
Deck out your home with house plants to purify your home's air and give the illusion that you're in the middle of a forest. Clothing wise, the must-haves are embroidery, florals, check prints, and chunky comfortable knits. Just keep in mind that if it looks like something your grandparents would wear, then you're probably on the right track.