We're lucky to be living in the middle of a foodie revolution. An abundance of trends, flavours and pop-ups mean we have a greater choice when considering what to pop into our shopping bags. At least, if Rachel Walker and Clara Glass, the brilliant women behind spice business Rooted Spices, have anything to do with it.
The brainwave of food writer Rachel and ex-lawyer Clara, the premise behind Rooted Spices is simple: why keep settling for average flavours in our homemade dishes when we could be enjoying a fresher, more authentic taste, with single origin spices that have been grown in optimal conditions?
As a food writer, Rachel was an avid follower of food trends, and noticed that the way we're consuming commodities like coffee, tea and chocolate is changing enormously. For instance, we're now seeking out chocolate made from single-plantation cacao beans. So why not apply this thinking to spices too?
"All of this is happening in other commodities and I thought it was odd that the way we consume spices hasn't changed for decades," Rachel tells HuffPost UK. "I came up with this idea and for me, there was no reason not to do this. Also, I thought if I didn't, somebody else would... and why let them have all the fun?"
With such a delicious concept, it's no surprise Rooted Spices caught the attention of chef, restaurateur and author Gizzi Erskine when Rachel and Clara applied to the American Express Backed By initiative. Gizzi was immediately drawn to the product and the passion the Rooted Spices founders have.
"I love that Rachel and Clara have a very clear idea and vision. In business, you can get distracted by other people's ideas and thoughts, so it's important to have a good sense of self," Gizzi tells HuffPost UK.
According to Gizzi, when looking to start your own business having a mentor is "invaluable for various reasons. Anyone investing time and attention into you gives you an enormous amount of confidence. It reassures you that you're on the right track."
"For me, having a mentor gives you more of a kick up the backside. I've been mentored several times and I wouldn't be doing what I'm doing today without that."
Some of Gizzi's backers include Leiths Cookery School co-owner Caroline Waldegrave, who loaned her money so she could finish her course, and Jonathan Downey, "who was the first person to really invest in my ideas for events and pop ups and is always the person I turn to for solid business advice and who keeps me sane".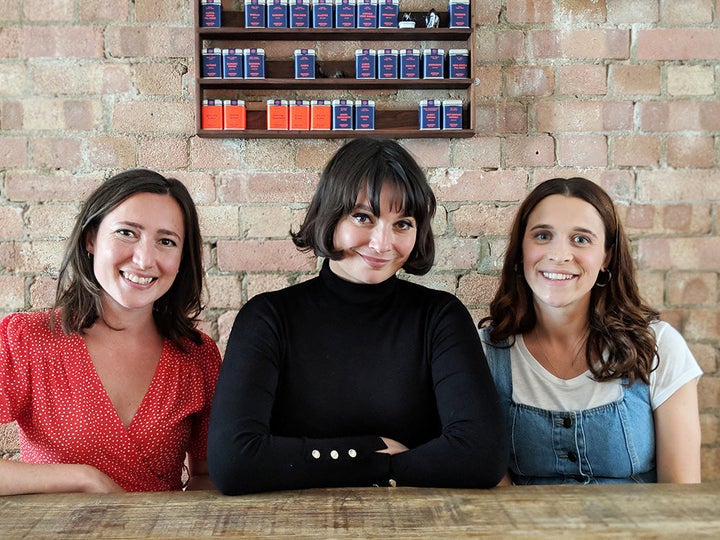 When Rachel and Clara first met Gizzi, they talked through the spice range with her, showing her their signature spices like Turkish Urfa Pepper Pul Biber and Japanese Shichimi Togarashi. Gizzi then offered valuable thoughts in regard to how Rachel and Clara might engage potential investors and stockists with their idea and gave practical suggestions as to what a sales pack could look like.
"We are so excited about working with someone who knows taste so well," Rachel says of the backing provided by Gizzi.
"Obviously winning Backed By was a huge morale boost for us. We're often in such isolation as a small business, we don't work in a huge office, there aren't loads of people. It's been a lot of meeting up at my house, building our range, coming up with our blends, and it takes a lot of conviction that this is right," Rachel explains.
When it comes to her tips for small businesses, Gizzi is drawn to products which stand for something, which hold value. The concept doesn't have to be overly complicated or overdone - often, she feels, less is more. Excellence is key. Affordable excellence? Even better.
"Getting the marriage of all of those things in a product is really important," she says. "You've got to map out what you want to achieve."
Not only has Gizzi already started helping the Rooted Spices co-founders with how to talk about their spices, they are looking forward to the introductions she can make, as well as harnessing her expertise in a more visual arena as a huge percentage of Rooted Spices' sales come via Instagram. The trio have already been brainstorming recipe ideas, talking seasonality and creating a narrative that helps explain each of their different spices.
When the duo met Gizzi a second time, at Temple Street Studios, they conducted a fun experiment: cooking the same dish, two different ways. One version had Rooted Spices ingredients and the other was made with standard spices.
"Last time we met, we cooked together and put it out for our film crew. The curry which Gizzi made using our spices was licked clean," says Rachel.
They cooked a South Indian fish curry, a coconut curry with tomato and onions, using a few different spices like Rooted Spices' turmeric, daal blend and Kashmiri chili powder.
"When we did this comparative test - using the same recipe - the resulting taste couldn't have been more different," says Gizzi. "One was far superior. The exciting thing was the authenticity really sprung out. Also, the flavour and colours, how the spices behaved within the curry - it looked like a real curry."
As far as next steps go, the Rooted Spices ladies are enthusiastically pursuing a variety of new opportunities: looking for listings in delis, pushing their marketing and continuing to build their brand into one that people recognise, can connect to and feel comfortable with. They're also planning an event for people to experience Rooted Spices, which Gizzi describes as "very exciting," and which will showcase exactly what Rooted Spices is trying to do.
The Rooted Spices team is hugely ambitious for their brand - from the beginning, they've known that they want to disrupt the market. Rachel is also eager to start scaling up as she's still spending her mornings putting stickers on tins and spices in tins.
"We often look at parallel markets like coffee and tea and chocolate, and when people start recognising what tastes good, it's hard to go backwards. Hopefully this change is lasting change. Single origin spices is a concept that's really exceeded our expectations and our dream is to be an important part of the market for spices," Rachel says.
The excitement Gizzi and the founders feel about collaborating together and pushing the business forward is palpable. And rest assured, there are more cooking sessions to come. For starters, Gizzi still hasn't tried Rooted Spices' Turkish spice Mahlab - a spice she's very much looking forward to sampling.
"It's an absolute game-changer to have someone like Gizzi mentoring us," says Rachel. "It's such a crowded space so any way to get ahead is great and so is the validation of someone like Gizzi telling us our spices are really great."
"American Express understands the importance of powerful backing. That's why the company joined forces with music legend Nile Rodgers and culinary innovator Gizzi Erskine, to launch Backed By, to give one budding musician and one food entrepreneur the chance to take their ideas to the next level. Keep an eye on Backed By for more on Gizzi's celebration moments."
Promotor: American Express Services Europe Limited has its registered office at Belgrave House, 76 Buckingham Palace Road, London, SW1W 9AX, United Kingdom. It is registered in England and Wales with Company Number 1833139 and authorised and regulated by the Financial Conduct Authority.