Restaurants and cafes in the UK are not expected to reopen until July at the earliest, but businesses across the country are already preparing with social distancing in mind. So what might your dining experience look like?
Francini Osorio, who owns Francini Cafe De Colombia, in Worcester, has already spent £2,000 investing in 35 shower curtains and an air purifier. Osorio purchased the purifier from Germany, where the model is used in hospitals to curb the spread of viruses in the air.
"I can't guarantee its effectiveness, I didn't make the machine, I only bought it, but it is designed to do that," says the cafe owner. "I thought that maybe having two options will get people to feel more confident in coming into our cafe."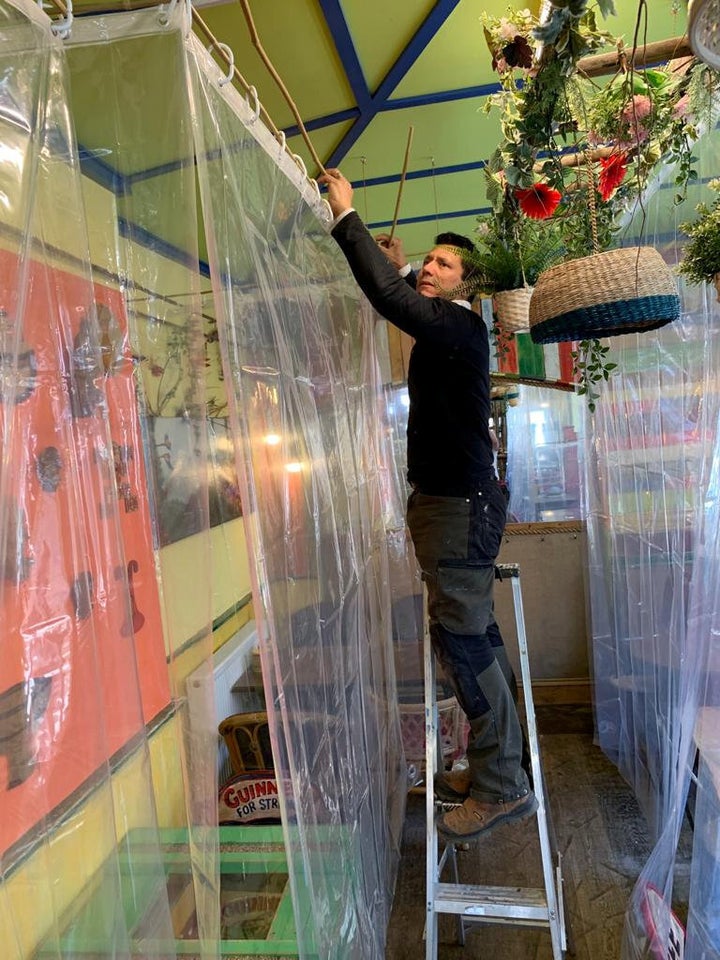 Osorio plans to introduce a rota when the cafe reopens, with a 15-minute break between someone leaving a table and someone else taking it, to allow for thorough cleaning. Staff will also wear gloves and masks.
"It's going to be difficult, it's gonna be uncomfortable for us as a staff to serve people that way, but we don't have many other options," he says.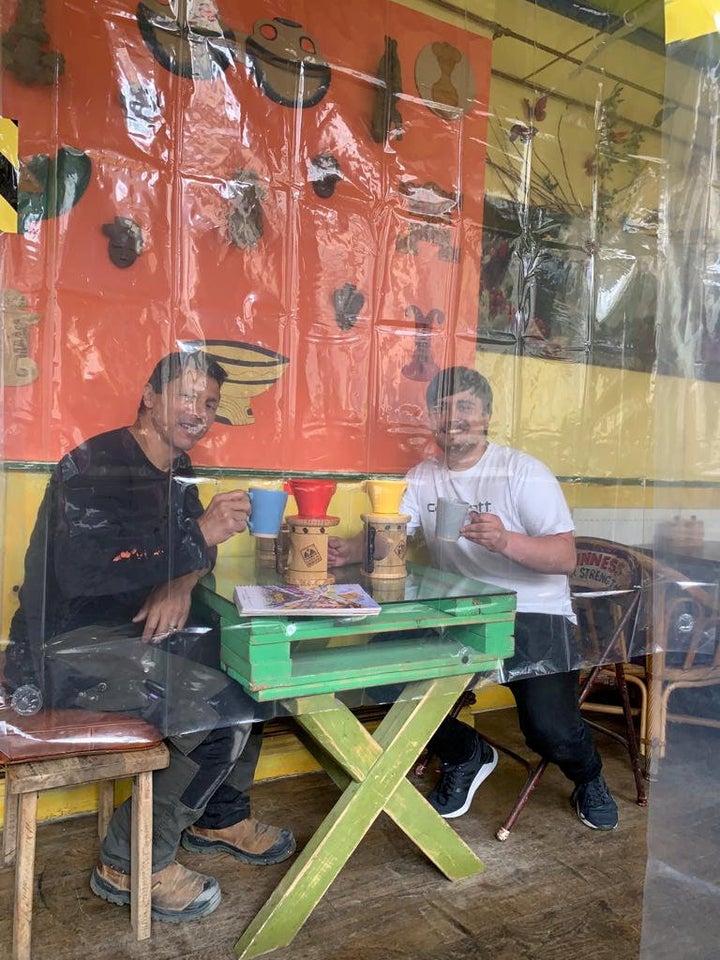 Elsewhere in the UK, restaurant and cafe owners will also be considering how to operate post-lockdown while keeping their staff and diners safe – and looking to eateries around the world for inspiration.
Here are some of the ways dining out may change.
Perspex Screens
Screen dividers have become commonplace in restaurants around the world since the Covid-19 outbreak, with many businesses using Perspex/plastic or glass screens to separate customers.
Shaiml Thakrar, co-founder of the UK restaurant chain Dishoom, has already said the chain is considering buying screens when the business reopens.
Photos below show different screen methods in use in Bangkok, Milan, Hong Kong and California.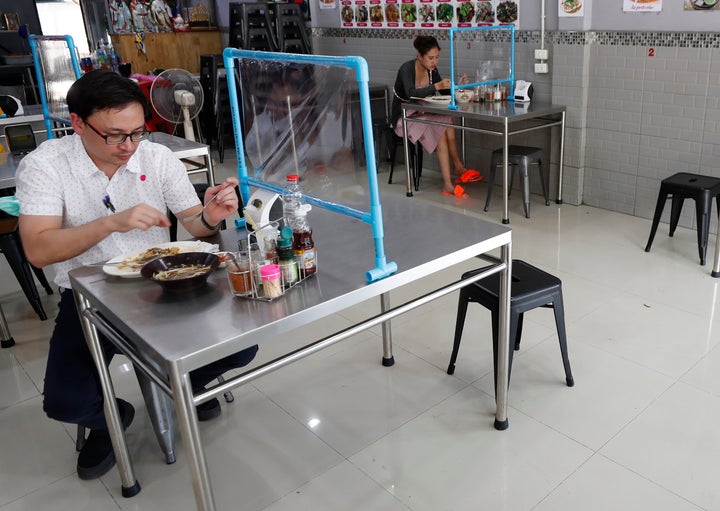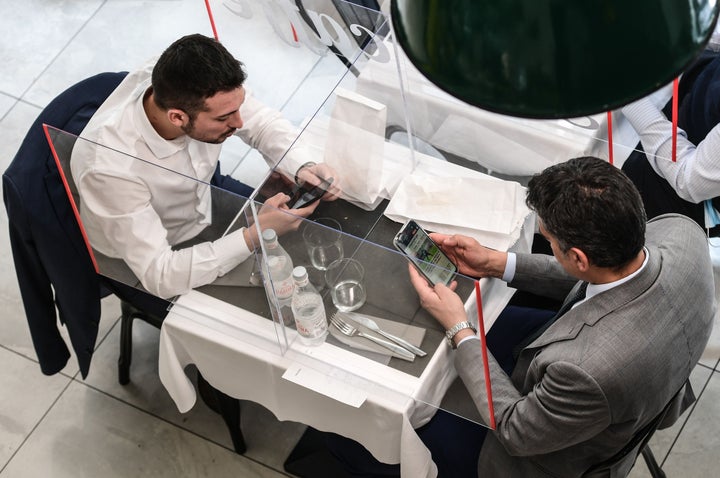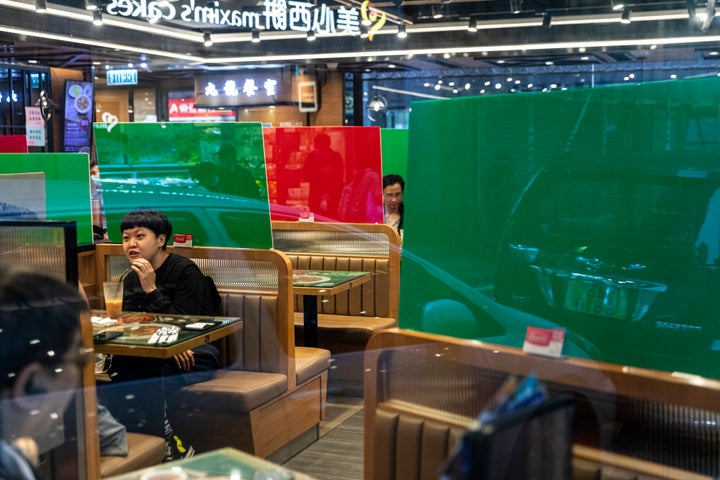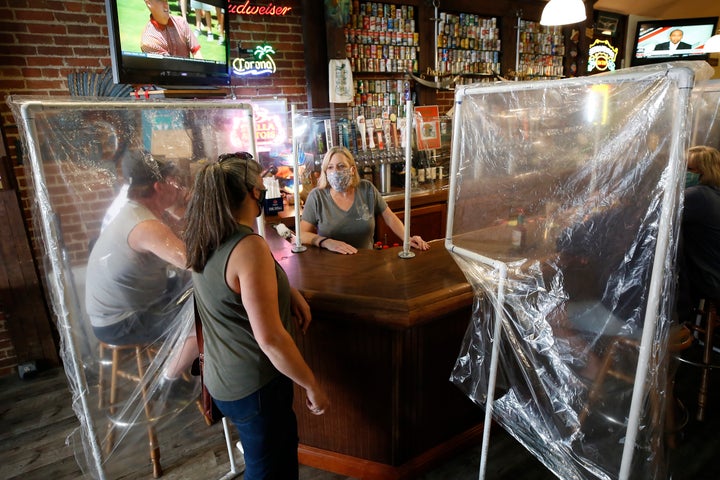 Mannequins And Monsters
Managers at the Inn at Little Washington, in Virginia in the US have placed mannequins on every other table so the space doesn't feel empty while diners social distance. The restaurant is planning to reopen on May 29.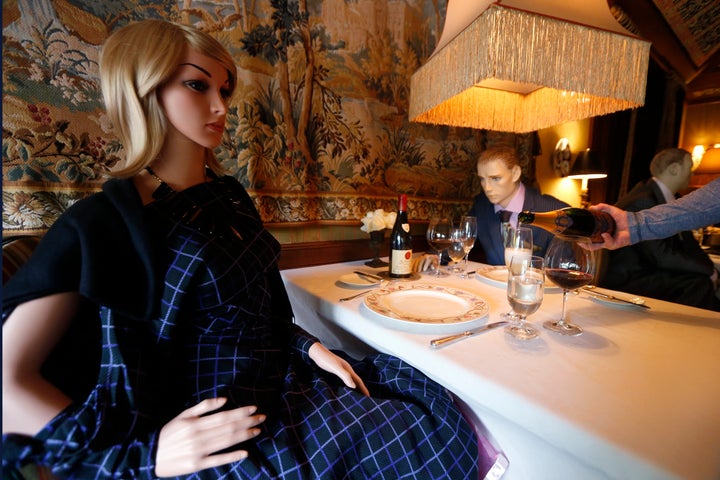 Shoppers eating in the food court at this mall in Bangkok, Thailand, now sit alongside cartoon dragon dolls. Thai authorities allowed department stores, shopping malls and other businesses to reopen from May 17, with some restrictions, so the dragons are intended to prevent overcrowding.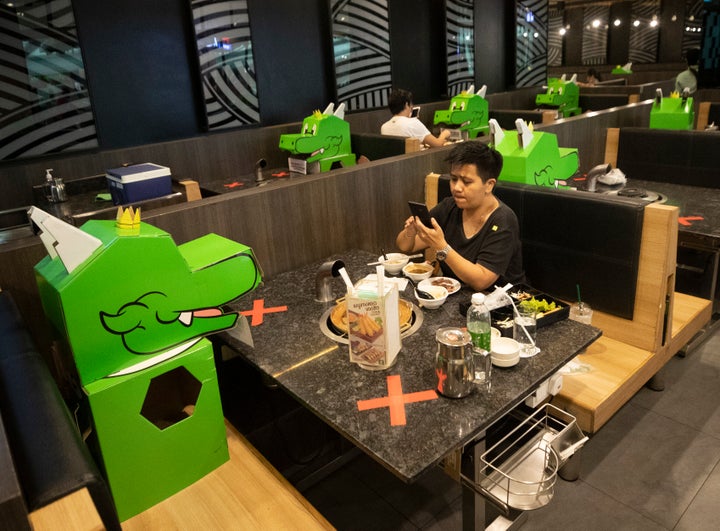 Distancing Hats
The owner of Cafe Rothe in Schwerin, Germany asked customers to wear hats with swimming noddles attached when it reopened doors last week.
Jaqueline Rothe, told the Independent the move was intended to put a smile on people's faces (rather than actually enforce social distancing).
She also hopes the image will make people realise how difficult it is to run a business under the new German regulations. The cafe usually has 36 tables inside and 20 outside, but has reduced to 12 tables inside and eight outside.
Quarantine Greenhouses
Restaurant and bar Mediamatic ETEN in the Netherlands hopes to reopen later this week with 'chambres séparées' or "separate rooms" – which have been also been dubbed "quarantine greenhouses".
The greenhouses seat a maximum of three people. Perhaps the winter pop-up dining igloos seen in various UK locations will make a year-round return, too.