You've probably been there – faced with leftovers you want to keep fresh and wrapping them round and round (and round) with the cling film roller just to make sure they're *definitely* sealed up. Or doing the same with homemade sandwiches? I know I have.
But habits are changing. The conversation around plastic pollution is following me everywhere and I'm more aware than ever about how much I use – with cling film being a prime offender. It's generally not recyclable and should be chucked in the bin, according to Recycle Now. That means it's going straight to landfill.
At the same time, food waste is also a problem. So if you need to cover up a plate of leftovers from your dinner, wrap up half a lemon, or prepare your sandwiches for lunch the next day, what are the sustainable alternatives?
I tried two very different options – and here's how that went.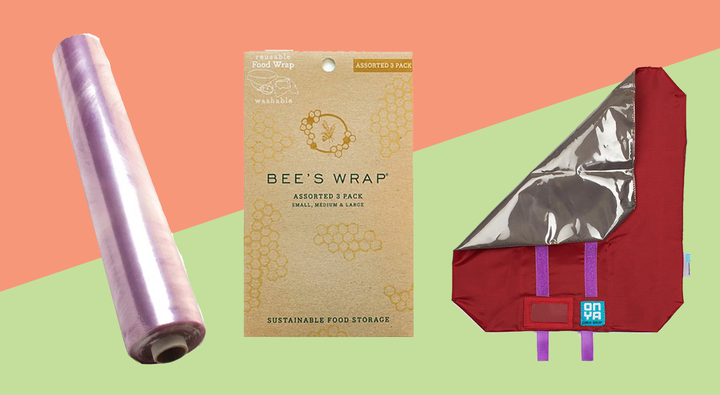 Option 1: Beewax Wrap
The first option I tested was Bee's Wrap, described as a "natural alternative" to plastic wrap, though costing £20 for three assorted-sized sheets at Waitrose, it's not cheap. "Wrap cheese, half a lemon, cabbage, bread, or cover a bowl," the blurb reads. Then: "Seal with the warmth of your hands." Sounds magic.
It's made of beeswax, organic cotton, jojoba oil and tree resin – and it's a lot thicker than your average cling film sheet. The idea is to use it, wash it in cool water with washing up liquid, soak briefly, hang to dry and store for next time.
When I opened out the sheet I wasn't convinced the sheer "warmth of my hands" was going to seal it like cling film, but, lo and behold, it actually did. I used the smallest of the three sheets to wrap up some pitta sandwiches and, after holding my hands for a few seconds over it, the parcel held firm.
Then I tried the other sizes with some of the leftover pitta, two slices of pizza and this lemon.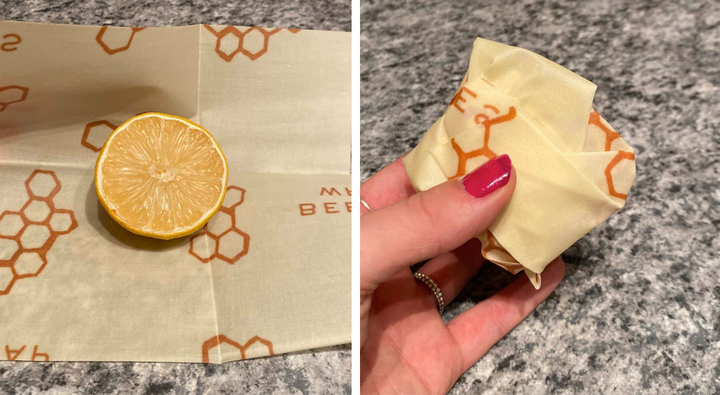 All three sizes were useful, and I've not yet come across a moment when anything that proved tricky to wrap up, or where the wrap wouldn't seal. A word of warning: you do have to keep the wrap away from any non hand-based heat, such as hot water, dishwasher, microwave or oven, or else it damages the beeswax and the wrap loses its stick.
I'll admit it's a bit of a faff having to wash and dry the wrap afterwards, but that's part of the deal when you're choosing reusable products.
Option 2: Sandwich Wrap
The Onya Reusable Sandwich Wrap is designed as an alternative wrap for rolls or sandwiches – but the website says it's versatile for bagging up veggie sticks, snacks, pizza, biscuits, croissants, bagels, muffins, pasties, pies and cakes, too. "You can also transport your deli meats and cheeses from the store, cutting down on plastic wrap and bag waste," says the blurb.
So, basically a soft lunchbox for grown-ups. It's made from recycled bottles with a PEVA lining and comes in several colour ways – wrap up your food, seal it with the velcro strips and hope no one nicks it in the playground work kitchen.
If fact, I first used it at the weekend to take a delicious (if I say so myself) homemade chicken, lettuce and tomato wrap on a long train journey. No leaks, no complaints. Given I made the wrap at 8am and it still tasted fresh at half 12, I'd count that as a win. It definitely works best with flat items (sandwiches, pizza, wraps, pitta breads) rather than bulky ones that won't fasten so well.
But that makes it's ideal for carrying your lunch to work, with the sturdiness of it preventing anything getting squished. At £8.50, it's also a pretty affordable option, and takes up less room in your bag than a bulky, hard lunchbox.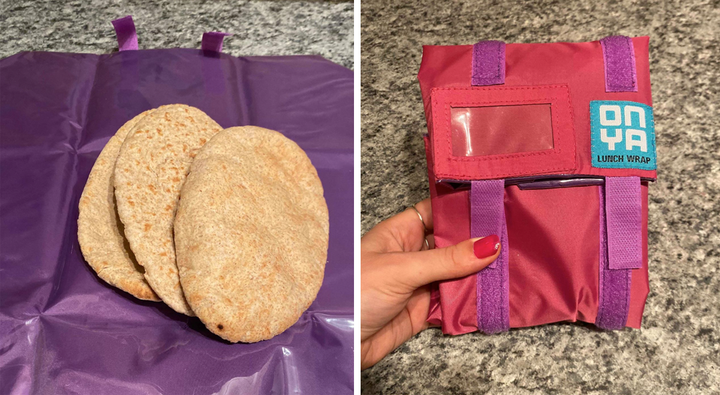 The Verdict
I'm sold on both, to be honest, but for different uses. The Bee's Wrap is more of a like-for-like of cling film, great for wrapping up half-eaten foods to keep them fresh in the fridge at home.
It's expensive, but the website says it lasts for up to a year if properly cared for. Would you spend £20 on cling film in a year? Maybe not – but this is an environmentally-friendly alternative to plastic and there are also cheaper versions, such as Bee Bee Wraps, that sells three sheets for £14.
Meanwhile, the Onya Wrap is a convenient alternative to a lunchbox for transporting food to work or on a day out and also encourages you to make your own lunch rather than buy another pre-packaged sandwich or snack – so you can thank it for saving your bank balance as well as helping the planet.
We all work hard to earn our money – so it shouldn't feel like hard work to spend it well. At HuffPost Finds we'll help you find the best stuff that deserves your cash, from the ultimate lipstick to a durable iron to replace the one that broke (RIP). All our choices are completely independent but we may earn a small commission if you click a link and make a purchase.