All teenagers over the age of 16 will now be offered the coronavirus vaccine under new plans announced Wednesday afternoon.
The Joint Committee on Vaccination and Immunisation (JCVI) has recommended that all healthy teenagers aged 16 and 17, who have not yet been able to get their vaccine, should be offered the chance to be immunised.
Health and Social Care Secretary, Sajid Javid said has has accepted the JCVI recommendation, adding: "I have asked the NHS to prepare to vaccinate those eligible as soon as possible."
Appointments for 16 and 17-year-olds could be available within a fortnight based on the reserves of the vaccine available, according to a report from The Times. Teens will be given the Pfizer vaccine, the JCVI confirmed.
As the eligibility criteria extends, here's what you need to know about the vaccine programme for kids.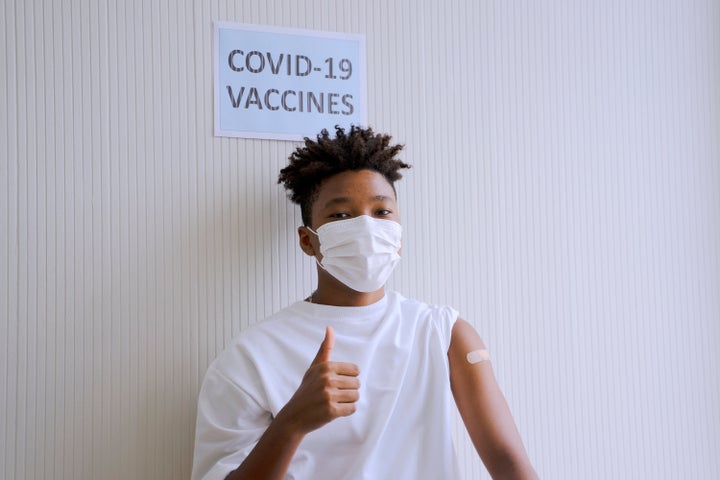 Which under 18s can get the vaccine?
Under previous guidance, young people aged 16 or 17 with underlying health conditions which put them at higher risk of serious Covid infection should have already been offered a jab. The latest change opens vaccines up to 16 and 17-year-olds without underlying medical conditions, meaning more than a million more teenagers will be able to access the vaccine.
Children aged 12 to 15 with certain conditions which make them vulnerable to coronavirus can also already access the vaccine. This includes children with severe neurodisabilities, Down's syndrome, immunosuppression and multiple or severe learning disabilities.
Those aged 12 to 17 who live with an immunosuppressed person, such as a parent or grandparent, can also already access the jab.
Why is the programme extending?
In the last few weeks, there have been large changes in the way Covid-19 has been spreading in the UK, particularly in younger age groups, said Public Health England (PHE). And as the adult vaccine programme has progressed, more safety data has become available.
"This updated advice means we can be confident that young people will be afforded around 80% protection against hospitalisation following receipt of their first dose," PHE said. "It is expected that protection will probably be even higher as younger people respond better to vaccines and some will have already had the Covid-19 infection, meaning they will have an even better response to a first dose."
Will children need parental consent?
Possibly. The Press Association has learned that some vaccine clinics have already started giving jabs to 16-year-olds – provided that they attend the appointment with a parent or guardian.
Other countries which are offering vaccine to children require parental consent. This will be set out by ministers is due course.
How will this impact schools?
Professor Jonathan Van-Tam, deputy chief medical officer for England, said there was "no time to waste" in starting the extension of the vaccination programme to 16 and 17-year-olds.
"Children are going to start going back to colleges and sixths forms from September, and in Scotland that will be slightly earlier, so there is no time to waste in getting on with this," he told a press conference. "Now we have the JCVI advice on starting that initial first dose in 16 and 17-year-olds, I want us to proceed as fast as is practically possible."
But Labour MP Peter Kyle has suggested the announcement comes "too late" to make a difference to the new school term. Only time will tell how fast the rollout (and take up) will be.
What are other countries doing?
Nearly half of European countries have decided to offer the vaccine to children aged 12 and over, including France, Spain, Italy and Austria. Some vaccination programmes have started, while others are imminent, with plans to vaccinate children before the new school term in September widespread.
How will this impact travel?
The extension of the vaccine programme will help to open up family holidays for those who wish to travel to a country with strict entry requirements.
Take Malta as an example. Currently, you can only enter Malta if you're double vaccinated. Children under 12 are permitted to enter the country if they're holidaying with parents who have been double jabbed, but children over 12 aren't. It currently means holidaying with teens in Malta is banned, but that will change if the youth vaccine programme continues to be extended.
I don't know any 16 or 17-year-olds, what does this mean for me?
Scientists have said that opening the vaccine programme to younger groups could help stem the tide of infections – which are largely being driven by younger groups. The more people who are vaccinated, the less infection is around, so it is less likely you will become infected yourself or have plans disrupted due to illness or isolation.