White millennials voted for Donald Trump over Hillary Clinton, according to exit polls.
By contrast, ethnic minority millennials overwhelmingly backed the Democratic candidate. Trump gained just 9% of black votes in that age bracket, and 24% of Latino votes.
This came as a surprise to many pollsters and pundits, who had predicted Trump's popularity amongst older, white, less-educated men, but not the extent of his appeal to white voters across the board.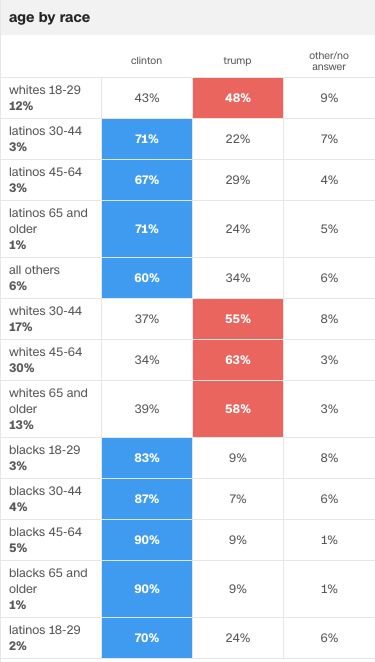 This comes as evidence mounts that US millennials are more likely to identify as conservative than either Generation Xers or Baby Boomers were at the same age.
A recent survey of 10 million American adults found the group was also the most politically polarised of the three generations.
It found that 23% of millennials identified as leaning far right, compared to 17% of Baby Boomers and 22% of Generation Xers.
Meanwhile fewer than half millennials surveyed said they were "middle-of-the-road," compared to half of Baby Boomers and over half of Generation Xers.
Trump's level of support amongst white college-educated voters and white female voters was also unexpected.
CNN's data put the Republican candidate ahead by 10 points among white women (among black women he was 90 points behind). Trump also polled 15 points ahead of Clinton among white male college graduates.
Trump also gained vast margins among white voters without college degrees. His wins in states such as North Carolina and Florida, where Clinton had been leading the polls, suggests the candidate was able to persuade a much higher turnout than expected.