Testing is one of the key ways to limit the spread of coronavirus and ensure essential workers are able to safely head back to work.
The government said it hoped to carry out 100,000 tests a day by the end of April – but on 29 April, only 52,429 tests were carried out. Justice Secretary Robert Buckland told Sky News: "Even if we don't hit it, and it's probable that we won't, we will in the next few days hit that target."
People can be tested in two ways: at drive-through sites or through home kits, although availability of the latter is currently limited. Every day, those eligible for tests are encouraged to visit gov.uk and register, but the site reaches capacity very quickly.
It's important to get tested in the first three days of experiencing coronavirus symptoms, although testing is considered effective up until day five. Here, we answer some of the other questions you may have about tests right now.
Who is eligible for a test?
This depends on what country you're based in. In all UK countries, hospital patients with suspected Covid-19 are prioritised for testing. Each country has made testing available to a certain number of key workers – and sometimes members of their households, too.
In England, the following groups are eligible for testing if they have symptoms of the virus:
essential workers, including NHS and social care workers. You can see a full list of essential workers online if you scroll to the bottom of the page,
anyone over 65,
anyone whose work cannot be done from home (for example, construction workers, shop workers, emergency plumbers and delivery drivers),
anyone who lives with any of the groups mentioned above and has symptoms.
The UK government has also revealed it will be testing all social care workers and residents in care homes whether or not they have symptoms. This comes after figures from the Office for National Statistics (ONS) suggest a third of all coronavirus deaths in England and Wales are happening in care homes.
There are currently 16 mobile testing units in operation, with the aim to increase this to 96 in May. These units travel to care homes and other areas where there are people who need to be tested but can't get to a facility.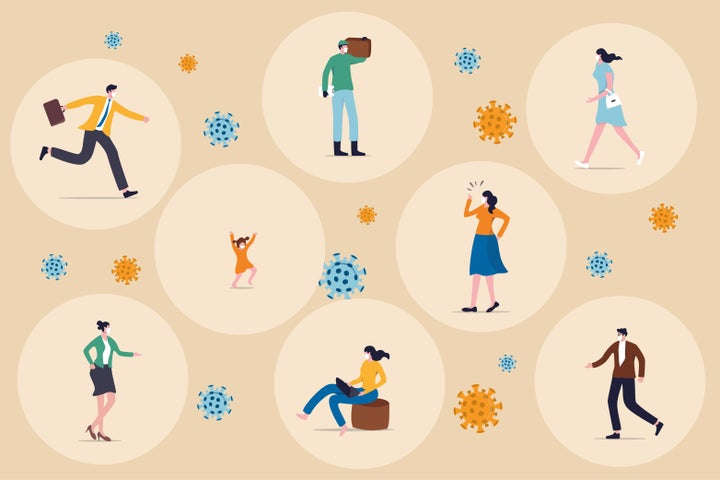 How do you get a test?
Self-referral and employer referral booking routes are available for essential workers who work in England, Scotland and Northern Ireland.
The employer referral route allows employers to refer essential workers who are self-isolating. Employers will need a login first – you can get one by emailing portalservicedesk@dhsc.gov.uk. In the email, include your organisation's name, nature of business, region, and names (where possible) and email addresses of two users who will load essential worker contact details onto the system.
In Wales, workers can find details of their most appropriate testing referral routes through their Local Resilience Forum.
Can you apply for a test on behalf of elderly parents who don't live in your household?
A key group eligible for testing is the over-65s, if they have symptoms. However it's not entirely clear in the new guidance whether a person could apply for a test on behalf of an elderly parent who isn't part of their household.
HuffPost UK contacted the Department of Health and Social Care, who confirmed that if you have the person's permission, you can book a test on their behalf. The home-testing route would likely be the easiest option if you're doing it this way.
You could also go down the drive-through option if your relative has a car, but you'd need to send them the barcode you receive to your mobile after registering on their behalf. They will need to show this barcode when they arrive at the drive-through testing facility.
What actually happens when you get tested?
The test involves taking a swab of the nose and the back of the throat.
At a drive-through testing facility, of which there are 43 (and counting) across the UK, a healthcare professional will swab your mouth and nose while you sit in your car with the window down. At some sites, you might be given a kit with instructions on how to do the test yourself from your car. The healthcare worker will then take the sample and send it off to be tested.
If you order a home testing kit, you'll have to swab your throat and nose yourself and send the sample off to a lab. Evidence suggests even those without a medical background should be able to get an effective sample.
In a video on how to take a test, Dr Amir Khan, an NHS doctor, urges people to blow their nose prior to doing it and wash their hands for 20 seconds. When you take the swab from its packet, it's important you don't let it touch anything else other than your tonsils and the inside of your nose, as this could impair your results.
Using a mirror, look at the back of your throat, towards your tonsil area, says Dr Khan. Rub the swab fabric across your tonsils five times, taking care not to touch your teeth, tongue or gums.
You then need to use the same swab to take a sample from your nose. Insert the swab inside of the nostril, ensuring you don't touch any other parts of your face, and once it's about 2.5cm in and you start to feel resistance, rotate the swab five times against the inside of the nose. Then carefully remove it and do the same with the other nostril.
You're done – unscrew the cap off your sample tube, put your swab inside fabric end first, and snap off the excess stick at the break point. Pop the cap back on tightly and follow the instructions to safely put the sample in the envelope provided. A courier should come to collect the kit the following day.
Results will be sent out by text message within 48 hours of drive-through testing, and within 72 hours of collection of the home delivery tests.
If the results come back negative (this includes for people in the household who had symptoms and had a test), workers are encouraged to head back to work – however they should only do so if they feel well enough in themselves and haven't had a fever for 48 hours.