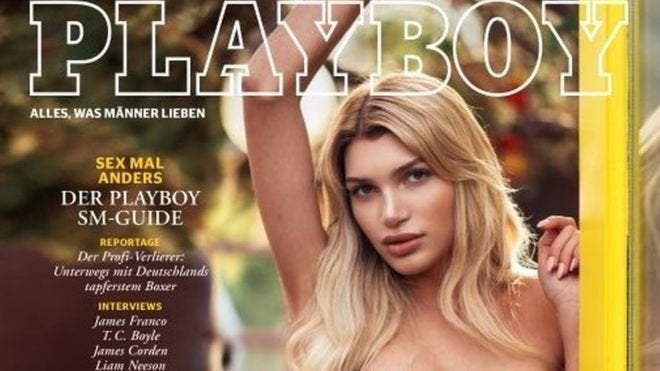 'Big deal'; is this a momentous and consequential event or am I just being ironic? I've heard both in response to Giuliana Farfalla's cover shot in German Playboy this month. Giuliana is certainly stunning; a lady with 219k of Instagram followers and well liked by her fans. She is the epitome of classical female beauty but also the subject of transphobia. Press articles and published comments are awash with praise but also disgust. The use of male pronouns by some commentators make it quite clear they consider her to be a man. If I'm being ironic, Giuliana is clearly a beautiful sexy woman but so are many other models, is it such a big deal that she's on the cover of Playboy? What is all the fuss about?
In a way, this is a big deal. Transgender women face enormous hurdles to become accepted. Our journey to adulthood is achieved despite opposition to a persistent, consistent insistence that we're female. Giuliana Farfalla reportedly always felt like a girl from an early age, trapped in the wrong body. I too felt trapped, imprisoned to be more precise; hostage to a midwife who took one quick peek and pronounced me male. To progress from that to become a sexy, desirable model is indeed an achievement. One you can scarcely imagine will ever happen. Growing up a trans girl, you tend to live in your head. You dream of being a princess, of being beautiful and admired, of being in love and being happy. Small wonder if Giuliana aspired to be a catwalk model and to be complimented for her beauty. I felt just the same.
That achievement comes at a price however. High profile trans women invariably become targets for transphobia, there has been much of it in the press recently. Other girls cry foul when someone they see as male wins a beauty contest. In the end, no matter how beautiful or complete a trans woman may look it is seldom sufficient to ensure their acceptance. While being on the cover of Playboy is indeed a positive step, there's a catch. In celebrating beautiful trans women, we try to counter the myth they aren't 'real' women. Giuliana is undoubtedly sexy and beautiful. Were she not to have revealed her gender status most of us would be none the wiser, yet being a woman is seldom just about beauty.
I'm an erotic model whose images have appeared in mainstream UK and European magazines. I was never out as transgender in those features. Content to feel validated and admired I was wary about setting myself up as a role model for other trans women to follow. To me, I was just lucky. Models are not everyday women, winners of a genetic lottery we just happen to conform to a widely held ideal of female beauty. Most trans women don't have the good fortune to look that way. If you have the bad luck to conform to the public perception of 'awkward man in a dress', you will struggle for acceptance. Moreover you will also be the subject of deep humiliation and suffer being seen as a freak and disgusting.
No matter how wonderful it is for Giuliana and beautiful trans women to be celebrated, womanhood is clearly so much more than this. Beauty has a tendency to be ephemeral but you are a woman for life. We need to celebrate trans women in other things. There are many 'firsts' for young trans women that would be everyday experiences for natal girls. Each first in a community is another step toward societal acceptance. My own lived experiences have included; being a single mum; a classroom assistant; a young person's counsellor, chair of a resident's association, a successful businesswoman, a wife to a loving husband as well as erotic modelling. Most of these roles are anything but glamorous. They are nonetheless valid. Through it all we encounter our share of misogyny. We are treated in much the same way as other women; variously admired, coveted, dismissed, condescended to, groped, put on as pedestal or passed over for promotion. That often gets ignored.
What is missing in our portrayal of trans women are real life stories. They are seldom exceptional. They are striking solely for their close similarity to the experiences of many other (natal) women. In truth, we need trans role models of a more everyday nature. When trans women are identified as great mothers, partners, teachers, health workers, business women, community leaders and many more we will have provided a breadth of achievable examples for young trans girls to emulate. If the only role models are in Playboy and Vogue we run the risk of setting up the same unattainable standards for trans women as we do for every other female.