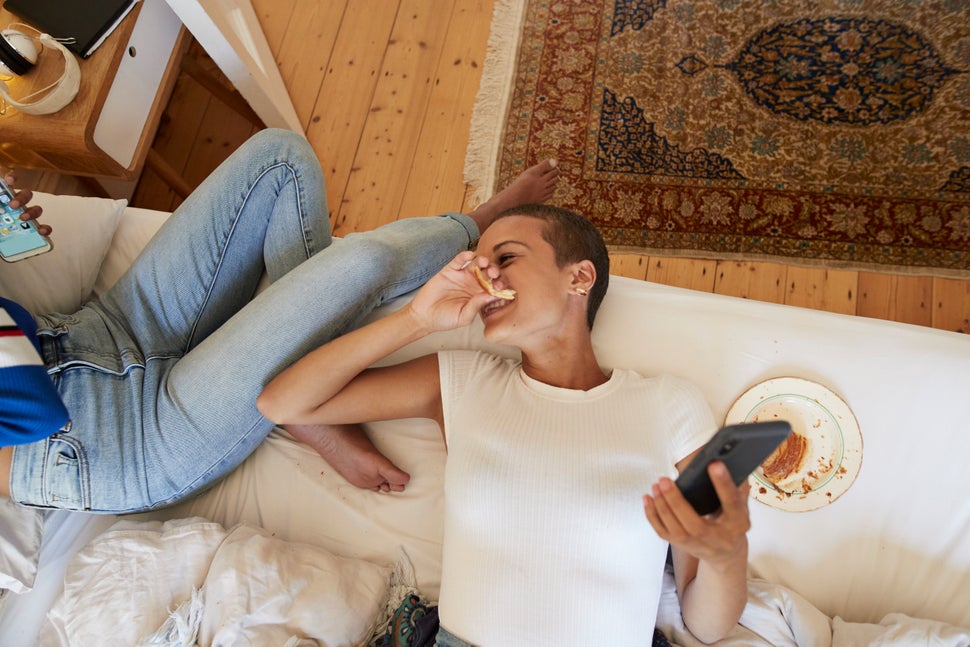 First, there was the lasagne voice note. Then came the spoof sketches and memes. The Covid-19 outbreak has spiked the boom of an unlikely genre: comedy. Faced with daily headlines of death and despair, we're all looking for laughter in our lives – and the world's funny folk are delivering in droves.
Our hunger for humour is so insatiable, that TikTok – the home of thousands of laugh-out-loud clips – has seen a spike in new users, managing to transcend the generations. And when Whatsapp put in place a number limit on forwarding messages to slow the spread of misinformation, users were quick to joke that it would stop the world's dads sending each meme to their entire phonebook, too.
South African comedian Schalk Bezuidenhout has seen his following grow by more than 20,000 people in recent weeks, thanks to the launch of his new online show, Lockdown Laughs, plus daily videos sharing his lockdown experience.
"We all have a role in this lockdown," he tells HuffPost UK. "The news reader isn't going to do a stand-up set halfway through the bulletin. His role is to keep us informed. My role is to make people laugh, or at the very least, smile."
Closer to home, comedian Greg Davies and comedy creator Alex Horne – the duo behind the popular show Taskmaster – have encouraged the public to create humour themselves by taking part in at-home challenges. Highlights include "camouflage yourself, then reveal yourself" and "recreate an iconic film scene".
"Humour is essential in this time of crisis," says Dr Chloe Paidoussis-Mitchell, a chartered counselling psychologist. "We can't control what happens outside of us, but through humour we can avoid becoming overwhelmed by negative emotions such as fear, distress, anxiety, anger and depression."
Laughter also has a powerful impact because it triggers a beneficial hormonal response in the brain, adds neuroscientist Professor Sophie Scott. You get a change in adrenaline – the flight or fight neurotransmitter – and, in turn, become more relaxed.
"You also get an increase in the circulating endorphins, meaning it feels good to laugh," she says. "Over a longer time scale, you then get a reduction in cortisol – the stress hormone."
London-based comedian Tiernan Douieb has been busy live-streaming gigs, posting silly videos to social media, and running his political comedy podcast during lockdown. Two forms of comedy are flourishing during the crisis, he tells HuffPost UK.
"There's silly, surreal, or things that are to do with anything but our current situation which can provide escapism," he explains, "and then there's comedy that addresses it, providing comfort in its relatability that we're all going through an unusual time, or asking tricky questions about it that are easier for people to digest if they're laughing too."
Fellow London-based comedy actor Christina Baston has been trying to strike a balance between the two. She's been posting dramatic readings from TripAdvisor to "interrupt people's frightening news feeds with something that will make them laugh", as well as performing in an online spoof news broadcast, 'News At Now', with her comedy theatre troupe, The Lampoons. The latter, she hopes, will help viewers struggling to watch the regular news each day.
"It's fun because our reporters are as serious about their reports as real reporters, but the reports are utter nonsense," she says. "Then hopefully when audiences watch the news, it'll seem a little less intimidating, and remind us that we're all human."
Baston says creating funny content can be just as beneficial for those behind the camera as those watching it. "Like a lot of people, I've found myself being hit with waves of overwhelm, anxiety and helplessness," she says. "Filming things that are abstract, obscure and silly has given me a real sense of escapism and a chance for childish play."
Comedy during the coronavirus outbreak also provides a sense of connection with others – something we're all craving more than usual during these days of social distancing, says psychologist Paidoussis-Mitchell.
"We find huge comfort in sharing the ridiculous or the absurd of our situations and, with humour, we find creative ways to create a less scary perspective, which is a relief, and part of our resilient response," she says.
The current boom of silly humour is also unique, adds Prof. Scott, because there's an unprecedented global sense that "we're all in the same boat". We're using laughter as a coping mechanism – a strategy many people who work in highly stressful jobs use.
"There's interesting literature on high stress professions, showing that they tend to have quite a dark humour associated with them. The police force, the fire service, medicine and nurses, for example," says Scott.
Sharing dark humour in these jobs allows people to confront and process the difficult topics they encounter, she explains. Dark humour can also be a way of creating an "in joke" that outsiders may be surprised by, which reinforces the team.
Although humour, including dark humour, is a "healthy and resilient way of responding to current context", Paidoussis-Mitchell says we shouldn't over-rely on it.
"If we use laughter and humour as a way of avoiding and distancing ourselves from our negative emotions and use it to pretend we're okay, then it's an unhealthy crutch," she says. "We need to be wary of relying on it as an avoidance strategy."
Still, in healthy doses, there's no need to feel guilty about having a belly laugh while a global pandemic plays out beyond our front doors.
"Laughter and sadness are very human emotions, and it's healthy to acknowledge there's light and shade in every situation," says Baston. "It's so cathartic to hold a mirror up to humanity and say: 'Yes, we've a lot to take seriously, but also, look how daft and vulnerable we all are at our core.'"