Jackie Scully joined some 40,000 runners to complete the Virgin London Marathon on Sunday.
But rather than sporting the regular running attire, the 35-year-old wore a wedding dress, having got married just a few hours earlier.
At 7.30am on Sunday morning at the Cutty Sark in Greenwich, London, Jackie married her long-term partner Duncan Sloan, 35, whom she met at university.
The pair then headed to the start line, alongside Jackie's father (Eamonn Scully, 64), her cousin and some of the couple's friends from university, to run the 26.2 mile route around the capital.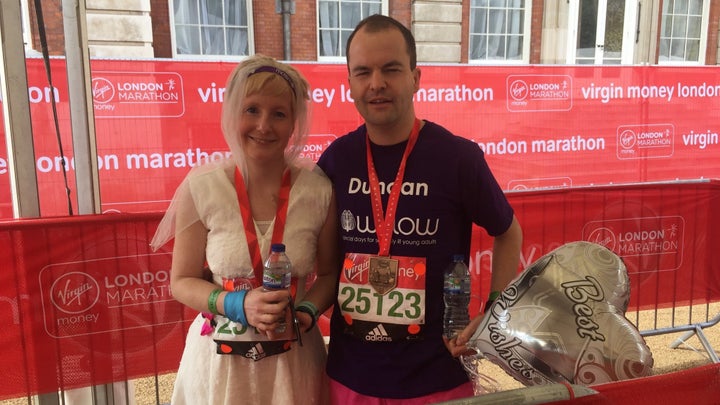 The couple's decision to get married before the marathon happened shortly after they got engaged - when Jackie was diagnosed with breast cancer just three weeks after Duncan proposed.
"I'd waited 13 years to get engaged and I was so excited, but then to be crushed by this diagnosis was devastating," she said. "Instead of discussing wedding venues, we spoke about losing my breasts and courses of treatment. I was freezing embryos within a month of surgery pre-chemo."
Jackie, who was aged just 32 at the time, decided to start running as a way to reclaim her body from the illness.
Speaking to The Huffington Post UK shortly before the marathon, she said: "I decided to run to prove to my body that it could take a lot from me but if didn't define me. And it couldn't take away my smile.
"I didn't have to be a cancer patient, I could still be the person I wanted to be."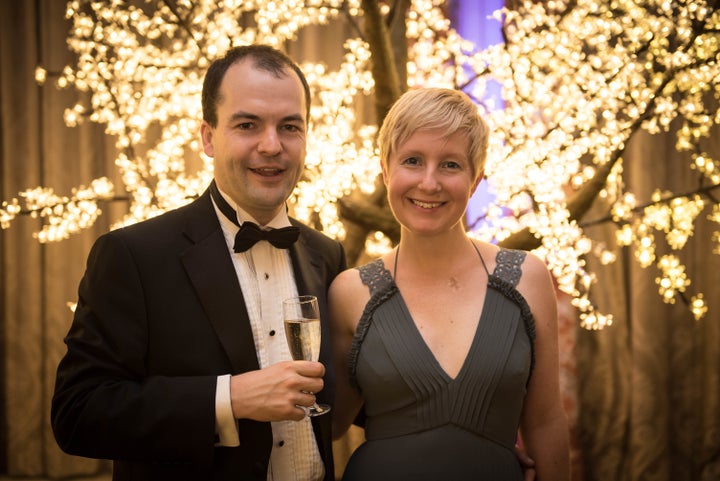 Despite not owning a pair of trainers when she was diagnosed, she ran her first 10km race a week before her final chemotherapy treatment.
She now has a series of half-marathons under her belt and completed her first full marathon last year in London.
But the most poignant race took place on Sunday, when she ran alongside her family and new husband.
"Running has been part of the fabric of my recovery. It held Duncan and I together and gave us something to focus on," she said.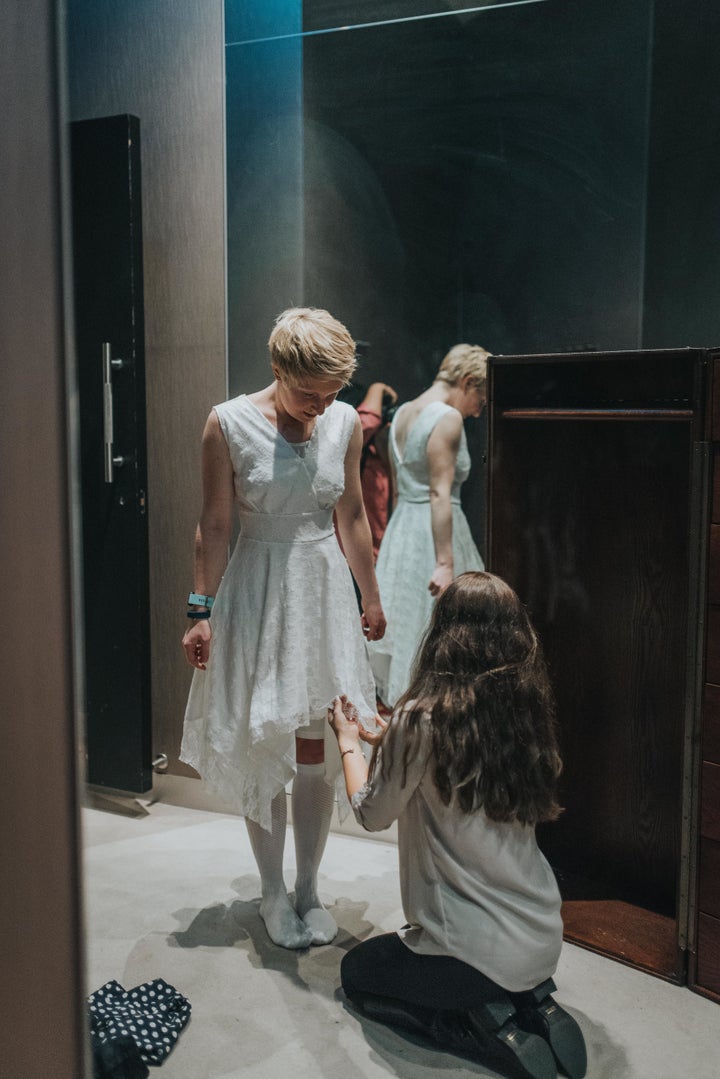 Jackie, who ran for a charity called Willow and Breast Cancer Care, wore a customised wedding dress created by Frankie Seaman, former ice-skater and wife of ex-footballer David Seaman.
The pair are both heavily involved with Willow, a charity working with ill 16 to 40 year olds to facilitate uplifting and unforgettable special days.
The dress was designed to be short at the front and back, so as not to interfere with Jackie's stride, and long at the sides.
While being diagnosed with cancer was life-changing, the journey has given her a new perspective.
"My diagnosis has taught me what is actually important in life," she said.
"I've learned to enjoy every moment, rather than waiting for something as you never know what is going to happen."