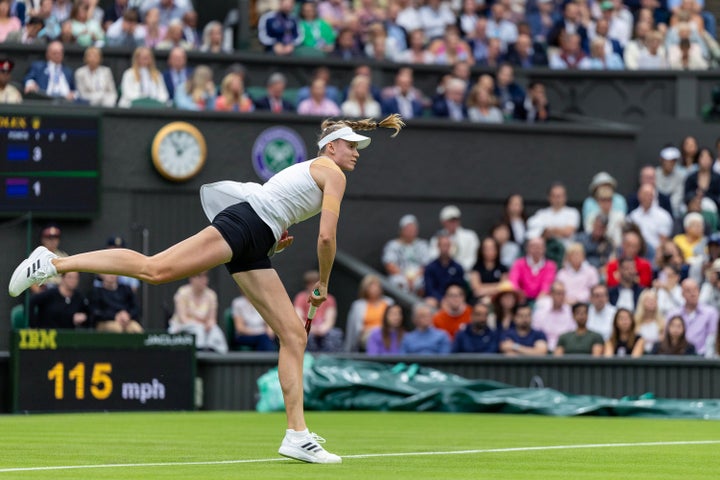 Wimbledon finally caught up with the 21st Century and agreed to relax their strict all-white outfit rules for female players by letting them wear black shorts for the first time on Tuesday.
The grand slam is famously firm when it comes to what tennis aces can wear when battling it out on on the courts.
But, last November, following the "address the dress code" protests outside the tournament's gates and criticism from former Fed Cup captain Judy Murray, the All England Club made a change.
It decided to let women wear darker undershorts to alleviate that fear of period leakage (although they still have to wear all white on the top half).
Still – there is nothing like the fear of leaking through white shorts on international TV to put you off your game.
So on Tuesday, when defending champion Elena Rybakina of Kazakhstan won her match against the US's Shelby Rogers on Centre Court, it wasn't just their game which caused conversation – but their history-making black shorts.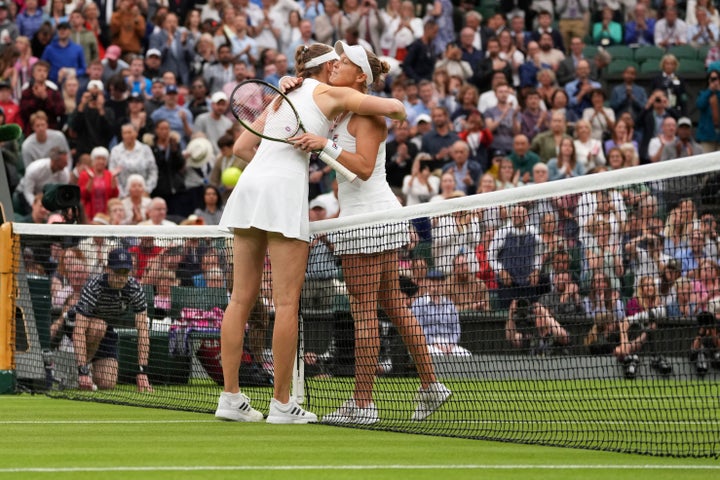 The clothing rule stretches back to 1877, where players were forced to wear all-white to minimise sweat stains and to offer a cooler experience for those playing (white reflects light, meaning players would not get as hot).
Of course, perfect white clothing is often linked to elitism, because it costs money to keep clothes so pristine – adding another dimension to the world-famous tournament.
In recent years, Wimbledon has really been doubling down on this rule. In 2014, the tournament even ruled any underwear which was visible needs to be white.
According to talkSPORT, tournament organisers are even strict about the shade of white, and monitor any strips of colour which are wider than a single centimetre on headbands or shirt sleeves.
Normally, any players who were seen to breach the all-white rules – from Roger Federer who wore shoes with orange soles on court to Nick Kyrgios who wore a red cap during the trophy ceremony – would be immediately called out by Wimbledon.
Andre Agassi even boycotted the tournament for three years to avoid the all-white dress code.
So, this change was quite a big deal.
After the match, Rybakina discussed the black shorts, saying: "I think it's good to have an option, but [at] the same time I was also fine with all white.
"I think changes are good and we still have the same tradition to be in full white. It's just maybe [a] little adjustment. Overall I think it's good, yeah."
Former No.1 Victoria Azarenka was technically the first one to enjoy the rule change for this year's tournament when she played against Czech player Linda Fruhvirtova on Monday, although she wore slightly more subtle shorts which were dark green.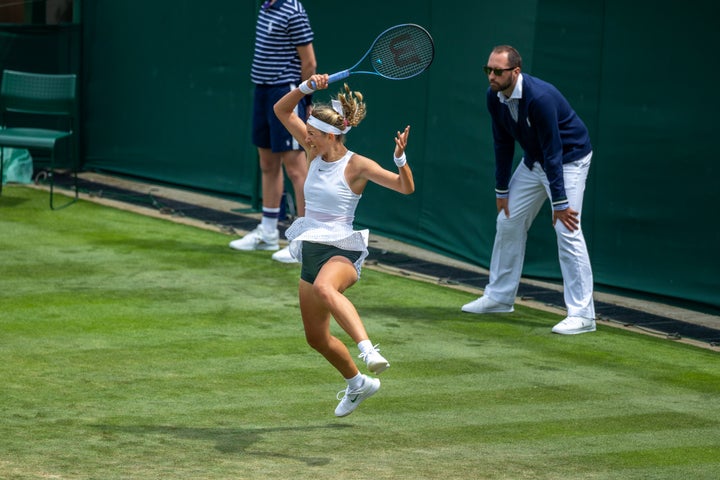 But, British player Heather Watson did highlight one small problem with this rule change when she was asked about it, according to a report in The Telegraph.
She said: "When they announced the new rule, I thought this is great. This is forward thinking, this is so helpful.
"And then I thought, shoot, everyone's going to know when I'm on my period – but I'm so open about it anyway, I'd probably let all of you know without even asking the question.
"I guess consistency is key then, so you've got to stick with the black all the time or something. But broadly obviously [it's] positive, absolutely. You didn't ask, but in Eastbourne I wore black shorts, so it really helped."
Explaining their decision to change the rules last year, the All England Lawn Tennis Club said: "Prioritising women's health and supporting players based on their individual needs is very important to us, and we are in discussions with the WTA, with manufacturers and with the medical teams about the ways in which we can do that."
This shift in attitude about dress code comes after England's football team decided to swap their white shorts to dark blue for this year's World Cup, after player Beth Mead said it was impractical to wear all-white sometimes.