In the latest in our WISE WORDS interview series - where stars from a whole range of fields share the important life lessons they've learned along the way - we're posing some of the big questions to Bobby Friction.
Bobby Friction has made a career out of representing British Asian sound; on the turntables, as a recording artist and on-air. Bobby was one of the founding members of Ecostani and still works alongside his production partner, The Infinite Scale to record their own original British Asiansound. He joined the BBC in 2002.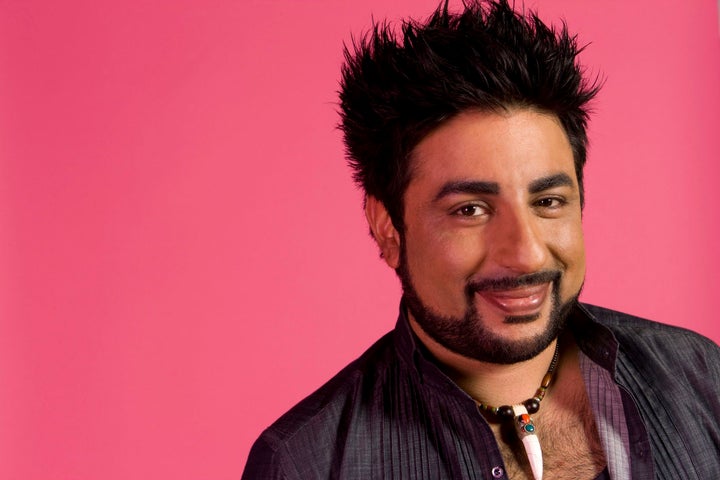 Bobby will be on presenting duties for BBC Asian Network Live taking place this Saturday - details below. To mark this big event, Bobby spoke to HuffPostUK about his biggest life lessons so far...
What do you do to switch off from the world?
Place myself alone in a room with a clear but very loud sound-system and listen to music from all genres that doesn't go above 100BPM. Music made with calmness, lucidity & emotion takes you on a journey where you leave your stress and problems and become the music you're listening to. Sometimes hearing very emotional music has the advantage of allowing you to forget your own darkness and then let you swim through another's issues which makes you forget yourself.
How do you deal with negativity?
I found out VERY late in my life that I'm at the extreme end of the empathy scale which can be very difficult. It means others negativity doesn't just affect you, but actually becomes part of you. I now stay away from others negativity whenever possible, and deal with my own negativity by postponing it when it rears its ugly head. I do that through neuro-linguistic programming, and then look at the issues when I feel more impartial.
When and where are you happiest?
Either with friends watching live music outdoors at a festival enjoying a few drinks, or at home on a Sunday with my wife making sarcastic comments about cheap reality TV whilst my four year old twins climb over me raining kisses down upon my face.
What's the best piece of advice you've ever been given?
Speak your truth whenever you get a chance. People may not like you for it, but they will always respect you for it. Speak the truth and your own insides will also respect you too. Also try to speak your truth as non-aggressively as possible…not always easy…
What has been the hardest lesson you've learned?
Not trusting my intuition for the first four fifths of my life. As an Empath my intuition is off the scale and powerful, but I always thought it was my brain & heart trying to trick each other. Now I just go on gut feeling and it's usually 99% right.
What would you tell your 13-year-old self?
Humanity is often ugly and violent, plus other people are usually prisoners of their own minds. Know this truth and still be a fabulous Peacock in a world full of chickens and sparrows.
What three things are at the top of your to-do list?
DJ at my own outdoor "FRICTION" festival with the Taj Mahal as the backdrop!
Write an autobiography in the Magical-Realist style about my early years with music that incorporates Bhangra gig culture, the Asian Underground scene, Prince's Purple Rain and its influence on me, and the religious politics of Asians in the UK from the late 80's onwards.
Bring my twins up to be good, loving and compassionate human beings.
What do you think happens when we die?
I don't know…something possibly cosmic and atomic…definitely a paradigm shift away from anything the world's major religions tell us.
When do you feel a sense that we live in the presence of something bigger than ourselves?
Anytime I see a planetary wide cosmic event. I watched the 1995 total solar eclipse in India, and at the point of complete totality I realised my true size compared to the rest of the Universe and my mind shattered into a million pieces all saying "WHO IS GOD?"
What do you try to bring to your relationships?
A loyalty that verges on obsession, a promise to be there always and forever (unless you let me down) and abundant laughter but also many tears... mine usually. It will be intense love multiplied by Bollywood levels of drama with an understanding that Prince the musician is the third person in our relationship.
What keeps you grounded?
My wife! I'm so narcissistic sometimes that I need herculean levels of wifely attacks on my ego so some sort of balance can be achieved.
What was the last good deed or act of kindness you received?
My son stroked me like a poorly rabbit and kept kissing me affectionately when I was ill when I had man-flu recently. I could see the love in his eyes and realised that the kind and compassionate children I wanted to raise just needed me to pull out what they already had within them.
Bobby Friction will be hosting BBC Asian Network Live, the station's inaugural music event which will bring the best in Asian music as championed on the station. It will feature some of the hottest acts on the British-Asian and international music scenes - line-up includes Naughty Boy, Imran Khan, Zack Knight and Kanika Kapoor plus debut UK performances from Indian artists Badshah, Aastha Gill and DIVINE, and unique artist collaborations.
It's on Saturday 30 April, 7-11pm, at Eventim Apollo, Hammersmith, London. Purchase tickets via the link on Asian Network website homepage - http://www.bbc.co.uk/asiannetwork
Popular in the Community